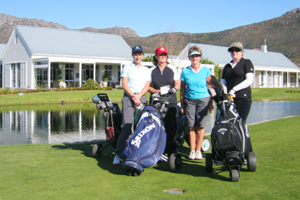 Foursome: (From left) Karen Kearns, Sandy de Villiers, Sue Grace and Charmaine Michel, who won the four-ball at the Fitztitute Golf Day.
UCT's Percy FitzPatrick Instutute of African Ornithology (the Fitztitute) took its 50th anniversary celebrations to the greens of the spectacular Steenberg Golf Estate to host a memorable golf day.
The 26 July event was also used to raise funds for part of the institute's 50th anniversary annual general meeting, scheduled for 11 August, and marked the initiation of a new birding relationship between the institute and the Steenberg Golf Club.
In this relationship, the golf club will establish an internal bird club that the institute will help to run by taking field outings there, offering students' presentations and by producing a bird-list leaflet for the club.
At the golf day, 48 golfers participated, notching up an impressive 146 birdies and three eagles between them. Prizes were awarded for the top five four-balls, for the three closest to the pins, and for the longest drive. The winning four-ball each received a signed copy of the VIIth edition of Roberts' Birds of Southern Africa - the most comprehensive handbook on birds of any region in the world. The book was compiled by the Fitztitute.
Project leader Dr Rob Little thanked the Steenberg Estate's Gary Lees and Ian Kennedy for hosting the event, as well as sponsors Sherry's Antiques, Naughton's Flight Wines, Excelsior Wines, Pick n Pay, Black Oystercatcher Wines and UCT.
Little expressed his gratitude to all the golfers who made the day "a fabulous success" and encouraged them to act as ambassadors for the institute during the remainder of 2010, and beyond.
---
This work is licensed under a Creative Commons Attribution-NoDerivatives 4.0 International License.
Please view the republishing articles page for more information.
---