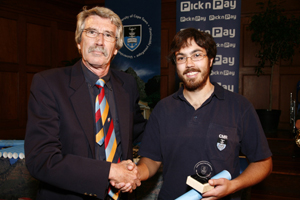 Good sport: Angus Morrison (right) receives his Student Leadership Award from John Donald, manager of sport and recreation.
Much is often made of the tug of war between academia and sport that many aspiring (or just keen) sportspeople at university experience. But perhaps it's even more so in the case of Angus Morrison, named the Most Outstanding Student Leader in Sport at last week's UCT Student Leadership Awards.
It would be trite to say that Morrison, 23, has a busy schedule. "I run around a lot," he says.
Let's start with the demands of his master's studies in physics. Both theorist and experimentalist (there's cross-pollination with the Department of Chemical Engineering), he spends plenty of time in the labs at both UCT and the iThemba Laboratory for Accelerator-Based Sciences about 15km outside of Cape Town.
There are other academic demands, such as his duties as class tutor, which come with marking responsibilities.
Then, of course, there's the sporting stuff. This year, for example, he's chairperson of the UCT Sports Union, the body that oversees student sport at the university.
Though he's a former treasurer of the Yacht Club, of which he remains a member, the UCT award was directed more at his involvement with the Mountain & Ski Club, however.
Morrison's been with the club for five years, serving as conservation convenor, huts convenor (they have a few that need tending to and management), treasurer and, this year, chairperson.
With 600 members, it's a sizeable club. What's more impressive, however, is its activity schedule.
The club incorporates hiking, kloofing, caving, bouldering, adventure racing, conservation and, come winter, skiing. Not counting its longer trips - scaling Mount Stanley in the Democratic Republic of the Congo, for instance - hardly a weekend passes that the club doesn't have something going on.
That's not counting the spur-of-the-moment stuff when an inspired member rallies a flash mob to gallop up a hill somewhere.
For Morrison, the conflicting demands mean lots of give and take. He's missed out on some fun jaunts because he had to attend one physics meeting or another, but admits that sometimes the pull of the mountains trumps the books and symposiums.
"Up until this year, I hadn't missed a single weekend trip," he says.
The contest continues.
---
This work is licensed under a Creative Commons Attribution-NoDerivatives 4.0 International License.
Please view the republishing articles page for more information.
---