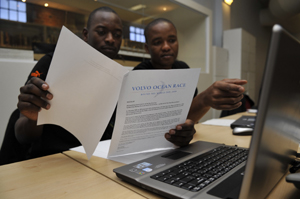 Real world: Students Phillip Mkorongo and Kanya Mdaka at work on the Volvo Ocean Race.
Three students, Kanya Mdaka, Phillip Mkorongo and Luke Smit, on the Postgraduate Diploma in Sport Management, are putting theory into practice at the multi-million dollar, four-ocean Volvo Ocean Race.
As media assistants, the trio assist World Sport, organisers of the Cape Town stopover, in various aspects relating to media and marketing of the event. This involves everything from sending regular press releases to keeping a lookout for broadcast opportunities on aspects of the race. So, for example, the students managed to get SABC's award-winning environmental programme 50/50 to do a slot on the race.
The students also liaise with media personnel of the participating teams as well as the Volvo Ocean Race event management media staff, putting them in contact with local media.
With a big event such as the US$340-million Volvo Ocean Race (boats pull in at 10 major ports around the globe) it's an enviable stage on which the students can cut their marketing teeth.
And hectic. As yachts come into Cape Town at all hours, it's a 24-hour exercise, with updates and press releases going out throughout the night. (Luckily for the students, busy with exams, they've been excused from these all-nighters.)
The experience complements the classroom material well, notes Mkorongo. "The sports management industry puts a lot of weight to practical experience," he says.
It's the second time students on the programme have tackled events in the real world. In addition to a six-week internship, students also had a hand in running the World Rope Skipping Championships in Cape Town over July and August.
Which will look good on a CV.
"These experiences are beyond valuable," says Mkorongo.
---
This work is licensed under a Creative Commons Attribution-NoDerivatives 4.0 International License.
Please view the republishing articles page for more information.
---