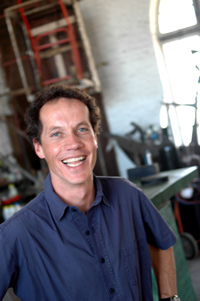 Playful: Johann van der Schijff had fun with his award-winning exhibition, Arm-Wrestle Podium.
It is an artwork with a difference, funny but appropriate.
An arm-wrestling sculpture created by UCT lecturer, Johann van der Schijff, is set not only to add value in attracting visitors, but also help resolve differences - political, social or otherwise.
And it has proved to be the best, winning the fourth, and possibly the last, prestigious public sculpture competition held by the City of Cape Town.
Van der Schijff's Arm Wrestle Podium, with its power-play theme, will be unveiled at 18h00 on 1 November in the patio of the Association for Visual Arts in Church Street, Cape Town.
It is a combination of bronze, stainless steel, aluminium and weather-resistant steel.
"What you see is not what you get. The sculpture plays a game with the viewer all the time," he said.
Van der Schijff, a senior lecturer in new media at the Michaelis School of Fine Art, pipped 63 other contestants.
The competition, held every four years, was initiated by the JK Gross Trust to make art more accessible, and all three previous winning sculptures have been vital in attracting tourists and in regenerating the inner city.
Van der Schijff's work acts as communal platform where disputes can be settled publicly by means of arm wrestling.
"We live in a funny world where people don't seem to like each other," he said, adding, "This will allow people to make fools of themselves and solve their differences with arm wrestling, obviously with a sense of humour."
Although there is physical interaction and an undertone of strong-arm tactics, the results will not cause long-term injuries.
Attached to the sides of the podium are four plaques, the English one opposite the Afrikaans one, "because of their historical differences".
The Xhosa one faces the street while on the "blind side" will be the one in Braille.
The 39-year-old Van der Schijff said his idea had triggered research, and he had found that arm wrestling has 46 rules, "absurd because it cannot be difficult to figure out how to do this".
"That gave me boundaries to work on," he said. He summarised the rules and, conceptually, they make reference to the apartheid laws, resulting in 10 rules.
"These, in turn, make reference to the Biblical Ten Commandments."
Van der Schijff said he thought a lot about the idea, considering what would fit him and be appropriate to the AVA.
"You've got to make it pull people, and people engage with the work."
He had spent about R74 000 to create the sculpture, but the prize money is only about R30 000.
But Van der Schijff is grateful. "It is a great break for me. Winning this competition is prestigious."
---
This work is licensed under a Creative Commons Attribution-NoDerivatives 4.0 International License.
Please view the republishing articles page for more information.
---