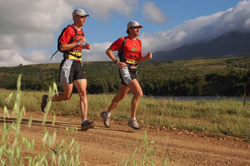 Mountain men: Will Robinson and Dion Middelkoop lead the way at the Cape Odyssey.
Here's the bottom line – maths master's student Will Robinson and UCT athletics coach Dion Middelkoop have won the inaugural Cape Odyssey, the punishing five-day, 200km trail race from Hermanus to Lanzerac Manor and Winery in Stellenbosch.
Running for Team Montrail/ Capestorm, Robinson and Middelkoop took first place overall and first spot in the men's category in a combined time of 21 hours, 44 minutes and 10 seconds, barely 24 minutes of the second-placed team. For their efforts, the two have bagged an all-expenses paid trip to France in June 2008. (It's not all fun and games, though, as they're expected to take part in the equally gruelling Mont Blanc Marathon.)
As expected, the Cape Odyssey was not for the weak of legs. Broken up into five stages between 32 and 60km long, the 43 teams that started the race had to cross three nature reserves, faced steep ascents and near-sheer drops every day, and ran the last day in heat of some 30oC.
"It was a tough race," says Robinson, always one for understatement. "My legs were fine, but my feet were sore and my mind was tired."
Day five was particularly harsh as the runners had to will their weary legs on for a final 8km climb up Assegaaiboschkloof before dropping down for the 10km home stretch.
"We were crawling on our hands and knees," laughs Robinson.
The Cape Odyssey took its toll on competitors. A quarter of the starting teams fell by the wayside, including the team that Robinson and Middelkoop snatched the lead from on the third day.
At least one racer dubbed the race as "hell on earth", and even multi-Comrades finishers were close to calling it a day, every day.
Robinson, no novice in ultraevents, both as a cyclist and runner, also felt the pain. It took a few days to get over his collection of blisters.
"Running is a lot harder on the body," he says. "So in this race, we were trying as much as possible to conserve our energy for most of the way."
They haven't booked their tickets yet, but Robinson and Middelkoop fully intend to defend their title next year. Muscle memory won't help, though.
Spoilt for trails from the Southern Cape Coast to the Cape Winelands, organisers plan to change the route every year.
---
This work is licensed under a Creative Commons Attribution-NoDerivatives 4.0 International License.
Please view the republishing articles page for more information.
---