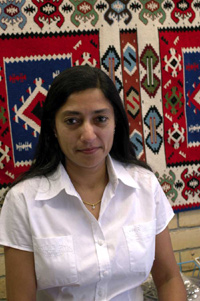 High ground: Daksha Hargoven of the Professional Communications Unit is running in the five-stage Everest Endurance Challenge.
A 100-mile run across mountainous terrain is a tough ask of any endurance athlete. But when it's 3 600m up in the Himalayas on an undulating Jeep track with snow and ice, 'endurance' takes on a new meaning.
Up there the air is thin and oxygen less plentiful. Any activity is taxing on lungs and legs.
"I'm always up for a challenge," UCT pocket rocket Daksha Hargoven said in an interview before trekking off.
"I have no qualms about the distance, it's the altitude. And I've never run five days sequentially."
A lecturer in the Professional Communications Unit, Hargoven's ultra-distance running career has only just taken off. She ran her first Comrades last year and her second one this year.
The Everest Endurance Challenge is – pardon the pun – a step up. Yesterday (Sunday, 28 October) saw the start of the first of five stages from the mountain city of Darjeeling. Hargoven is one of 80 competitors who hope to cover between 38km and 43km daily in the first three days.
The third day coincides with the 42-km Everest Marathon, the world's highest marathon (no surprises there), which starts near the Everest Base Camp in Nepal and finishes at the Sherpa town of Namche Bazaar at 3 446m.
Hargoven is part of the Endurance Challenge Charity Trust to raise funds for organisations that care for children affected or orphaned by HIV/AIDS.
She deliberately left no time for acclimatisation. Her philosophy is to get in and do it - before her body protests.
And if it does the views will be distracting.
"There's the bonus of seeing four of the world's highest peaks, barring K2."
Competitors sleep in huts along the way, with a morning bowl of boiling water thrown in.
Garmin and Hewlett Packard have sponsored the equipment that will allow runners to transmit their physical data to the UCT/MRC Exercise Science and Sports Medicine unit for analysis.
Next on Hargoven's to do list is Aconcagua in the Andes, a non-technical climb, she adds. She's not fond of heights.
"I just won't look down." And already she's talking of the next endurance race, leaving the high grounds of the Himalayas for the Amazon jungle.
Pass the bug spray.
---
This work is licensed under a Creative Commons Attribution-NoDerivatives 4.0 International License.
Please view the republishing articles page for more information.
---