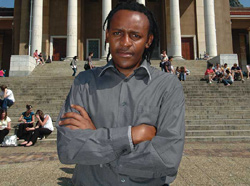 In power: Thulani Madinginye is the new SRC president and would love to stop student exclusion.
Strengthening outreach programmes and curbing academic exclusions are two of the key issues the new Student Representative Council should push for.
This is a view of SRC 2007/08 president-elect Thulani Madinginye, whose 14-member cabinet takes office on 1 November.
Madinginye, a Bachelor of Business Science student who hails from Musina in Limpompo, said the SRC was still finalising a vision document and could not speak on behalf of the committee yet.
However, close to his heart is the problem of exclusion, with students who are doing well academically being kicked out of the institution because they can't afford to pay their fees.
He said in one faculty about 12% of students were excluded and the new SRC will have to find ways of combating the issue.
"It's a pain to see people performing well, but having to leave the institution because of lack of funds," he said.
The current SRC has raised about R500 000 to help, but the new leadership will have to take it further, says Madinginye.
Even students who are expelled because of poor academic performance should be informed in time that they are at risk, he added.
Madinginye said exclusion was affecting transformation as most of the affected students were from the black communities.
He added that community outreach initiatives needed to be given more support, be it in the form of finance or more student participation.
Madinginye comes from an apolitical family, but a politically minded cousin inspired his love for politics. And in 2005, a year after he joined UCT, he gladly accepted the nomination as the chairperson of the Leo Marquard Leadership Forum, and has climbed the UCT leadership ladder since.
"There were clear differences in social activities here, seeing the situation, it made sense for me to do something to influence the process for a better South Africa," Madinginye said.
He also chaired the day house committee and became a RAG executive member, and a year later was named a sub-warden of the Leo Marquard Hall residence.
This year saw Madinginye elected as the new ANC Youth League chairperson at UCT.
When his organisation decided to stand for SRC election independently of its alliance partner, the South African Student Congress (SASCO), Madinginye was one of the six candidates, but only he and Thando Vilakazi made it to the top 15.
And where does he see himself in future?
Madinginye said poverty eradication was close to his heart, adding it was the new struggle facing the youth.
---
This work is licensed under a Creative Commons Attribution-NoDerivatives 4.0 International License.
Please view the republishing articles page for more information.
---