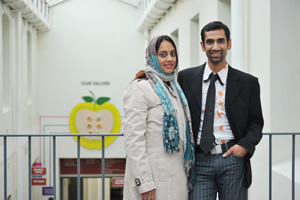 Agents of change: Dr Zameer Brey and his wife Ayesha Rawoot will graduate together this week.
His career path says it all - Dr Zameer Brey is passionate about and committed to improving public health care in South Africa.
But to effect real change in the embattled sector, Brey found that he needed solid skills and a broad experience base to work from. After laying a foundation with a degree in medicine he went on to pursue an MBA, and this week he adds another string to his bow when he graduates with a PhD in health systems, all from UCT.
It will be a family affair, to boot. His wife, Ayesha Rawoot, is graduating with a postgraduate diploma in business administration, and collectively Brey's family holds a dozen degrees from UCT to date.
Brey's PhD thesis is titled Towards Building a Theory of Lean Implementation in Health Care. The Lean model is derived from the famed Toyota Production System (of the Japanese car company), and has been applied predominantly to the manufacturing industry.
Recently some have employed it in health care processes, and the focus, says Brey, is on improving patients' experiences, reducing waste and decreasing staff frustration.
It is well known that South Africa spends massive amounts of money on health care, but the outcomes are very poor. Brey, a chief operations officer at the South African Tuberculosis Vaccine Initiative, among other leadership positions, believes that Lean is one of the management systems that can be used to bridge the divide between massive spending and poor outcomes.
During his research, he implemented and documented a Lean process at five units in the public health system, and found the results encouraging.
For instance, the average waiting time in an outpatient pharmacy was reduced from four hours to 55 minutes in just four months, with no additional resources. Staff members still believed they could do better, and there were days when a 25-minute waiting period was recorded ? almost on par with the private sector.
This speaks to a direct improvement in patient quality of care and satisfaction, Brey noted.
Most recently, a National Department of Health initiative, in which 54 projects at 18 hospitals around the country took part, involved a larger-scale Lean implementation.
"Those results certainly show that the answer is not only more resources, but better management of resources, too," Brey says.
It will take some doing, though, before Lean can be implemented full scale, he adds.
It requires buy-in from middle management, a supportive environment for change, employee recognition for improvements, and empowering employees with the tools for change, Brey suggested.
"A deep understanding of the health care system, coupled with strong training and expertise in management, can yield results like this across the system. I am confident that Lean will be part of a national plan to improve quality of health care in South Africa."
---
This work is licensed under a Creative Commons Attribution-NoDerivatives 4.0 International License.
Please view the republishing articles page for more information.
---