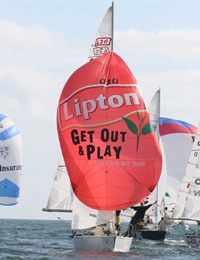 Setting sail: Team Lipton UCT finished sixth at the Lipton Challenge Cup in August.
Following a hard-fought contest against 28 other teams at this year's Lipton Cup, Lipton UCT finished sixth, their best performance in four years.
For a week in August, Cape Town's Table Bay came alive with ballooned sails as 29 yachting teams from across South Africa competed in the 99-year-old Lipton Challenge Cup.
On the first day of racing, 24 August, UCT Yacht Club entry Lipton UCT, manned by skipper William Norton, Steven Rhodes, Carla Dyer, Oliver Hobson, Constantin Hatzilambros and Bridget Clayton, finished seventh on the leader board.
By race day five, Lipton UCT had moved up to sixth position, five points behind Transvaal Yacht Club's Rote Hexe "Bumbo".
Defending champions Greg Davis and Gareth Blanckenberg, a former member of the UCT Yacht Club, of Theewater Sports Club's Dalys Insurance were back in the top spot. This after bagging a win and a second place in two back-to-back races sailed in boisterous 15-knot northwesterly winds on the penultimate day of racing.
At the time, UCT's Rhodes admitted that the crew would be hard-pressed to overtake any of the boats in the top five. All these yachts boasted salted sailors who had represented South Africa onboard the Shosholoza in the recent America's Cup.
An 18- to 20-knot northwesterly in a choppy sea and a fast-running swell provided a fitting finale on 31 August, a hard-fought contest.
"If we have strong winds, well that should sort the men out from the boys, or the old men from the young men," Dalys skipper Greg Davis joked before the final race.
The Royal Natal Yacht Club, led by Shosholoza skipper Mark Sadler, had at one point looked threatening, but defending champs Dalys Insurance sailed a flawless final race in the tough conditions to keep the trophy in the Cape.
Team Lipton UCT finished a proud sixth overall, a mere eight points behind the Transvaal Yacht Club.
It's an improvement on their showings in the past three years, when they finished ninth, seventh and ninth. "We are proud of our achievement," said skipper Norton. "It puts UCT Yacht Club on the map."
---
This work is licensed under a Creative Commons Attribution-NoDerivatives 4.0 International License.
Please view the republishing articles page for more information.
---