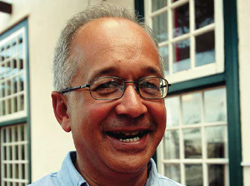 Twice is nice: Prof Bill Nasson's 2007 UCT Book Award is his second such accolade.
Historical Studies' Professor Bill Nasson has won the 2007 UCT Book Award, his second such honour, for Britannia's Empire - Making a British World (Tempus, 2004).
He will receive the award at this week's mid-year graduation ceremony.
Nasson, who describes himself as a writer of history, not a historian who writes, won the UCT Book Award in 1993 for Abraham Esau's War: A black South African War in the Cape 1899-1902.
It was a seminal publication, one that dissected an altogether neglected aspect of war and South Africa: the contributions of irregular soldiers and civilians.
This year's winner has been translated into German.
"It's my contribution to multilingualism at UCT," Nasson quipped.
Professor Vivian Bickford-Smith wrote in his nomination citation: "Britannia's Empire is packed with elegant and concise argument, original insights and what can only be described as Nassonian witticisms."
He said praise for the book had been widespread. John Darwin (Nuffield College, Oxford), a noted scholar of the British Empire, wrote in the (UK) Times Literary Supplement: "The interweaving of social, cultural, political, diplomatic, economic and military history is extraordinarily deft: a huge range of reading is poured into some 200 pages. Much of the pleasure of the book comes from the freshness of the writing, which is crisp, economical and witty –"
Nasson recently delivered the plenary lecture, The Veldt turns Peat: The Irish romance of Afrikaner anti-imperialism, at the 28th Irish Conference of Historians at Queen's University Belfast. The theme was Empires and their Contested Pasts.
His fascination with the British Empire has much to do with the "fragility of imperial power".
Next up is a biography of Adolph "Sailor" Malan, the famous South African World War II Tiger Squadron fighter pilot. Regarded as its most eminent fighter, Malan was awarded the Distinguished Flying Cross.
"But it's really just an excuse to write about Spitfires and fighter planes," Nasson said.
(Professor Kay McCormick's Language in Cape Town's District Six [Oxford University Press, 2002] and Prof Jonathan Burchell's Principles of Criminal Law [Juta, 2005)] received Meritorious Book Awards.)
---
This work is licensed under a Creative Commons Attribution-NoDerivatives 4.0 International License.
Please view the republishing articles page for more information.
---