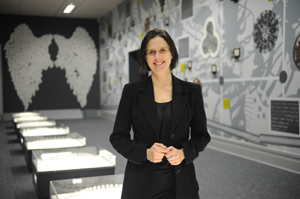 Visual research: Assoc Prof Fritha Langerman is the winner of the first UCT Creative Works Award, which will be awarded at the mid-year graduation ceremonies this week.
The classification of disease and the representation of speciation are the themes of the first exhibition to win the new UCT Creative Works Award.
Renowned artist and lecturer at UCT's Michaelis School of Fine Art, Associate Professor Fritha Langerman, is the creator behind Subtle Thresholds, now on exhibition at the South African Museum in Cape Town until 1 August.
"This project includes all of my research interests," says Langerman, whose visual research centres around taxonomies of knowledge, the representation of the biomedical body and curation.
Part of Langerman's PhD research, Subtle Thresholds is a curated mixed-media work with objects from the collections of the South African Museum and the University of the Witwatersrand's Adler Museum. The exhibition presents an exploded view of the bio-medical world and works with conceptual and material layering. It includes "viral light boxes" constructed from pharmacological labware, laser-cut metal discs, both chromed and rusted, electron microscope images of animal faeces, autoclaves and sterilisers tethered to medical cabinets, and cabinets of animal specimens collapsed with medical instruments.
"Subtle Thresholds draws attention to debates surrounding biomedical visual and material culture, and presents a complex visual network of the inter-relationships between zoological, human and microbial worlds," explains Langerman. "It also aims to expose some of the cultural and historical mythologies that have contributed to the location of disease as a state of otherness and separation."
Partially funded by UCT's Gordon Institute for Performing and Creative Arts and the National Research Foundation, Subtle Thresholds has received polarised reactions.
"Visitor response has been either extremely positive, in that people have appreciated the presence of the exhibition within the context of the South African Museum, or extremely hostile, in that viewer expectation within the natural history environment has been ruptured," observes Langerman.
The UCT Creative Works Award was established to recognise major creative works, including art works, performances, productions, compositions and architectural designs produced by UCT staff within the past five years.
A catalogue for Subtle Thresholds will be available shortly.
---
This work is licensed under a Creative Commons Attribution-NoDerivatives 4.0 International License.
Please view the republishing articles page for more information.
---