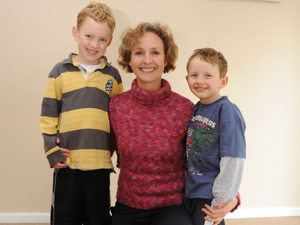 Communication gaps: Family physician Dr Vanessa Perrott will receive her master's degree for her mini-dissertation, The Language of Risk and the Risk of Language. She was photographed with sons Jono (left) and Timothy.
Managing a career as a medical professional, a parent and a student, Dr Vanessa Perrott doesn't have too much time on her hands. She will claim her hard-won master's at this week's mid-year graduation for her mini-dissertation, The Language of Risk and the Risk of Language.
Could you sum up your thesis in a paragraph?
It's about how the risk of having a baby with Down's Syndrome and the risks of testing by amniocentesis are communicated to and interpreted by pregnant women. I was particularly interested in how people with different languages manage to discuss such complex issues, and how patients use their understanding of the risks to decide if they wish to have an amniocentesis. It involved performing qualitative research on a small sample of 12 patients representing the isiXhosa, English and Afrikaans language groups.
It sounds time-consuming.
Extremely! As well as the thesis research I was also doing two courses each semester while ploughing on with my own research - and my job - and still trying to see my husband and children.
How did you cope?
One of our saving graces is that we don't have a TV - so once the children (Jono, 6, and Timmy, 4) were asleep, I would just work. The other saving grace is that my husband works from home and has some flexibility about when he works, so he was an absolute star in helping out with the children and keeping me plied with food - and the odd alcoholic beverage when the research wasn't going well!
Why did you do the MA?
It's a long story - too long for the Monday Paper! But the very encouraging and helpful head of linguistics, Professor Raj Mesthrie, was the biggest catalyst. He was also able to offer me a full bursary through the National Research Foundation, which was a massive help.
How does language relate to your work?
As a family physician, many of my consultations require a great deal more communication skills than actual clinical expertise. I wondered how communication gaps in South Africa are bridged - if at all! The research had practical applications - several of which have already been implemented by the Genetics Department - which is very exciting.
Do you plan continue to a PhD in this field?
Perhaps. But at the moment I'm just revelling in the glory of achieving the master's!
---
This work is licensed under a Creative Commons Attribution-NoDerivatives 4.0 International License.
Please view the republishing articles page for more information.
---