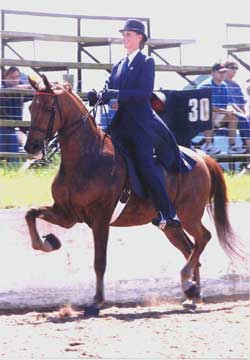 On the trot: Carrie Robertson and Koper took Protea colours at the senior national trials for saddle seat equitation held in February.
Medical student lands SA colours for equitation, a 14-year passion
In February, Carrie Robertson, 19, and Koper, her Boerperd horse, took green and gold - aka Protea colours - at the senior national trials for saddle seat equitation in Parys, Free State.
She's now part of the South African team scheduled to go up against the Americans in the US later this year.
Robertson is a second-year MBChB student with her eye on a career as a trauma surgeon. But since age five she has practiced what she calls her first love, horse riding, and more recently the relatively unknown sport of saddle seat equitation.
Equitation, originally an American sport, is divided into three classes: hunt seat, saddle seat and dressage. Saddle seat equitation hinges very much on the rider's ability to direct the horse through a series of horse gaits with nearly invisible aids.
She calls keeping her riding on gallop, rather than a trot, a combination of hard work and a good dose of genes. "There definitely is a natural element to horsemanship," she says. "Some people are just born with it.
"Certain people can feel what the horse is going to do; you want him to do the same, and listen to you. I sometimes think Koper can read my mind."
On the competition front, the ultimate accolade is national senior colours. But to keep her colours she'll have to go through the same process every year.
To qualify for colours, a five-gaited event (trot, walk, canter, slow gait and rack) has to be completed according to a point system. Competitors are also given a routine the night before the event, which they have to memorise and complete without any practice. At this year's SA trials Robertson got three gaited colours on Koper and five gaited colours on Tom Dooley, her third horse.
She finished second. The only improvement on that would be getting pole position, and then maintaining it. "The judges said I might have scored higher marks if I was riding a saddlebred, as it would have made a better overall picture and then might have been placed higher," she added.
A Cape boerperd is a slightly smaller breed than the South African saddle seat-bred horse, which is a combination of imported breeds and the boerperd. "On top of this Koper, my horse (now aged 19 - that's almost 90 in horse years), has reached the time for retirement," she said. Final Decision, her six-year old horse, will compete with her in upcoming competitions.
Robertson first tried out for Western Province at age 12. In 2005 she made the cut and served as vice-captain of the team before becoming captain in 2007. "It took me a while to get my WP colours; the judges demand a very strict standard of training and the horses are of high quality," she says. "Also, there are so many people competing."
This makes her illustrious career from joyrider to Springbok all the more notable. She's held junior Springbok colours for the past two years and represented South Africa in Texas last year in a tightly-fought draw against the favoured Americans. And, of course, the contest continues this year.
But would she ever go pro? No, Robertson says, she prefers to ride for South Africa for as long as possible. As equitation is an amateur sport, professional riders can't represent their countries.
---
This work is licensed under a Creative Commons Attribution-NoDerivatives 4.0 International License.
Please view the republishing articles page for more information.
---