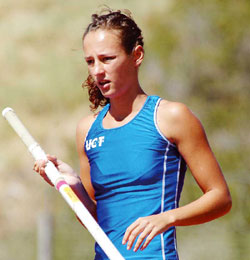 Shining star: UCT pole-vaulter, Sylma Jordaan, says success is a balancing act between body and mind.
Pole-vaulter Sylma Jordaan achieves rare success for UCT team at national champs.
UCT pole-vaulter Sylma Jordaan took the first UCT senior national track and field title in at least 25 years when she jumped for gold at the South African Senior Track and Field Championships in eThekwini, Durban, in late March.
Even with a full field, including jumpers who'd cleared four metres before, Jordaan's jump of 3.5m was good enough on the day. "They just didn't clear the bar, and she did," said James Evans, UCT athletics club coach.
And although the national standard demands a higher jump, Jordaan's on her way up. Her personal best is 3.85m. And she has recorded - during practice - a jump of 4.10m. "I would like to jump what I do during practice; it's all about improving a little every day," says Jordaan.
The win was a big confidence booster for her. The challenge, says Evans, is for her to win again next year, a feat few pole-vaulters have managed.
Jordaan managed to do exactly this - defend her title - at this year's student championships, though.
She's just returned, with another 3.5m jump at her first attempt, with gold from the South African Students Sports Union (SASSU) Track and Field Championships in Durban.
In the lead-up to the student championship, Evans predicted that if she cleared the bar, she would win. "Other student jumpers are just not in her league."
It's not just the body that needs training, though. "It takes a lot of headwork. You need to continuously convince yourself that you feel good, and work extra hard to get and maintain the competitive edge." Jumping conditions are unpredictable, she says. The only thing that you can control is yourself.
But she can't jump forever. "Women peak at around 30. I will stop when I'm satisfied that I've done the best I can with the talent I was given. When I'm done, I don't want to say: what if, should've and if only." For now, she says, it's all about keeping the rhythm, and balance.
---
This work is licensed under a Creative Commons Attribution-NoDerivatives 4.0 International License.
Please view the republishing articles page for more information.
---