University of Cape Town (UCT) alumnus and acclaimed African entrepreneur Rapelang Rabana, delivering the guest address at a jubilant and inspiring Faculty of Humanities graduation ceremony in the Sarah Baartman Hall on Friday, 12 April, urged the graduands to tap into their internal wisdom and chart their own, unique path to success.
She sketched her journey from curious schoolgirl to highly successful technology entrepreneur, describing how her rise to the big time happened soon after she graduated from UCT with a business science degree in 2005. Since then, she has notched up a string of accolades.
"All I have ever tried to do was to follow the rhythm of my own soul – and I had no idea it would take me so far. I believe that greater self-awareness has been quintessential to everything that I have been able to achieve."
Rabana, together with two of her UCT classmates, launched Yeigo, one of the first companies in the world to offer free mobile phone services via Voice Over Internet Protocol (VoIP).
She and her fellow entrepreneurs developed the world-class technology sitting around a dining-room table in a small flat.
"We taught ourselves everything we needed to know about how to build the software and how to run a business online. We literally googled our way to success."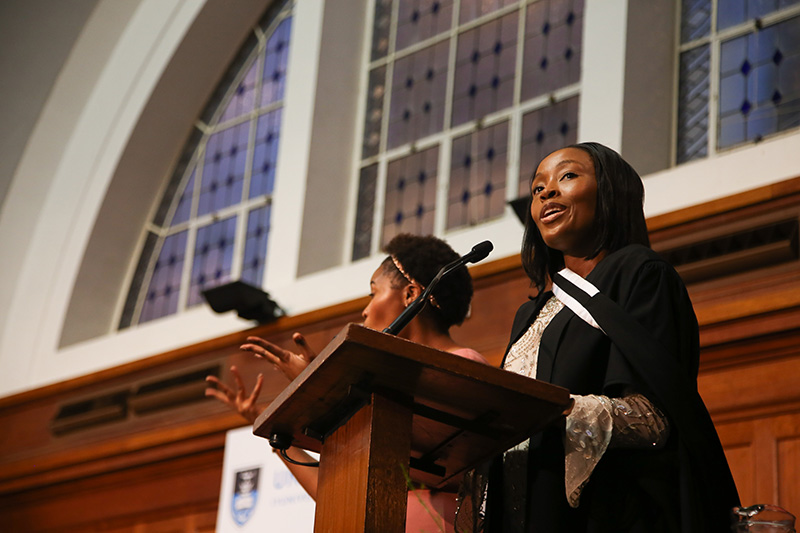 It set Rabana and her friends on what she describes as "an amazing journey".
"By the time we launched Yeigo in February 2007, there were just three companies globally that launched with similar technologies – one in Israel and one in the UK, with far more funding.
"Such is the levelling and inclusive power of the internet that a group of bright-eyed students could achieve this with such limited resources."
"Personal mastery goes beyond competence and skills. It means approaching one's life as a creative work."
Deliberate and intentional choices
A local operator bought Yeigo in 2009. Buoyed by the success, Rabana then launched Rekindle Learning, a company in the tech space which aims to bring the benefits of technology to learning and education.
She shared the lessons she had learnt and encouraged the graduands to make deliberate and intentional choices about their careers, instead of merely being caught up in the humdrum of life and "being on autopilot waiting for your real life to start happening".
"Personal mastery goes beyond competence and skills. It means approaching one's life as a creative work … living life from a creative as opposed to a reactive point of view."
The dynamic entrepreneur, who has been featured on the cover of Forbes Africa magazine as a symbol of the next generation of African entrepreneurs, spoke to the value of spending time on self-reflection.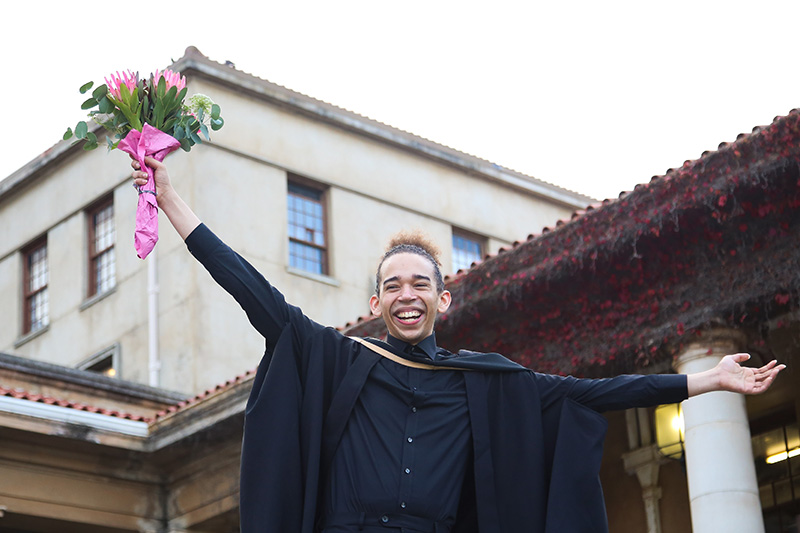 She said society, particularly in this era of social media, focuses on "looking out there" for success. Yet, it is far more important to reflect honestly on what you want in life.
"It's about tapping into your internal wisdom. It's about the awareness to see and follow your curiosities. The things that other people may think are mundane or irrelevant … those are the things that may well be a source of value for your life."
"Trailblazers hold hands with fear because they are willing to risk venturing into the unknown rather than staying with the predictable."
Emboldened in childhood
Rabana described how the seed of entrepreneurship was planted early in her life. Aged about 11, she realised, while gazing out of a classroom window during a geography class, that she didn't want to be boxed in by systems and structure. The moment stayed with her throughout her school and university years.
"Soon after university I gave up lucrative job opportunities and the guaranteed safety I was offered, and convinced my parents to house and feed me for a few years."
She used those years to plunge into her entrepreneurial pursuits.
She said she had been emboldened by her parents, who grew up in abject poverty but became the first to graduate in their respective families.
"As a child I watched them excel in their professional careers as an architect and an electrical engineer."
Some of the special moments from the Friday evening graduation reflected a ceremony buoyed up by a celebratory atmosphere of pride among the students and their families and friends.
The way in which they handled both success and adversity had a lasting effect on their daughter.
"They ran so many businesses and projects in their commitment to create the life they wanted for themselves and their children and then in my early teens I watched them lose everything they had built.
"That could have been the end, but lo and behold, I saw them get up and do it all over again. By the time I was finishing university, I had seen my parents start with nothing and create everything twice over."
For Rabana, it was a valuable lesson.
"Today I want to be for you what my parents were for me … to show that hard work and excellence in your unique contribution over a sustained period of time creates value that yields success."
Venture into the unknown
The graduation ceremony, one of five for the Humanities faculty, was buoyed up by a celebratory atmosphere of pride among the graduands and their families and friends.
In her address, UCT Vice-Chancellor Professor Mamokgethi Phakeng encouraged the students to be trailblazers.
"Trailblazers hold hands with fear because they are willing to risk venturing into the unknown rather than staying with the predictable," she said.
A trailblazer who caught her eye during the ceremony was Qobo Ningiza, South Africa's first deaf law graduate. Born and raised in the Eastern Cape, he is the fifth of six children and the only person in the family with a hearing disability.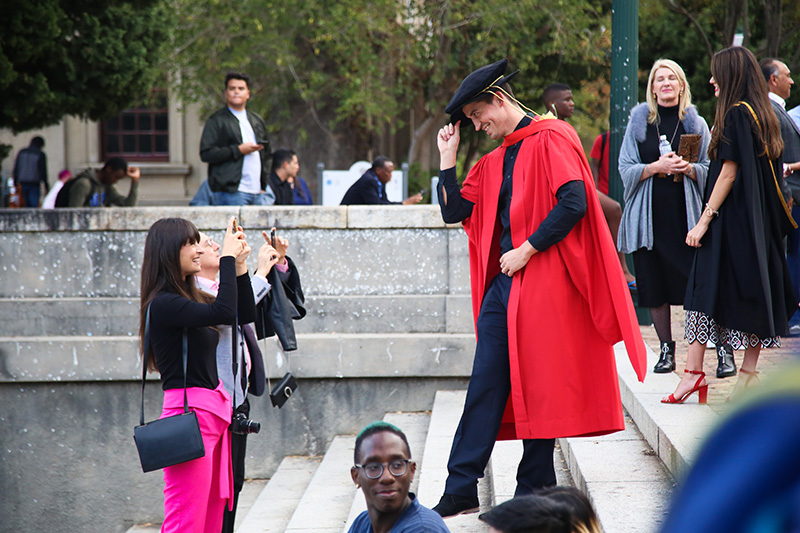 "He is motivated by a desire to seek equality, and today his example is in itself a victory for social justice, as he graduates with an LLB," said Phakeng.
She thanked the parents, families and friends at the gathering for supporting the young people under their care.
"Your bundle of joy that finished high school not so long ago is now a UCT graduate," she said to rousing applause.
The students stood up to honour their families and caregivers, lecturers and professors, as well as the university's professional, administrative support and service (PASS) staff who supported them throughout their years on campus.
The graduation ceremony also featured a spirited performance by UCT opera student Nombulelo Yende, who won first prize and the audience award at the 2018 International Competition of Belcanto Vincenzo Bellini in France.
---
This work is licensed under a Creative Commons Attribution-NoDerivatives 4.0 International License.
Please view the republishing articles page for more information.
---