Ululating and cheering cascaded across the University of Cape Town's (UCT) Sarah Baartman Hall during a graduation ceremony for the faculty of Engineering & the Built Environment on Tuesday, 16 April, during which graduands were urged to use their education and skills to help uplift communities.
The graduands were treated to words of advice from inspiring UCT alumnus Mavo Solomon, who encouraged them to fight inequality and play their part in helping communities in poverty-stricken areas.
Armed with three degrees, including a master's degree in mechanical engineering from UCT, Solomon gave up his career as an engineer to set up a non-profit foundation to teach mathematics at schools in some of the deep rural areas in the Eastern Cape. Apart from tuition, Solomon also raises funds to provide basic stationery, school uniforms, water, food and used laptops.
"This I do to flush out pupils who wish to be more than what their living environment makes it seem possible to achieve," said Solomon.
Through perseverance and studying, many of the "bright sparks" under his watchful eye have gone on to study at UCT, Fort Hare and Rhodes University, among other institutions.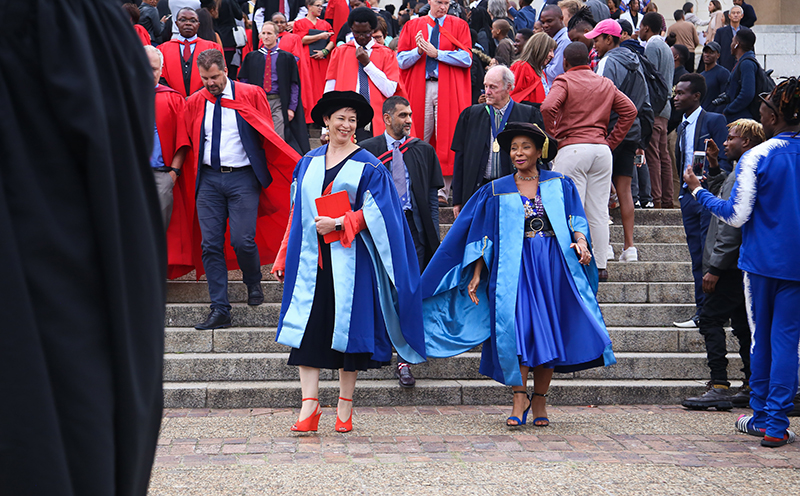 "This work is hard, but it is highly rewarding. I would quit my job any time to do it."
"This work is hard, but it is highly rewarding. I would quit my job any time to do it."
Giving back to communities
Solomon has spent the past few years traversing the roads of the Eastern Cape, sharing his passion for mathematics with schoolchildren and sometimes shaking things up by demonstrating on his guitar the link between maths and music. He is also a songwriter and performer, known for his contemporary African folk album iSiGiDiMi, which means "an important message".
He encouraged graduands to plough back into communities.
"Invest in your communities. Start your own programmes or invest in ours."
He said UCT students had done well in the #RhodesMustFall and #FeesMustFall campaigns, but now needed to pick up the baton and carry on.
"I have faith in this generation. You have the will and ability to fight inequality more than we ever did. This is your next fight. And I think you can and shall win it."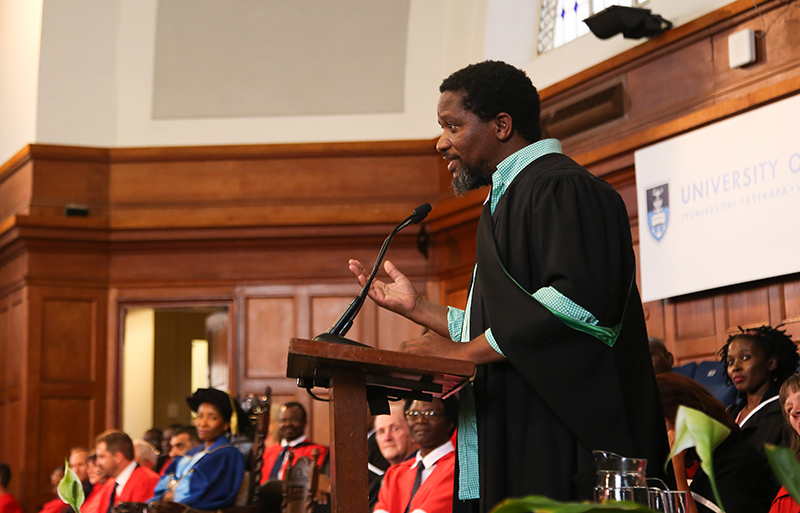 Drawing from his experience as an energy analyst at Eskom, he described how he had worked on a model for the timeous building of power plants. He realised by 2003, during the Thabo Mbeki presidency, that something urgent needed to be done to avoid electricity shortages. But he said politicians didn't listen to the engineers and let the opportunity lapse, ultimately leading to the current regular blackouts.
Communication is key
Engineers, he added, are not generally known as good communicators, yet this is an essential skill.
"It is not enough to know how to do the work. You must influence people who make the decisions on the work that needs to be done."
"The biggest lesson that you will learn, as a professional in the so-called real world, is the importance of communication. It is not enough to know how to do the work. You must influence people who make the decisions on the work that needs to be done."
Following the graduation ceremony, Vice-Chancellor Professor Mamokgethi Phakeng called on the new graduates to make the most of the UCT alumni network, of which she said they should be proud to be a part, and which could open doors.
"There are 170 000 UCT graduates all over the world and they are your network from today."
Ululating and cheering marked Tuesday's EBE graduation, at which VC Prof Mamokgethi Phakeng urged graduates to make the most of the UCT alumni network.
She thanked the families, friends and graduates for gathering together for a true African celebration.
"We are Africans and we love celebrating. Here on the continent, when we celebrate and say thanks, we sing praise poems to the rivers, the valleys and the battles you have fought. We do this to remind ourselves of who we are as a people. This is what graduation is about."
Brilliant women
Among the proud family members gathered outside Sarah Baartman Hall was former Constitutional Court judge and activist Albie Sachs. He had come to see his wife, Vanessa September, graduate with the degree of Master of Urban Design.
September said it was her second graduation and was more emotional than the first one.
"The last time I graduated was in 2003 and I was one of only a few women in the architecture faculty. Now it's wonderful to see the number of very smart, young black women in engineering passing with distinction. They're smart, fashionable, elegant but also brilliant. That change between then and now has been huge."
Sachs was heartened by the atmosphere of the graduation ceremony.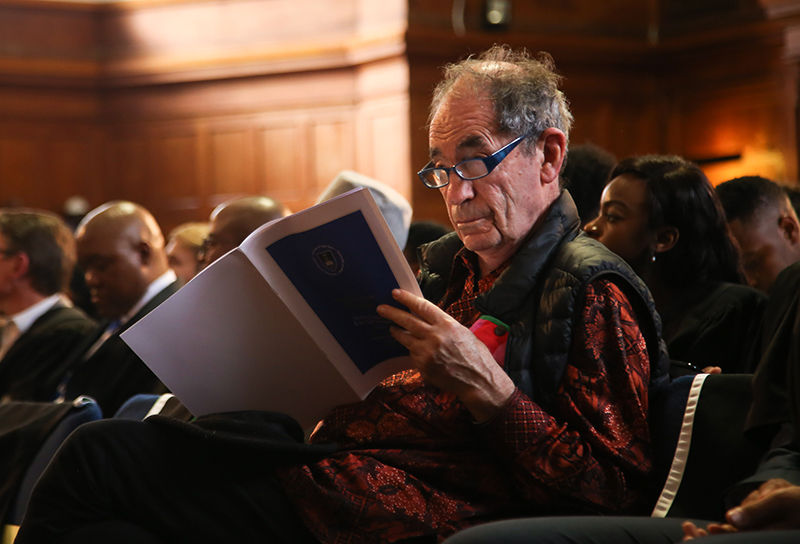 "As a youngster I used to hate graduations. They were always so bourgeois and formal. Now it's exciting. The whole mood and character has changed. It's not just sitting there with polite applause. Everybody joins in and you feel you are in Africa. It's taken UCT a long time, but it's getting there. There is an energy that is not about tearing down things, but building things up and it is creating a new ambience where everybody's welcome," he said.
---
This work is licensed under a Creative Commons Attribution-NoDerivatives 4.0 International License.
Please view the republishing articles page for more information.
---