When a great white shark attacked bodysurfer Caleb Swanepoel at Buffelsbaai near Knysna in June 2015, he thought he was going to die. But a new script was being written for the drama and performance student who graduates on 16 April.
In the tumult after the shark had hit him ("a force like a bus") and pulled him under, Swanepoel recalls thinking it couldn't be happening. He was a drama and performance student, a high-energy physically intense area of work. He needed a whole body. How would he work?
But good fortune, capable medical care and grit will see the Prince Albert local graduate this month; on two legs, one a prosthetic after he lost his right leg above the knee.
It was a fine June afternoon, a glassy sea, a good right break. First-year student Caleb (20) and his brothers Joshua and Alexander were bodysurfing 80 metres off Murphy's point. He was tiring, hungry, in search of a last wave. As he crested, the shadow of a three-metre great white loomed in the next set.
"Something didn't feel right"
He screamed a warning to his brothers and they struck out for shore. Joshua had his own pair of fins, Swanepoel and Alexander shared a pair. Swanepoel was furthest from shore. He put his head down and swam.
"It was 27 June, my first [varsity] holiday. A lot was going on in my head. Campus wasn't what I'd been expecting. We weren't doing any acting. We were doing voice… It didn't feel like I was acting."
He was starting to doubt and question things. He likes to know where he's going but admits that he doesn't like making decisions.
"All that doubt, fear and questioning of the future happens.
"Then this happened."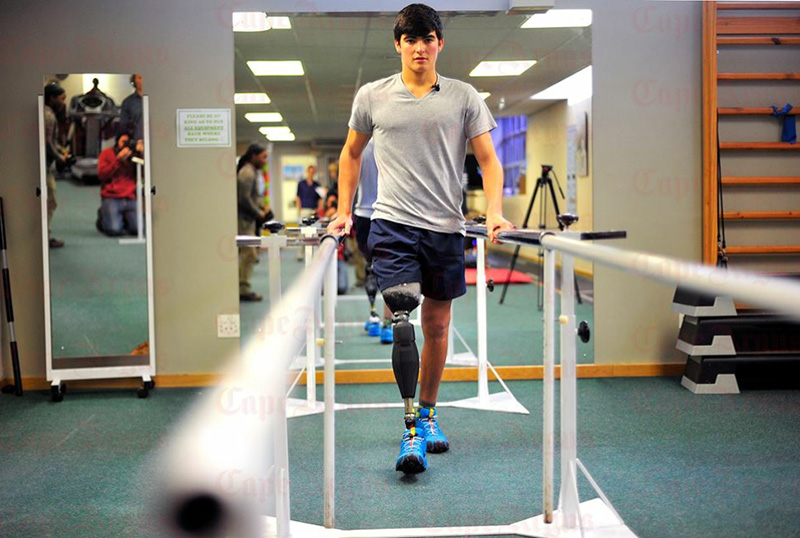 Something out there didn't feel right, he recalled. As he was swimming, he sensed the shark was onto him. It hit with violent force, shaking him like a ragdoll before pulling him under.
"I didn't know which section of my body it had. I was just being pulled and shaken around. And then I was trying to come up for air.
"It's such a scary moment. There's such fear … no one should ever experience that… It was such an out-of-body experience."
"It's such a scary moment. There's such fear … no one should ever experience that… It was such an out-of-body experience."
As he was fighting to get the shark off his leg, he had a moment under water when he thought he wasn't going to make it.
"I asked the energies out there, 'What next?'.
"I was waiting for a moment when things would go… and it never came, and I came up out of the water and, I didn't know at what point, but the shark had taken my leg off and I was floundering in the water."
Brave brother
Younger brother Alexander was closest to him.
"When he got to me I couldn't swim properly – I was so tired – so he grabbed the back of my wetsuit and started pulling me back to the beach. Then he stopped. The shark had come back. Alex tried to scare it off. It took a piece of his fin."
At some stage the shark also bit into Swanepoel's left leg.
"It left me with this," he said, pushing his shorts above his left knee to show a scarred laceration.
"The shark had come back. Alex tried to scare it off. It took a piece of his fin."
"So, it could have taken my left leg too."
But after circling, the shark swam off.
Swanepoel's mother Tracy and sisters Rebekah and Robin had been watching from the house; his sister told their mother she'd seen something in the water, something with a black back. And then they saw splashing and blood. They ran for the beach.
"They didn't know which of us it was," said Swanepeol.
"My brother managed to get me towards the beach and I literally fell into my mom's arms."
By then his vision had turned white and he was struggling to hear. He passed out and came to.
"She said, 'Just stay awake, keep looking at me. Don't go to sleep'."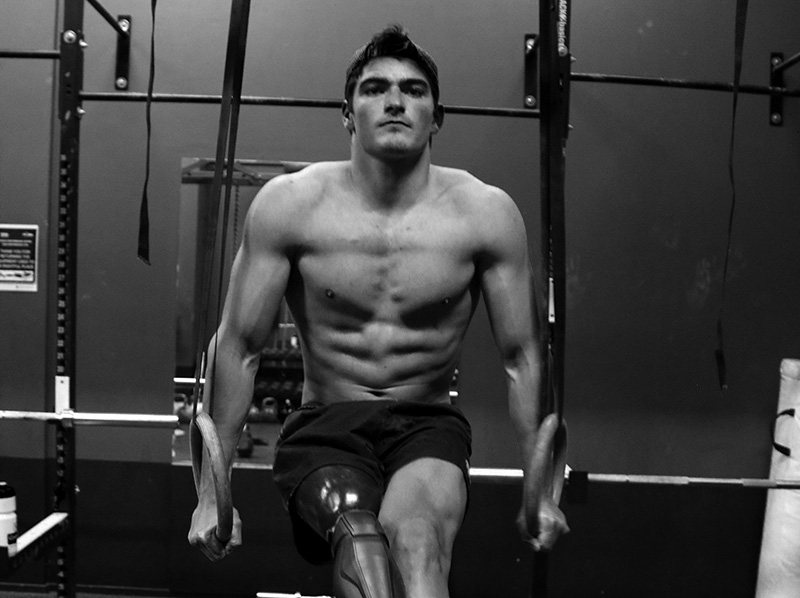 He'd lost a lot of blood. Surfers on the beach tied a belt around his stump, tourniquet style. Someone called the National Sea Rescue Institute (NSRI) who were on the scene in 15 minutes. (They came from their day jobs, something Swanepoel still marvels at.)
Lifesaving SA and the NSRI South Africa later gave Alexander an award for bravery.
"What he did was incredible," Swanepoel said of his brother.
He was taken to an ambulance where the medical crew stabilised him. A helicopter flew him to the Mediclinic in George where he was rushed into emergency surgery.
Recovery and a new script
"My family told me I always liked attention. There's some truth to that… I love making a fool of myself. I'm a bit of a clown. Alex too. We all have a bit of crazy in us," Swanepoel reflected.
Now, just before being wheeled into surgery, his inner clown surfaced.
"I remember saying, ʻYou guys [doctors] must take out my wisdom teeth when you clean me up'."
In fact, he'd lost a lot of blood. But the surgeon said there had been a miraculous response from his body. Swanepoel's femoral artery had clotted and gone into spasm, closing it off.
"I managed not to bleed out."
In hospital for 10 days, and with heaps of support flowing in, Swanepoel was left with gratitude – but much uncertainty.
"I thought I wouldn't go back to varsity for a while. I'd have six months off to figure things out, do a course or two and just relax. Get into lazy mode."
In Cape Town he saw a prosthetist, a member of the medical team of physiotherapist, psychologist, doctor and occupational therapist he met every week.
"They told me I was going to start the coning process to reshape my stump for a prosthetic leg. They also said they thought I should go back to varsity. 'Keep your diary flexible but don't stop your studies'."
"We're going to do everything we can to accommodate you, but please, come back."
Swanepoel wasn't sure.
At UCT's Centre for Theatre, Dance and Performance Studies, Swanepoel's course convenor was firm but supportive.
"We're going to do everything we can to accommodate you, but please, come back."
Learning to work differently
Two weeks into the new term he went back to class, on crutches.
"After I got the prosthetic leg it was really crazy," he said.
"I had to learn to balance and figure out walking. There is so much we take for granted. Our bodies are incredible.
"I did my movement piece and all my performance stuff on crutches, which was quite interesting! The frustrating thing for me is that I want to do my best. I've always competed with myself. That means pushing myself hard… And there were some things I couldn't do the same as the class.
"I had to find a way to adapt to finding that space… and still today it's something that frustrates me. I'm so capable in my mind... but the rest of my body … there's another part of me that's finding its way in the world. That was the challenging part: learning to work differently."
His tutor, Mbongeni Mtshali, told him they were going to use his crutches as part of the scene.
"The fact that you have one leg is part of the scene, but it doesn't have to be like this every time."
That was a relief.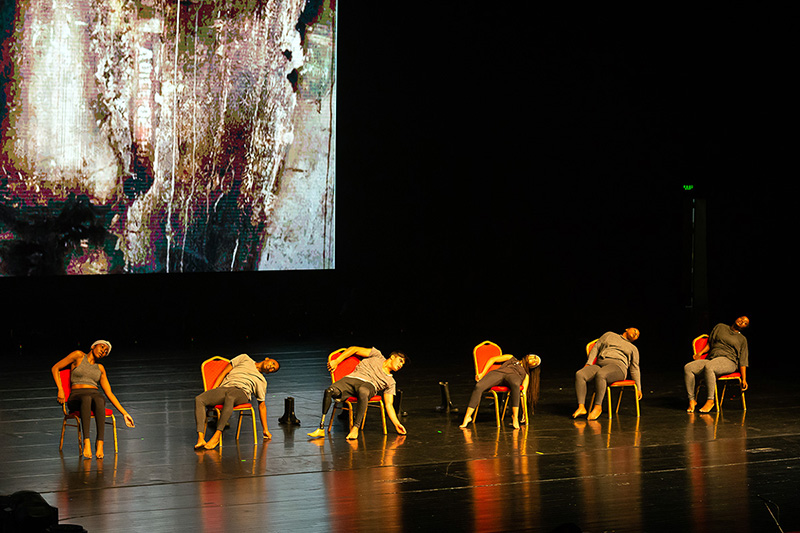 "I didn't always have to be someone with one leg," said Swanepoel.
"I could either channel that frustration or be normal. So, we used it and my movement piece went well."
He has nothing but praise for the centre's staff, especially Dr Sara Matchett. Led by head of department Associate Professor Geoff Hyland, they rallied around him in the difficult months of his first year.
"They care about their work; they care about their field; there's something special about the department. These teachers give of themselves."
"Geoff was an incredible, teacher, mentor and friend. They [the staff] care about their work; they care about their field; there's something special about the department. These teachers give of themselves. Just as I learnt and changed and grew and learnt to adapt, they had to do the same for me."
Paving the way
With Swanepoel about to graduate, senior lecturer Clare Stopford recalled his tenacity.
"He returned to his studies within the same year in a professional training that demands total physical and emotional commitment, and proceeded to adapt to his new life and recover from his trauma with an attitude of positivity and courage.
"His courage paved the way for other differently-abled students in the drama department to join with confidence, while his determination has offered many teachers the opportunity to extend and adapt their skills to teaching differently-bodied students.
"So many times, he must have wanted to give up. He told me that each moment of his life is a painful stretch as he relearns how to do everything differently in space and time. Caleb not only expands himself in every moment but has expanded all of us in the department. For his peers, his experience has been an equaliser."
Swanepoel is keen to test himself on the Shakespeare circuit in London – but there are other opportunities. Since the shark attack he's gone back into the water, excelling at surfing and swimming. He won his division in the International Surfing Association (ISA) Adaptive Surfing Championships and is eyeing the world championships in California.
As a differently-abled swimmer he qualified for Western Province and competed in the national championships in 2016, 2017 and 2018. In 2018 he competed in the long- and short-course championships, medalling in both forms. Now he has his sights set on the Paralympics.
"I never put a barrier around things, saying 'this is something I want to do for the rest of my life'. I want to do so many things."
Watch this space…
---
This work is licensed under a Creative Commons Attribution-NoDerivatives 4.0 International License.
Please view the republishing articles page for more information.
---