Dr Elona Toska, a postdoctoral research fellow in the AIDS and Society Research Unit (ASRU) and an associate lecturer in the Department of Sociology, is one of two UCT recipients of a prestigious Collaborative Initiative for Paediatric HIV Education and Research (CIPHER) grant.
The second awardee is Dr Millicent Atujuna, a behavioural scientist at the Desmond Tutu HIV Foundation. Toska and Atujuna were among five grant recipients announced at the 22nd International AIDS Conference (AIDS 2018) plenary session in Amsterdam on 26 July.
CIPHER is administered by the International AIDS Society. The grants provide up to US$150 000 over two years to support studies on paediatric and adolescent HIV.
Real-life healthcare models
Toska's project will evaluate different healthcare provision models to improve health outcomes and optimise health services for adolescents living with HIV and their children.
South Africa continues to document high rates of HIV infections among 15- to 24-year-old women and consistent rates of adolescent pregnancy.
The grant will support Toska's work with HEY BABY (Helping Empower Youth Born in Adversity with their Babies and Young Children), a new study in the Eastern Cape focusing on helping adolescent parents and their children. The grant will support a part of the HEY BABY data collection and analyses, training and dissemination.
"This is incredible recognition, both for me and the research team, but even more so for the issue that we want to investigate and improve," said Toska.
"We know that HIV morbidity among young mothers is high, as is the risk of passing the virus to children during pregnancy and breastfeeding. The grant will allow us to link – with ethical permission – the life stories and health experiences of adolescent mothers and their children to their health data. In turn, this will allow for much-needed analyses on which real-life healthcare models are helping these young mothers and their children survive and thrive."
"The grant will allow us to match – with ethical permission – the life stories and health experiences of adolescent mothers and their children to their health data."
HEY BABY is one of several projects Toska is involved in; the others are part of the Mzantsi Wakho project, the world's largest cohort study of adolescents living with HIV, which is housed at ASRU.
Based in the Amathole District of the Eastern Cape, Mzantsi Wakho is part of a collaboration between UCT and the University of Oxford. The study generates evidence that informs social policy and intervention design on the best ways to care for and support young people and families living in AIDS-affected communities.
"Our research team collaborates with adolescents, frontline healthcare workers and service providers to design support tools to improve adherence to medicines and access to health services," Toska added.
"While there are promising initiatives to reduce HIV infections and unintended adolescent pregnancies, we do not yet know how to help young people living with HIV to adhere to antiretrovirals, have good long-term outcomes, including leading healthy and happy sexual and reproductive lives."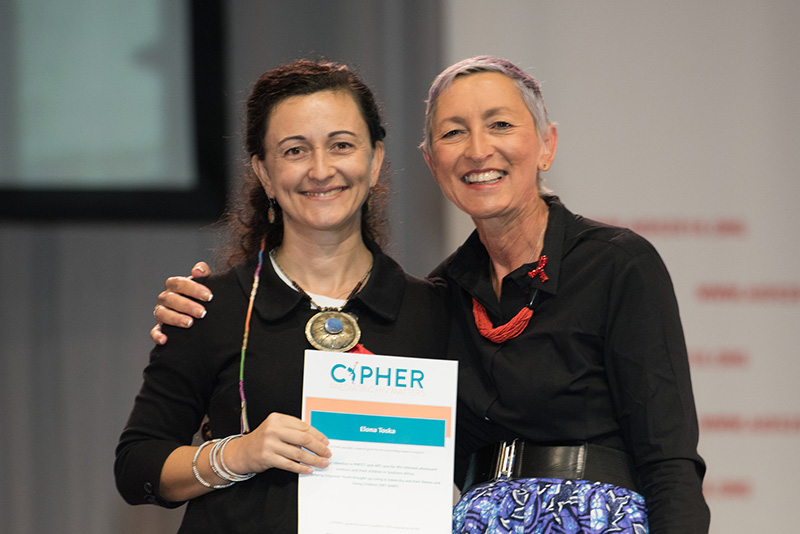 Highly respected
Toska's work in the field is highly respected. An academic article she lead-authored, titled "Sex and Secrecy: How HIV-status disclosure affects safe sex among HIV-positive adolescents", is one of the most widely downloaded publications in the journal AIDS Care.
Toska lived in the Eastern Cape for two years during her doctorate, a world very distant from Fier, in Albania, where she grew up aspiring to be astronaut ("before realising Albania has no space programme"). She excelled early, winning a scholarship to Atlantic College in Wales and then on to Princeton where her idea was to become a paediatric surgeon.
During the first term of her degree, she took a seminar on the international politics of HIV/AIDS in Africa. It was an eye-opener, introducing her to the "incredibly complex" socio-economic, political, individual, familial, community and structural issues that have shaped the epidemic. Importantly, it introduced her to public health.
"That changed everything."
Toska enrolled at the Woodrow Wilson School of Public and International Affairs, which offered her a suite of interdisciplinary courses. Her senior thesis was on the response to HIV/AIDS in India.
A perfect combination
In 2004, in the penultimate year of her bachelor's degree, she came to South Africa as in intern with NGO Mothers2Mothers, which supports expectant mothers living with HIV.
"It was an exciting time to be in South Africa – the country was celebrating 10 years of democracy and I soaked up the positivity of it all (which was very different from Albania 10 years into democracy). But we were also working on a very important issue – ending parent-to-child HIV transmission."
"It was an exciting time to be in South Africa – the country was celebrating 10 years of democracy and I soaked up the positivity of it all."
During her master's degree at Oxford in 2011, Toska met her mentor, Professor Lucie Cluver, a South African social worker whose research focuses on helping AIDS-affected children, adolescents and their families.
"Prof Cluver supervised my master's thesis on factors associated with adolescent pregnancy in South Africa, which was powerful and inspiring research, and left me wanting to do more in the area."
Cluver invited Toska to collaborate on the Mzantsi Wakho study, which brought her to the Eastern Cape where the study is located. After completing her doctorate, Toska was awarded a postdoctoral fellowship to continue work on the study at ASRU.
While Princeton and Oxford, where she first cut her academic teeth, offered highly resourced spaces, these institutions are "very far" from where she wanted to work and live.
"Being at UCT is a perfect combination of a high-quality academic space close to the young people whose lives I am hoping to improve through rigorous evidence. Moreover, I have been lucky to learn from leading experts who work at UCT, particularly in public health and interdisciplinary social science research, including ASRU director Dr Rebecca Hodes, also a former CIPHER grantee."
Watch an interview with Dr Elona Toska at the International AIDS Scoiety Conference 2018...
(A feature on Dr Millicent Atujuna's work will be featured soon.)
---
This work is licensed under a Creative Commons Attribution-NoDerivatives 4.0 International License.
Please view the republishing articles page for more information.
---