Collective action will change the trajectory of health services and the impact on the lives of youth and vulnerable groups, said Saadiq Kariem, the chief operating officer of the Western Cape Department of Health and Wellness. Kariem spoke during the opening session of the Africa Higher Education Health Collaborative Convening held in Cape Town 15 to 17 October.
On day one of the three-day conference, held at the Breakwater Lodge conference venue, delegates focused on building the partnership. This idea is at the centre of the health collaborative which is committed to sustainable development, creating jobs by boosting youth employability and enhancing primary healthcare ecosystems in Africa.
"It's a partnership that is based on mutual trust; we've moved beyond connecting and collaborating – we've come to a place where we can co-create the future," said Kariem in his address, acknowledging that the Western Cape Department of Health and Wellness has had a very good relationship with all the universities in the province, including the University of Cape Town (UCT) as a partner.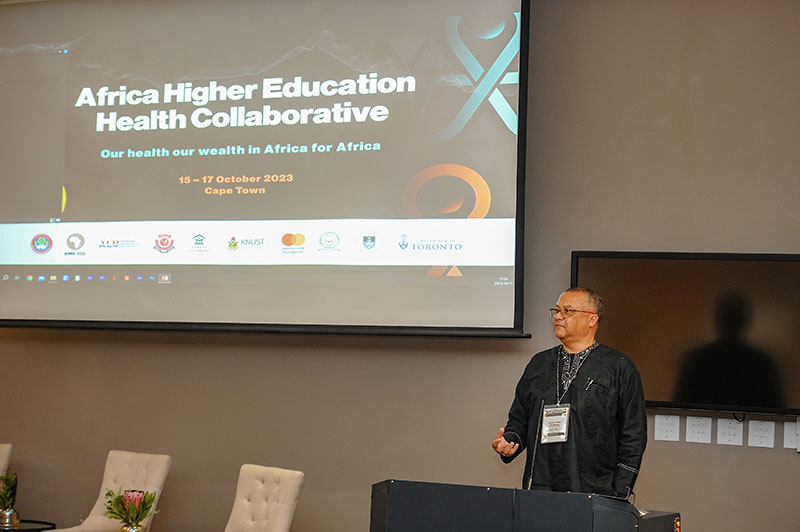 Day one's morning session focused on the capacity of youth to address various challenges in Africa's healthcare systems. The first and second sessions, which were chaired by UCT academics, comprised an official welcome by Associate Professor Lionel Green-Thompson, the dean of UCT's Faculty of Health Sciences; a keynote address by Professor Laetitia Rispel, a professor of Public Health at the University of the Witwatersrand; and a panel discussion.
Welcome session
In his welcome remarks, Associate Professor Green-Thompson noted that this first convening of the health collaborative was the beginning of "relating across sectors", and emphasised the commitment of young entrepreneurs and scholars to multisectoral engagement.
"Young people hold the key to Africa's sustainable development and to Africa reaching its full potential," he said.
"We gather today in recognition that at the heart of solutions is partnerships. In the conversations I've had with young people and in the context of the intentions of our health collaborative, I'm mindful of the spirit of ubuntu – that we are only because of other people."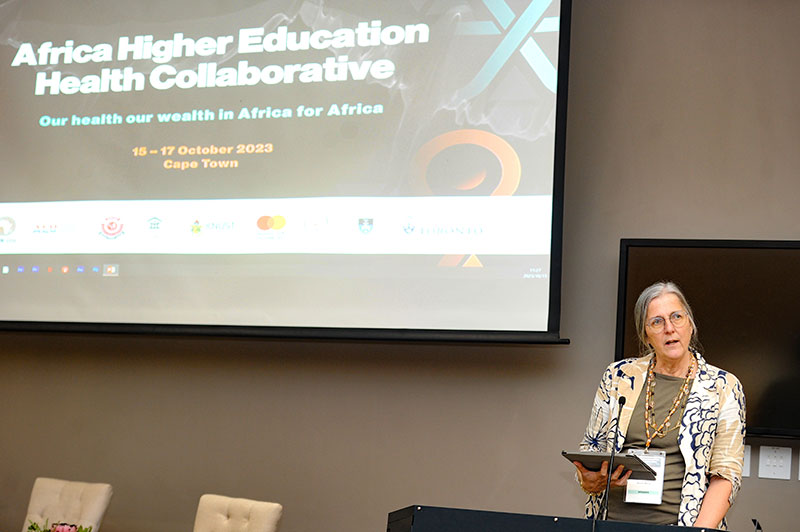 Professor Sue Harrison, the deputy vice-chancellor for Research and Internationalisation at UCT, stressed the importance of harnessing the talents of postgraduates and early-career researchers to address Africa's healthcare challenges. She detailed how UCT is supporting capacity development in this regard, citing the university's first cohort of 2030 Future Leaders – emerging researchers who are recognised as rising leaders in their fields – its healthcare outreach programmes; the work of the Knowledge Translation Unit, which supports more than 3 500 clinics in South Africa; and an initiative centred on pandemic preparedness that UCT and 10 other local universities are part of.
"The theme of this gathering – 'Our Health, Our Wealth in Africa for Africa' – elegantly describes the continent's potential to address our urgent challenges in healthcare," Professor Harrison said. "We are indeed wealthy in terms of our potential, workforce and environments, and we're building knowledge wealth in terms of collective experience as researchers, scholars and medical professionals based in Africa."
In his address, Kariem outlined the burden of the under-resourced public health sector in the Western Cape, which is accessed by 80 to 85% of people in the province, and emphasised that community-oriented primary care is the "bedrock of primary healthcare services", where a localised response based on the unique needs of a geographic area is most effective.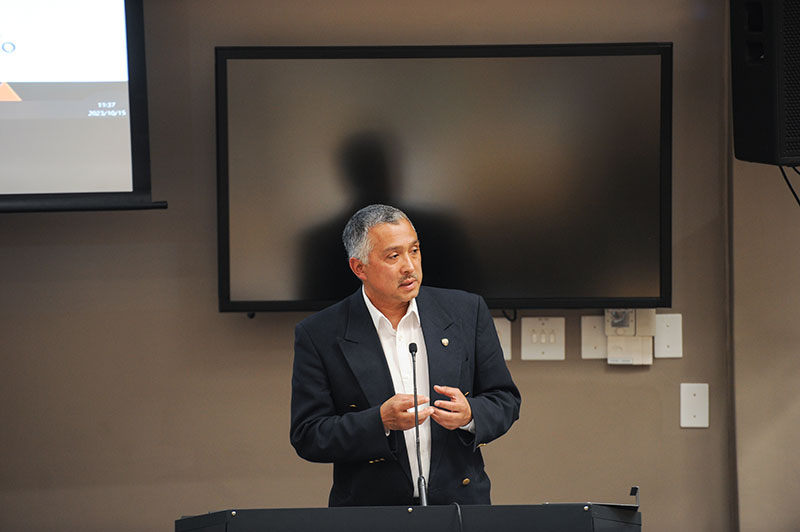 In recognition of how long-held traditional beliefs continue to be part of health practices, Khoisan activist Bradley van Sitters was invited to conclude the welcome session. He offered brief insight into the endangered Khoi language and how Table Mountain and its unique biome is seen as a place of healing and medicine among Khoi communities.
Keynote address
Professor Rispel's lecture homed in on empowering youth to achieve a healthy future, and explored innovations and "change levers" in African health systems.
"Africa is the youngest population in the world, and by 2030, young Africans are expected to constitute 42% of global youth," she said. "Young people hold the key to Africa's sustainable development and to Africa reaching its full potential."
She pointed out that the case is clear for investing in African youth – in terms of health, education and employment – to achieve the demographic dividend, which refers to economic growth that is the result of a change in the age structure of a country's population.
"Child mortality is reduced and you have more healthy young people who are economically active, and who can innovate and contribute to the economy," she said.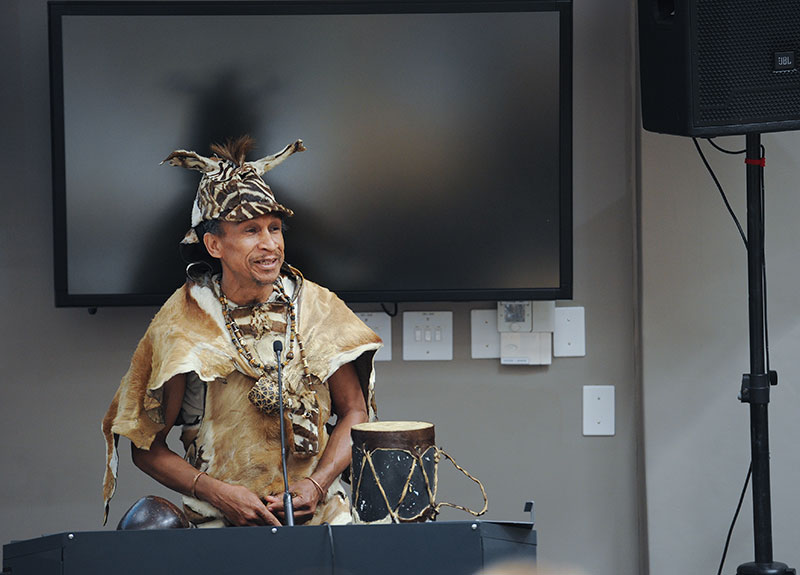 However, African youth face pressing challenges in the transition from school to work. According to the International Labour Organization, 72 million young Africans are not in education, employment and training (NEET).
"Two-thirds of those 72 million people are young women," Rispel said. "This is a critical issue that the health collaborative needs to take into account. In 2022, the NEET rate for young women was almost 33%, and it's much higher for disabled youth and those in rural areas."
In confronting the challenges, "four pillars" provide a framework for an enabling environment, Rispel noted: youth employment and entrepreneurship; education and skills development; health and well-being; and rights, governance and empowerment.
She concluded her address with a focus on African health systems and the heavy burden of disease that most are faced with, along with social, political and commercial determinants of health.
"These outcomes are around universal access and quality, and responsiveness to community and patients."
For Rispel, a key factor for transforming African health systems is leadership and governance, as the inputs that stem from this offer opportunities for youth employment, be it around finance, human resources, laboratory innovation, procurement management and more.
"These inputs, along with health service delivery platforms, are what make for outcomes," she said. "These outcomes are around universal access and quality, and responsiveness to community and patients."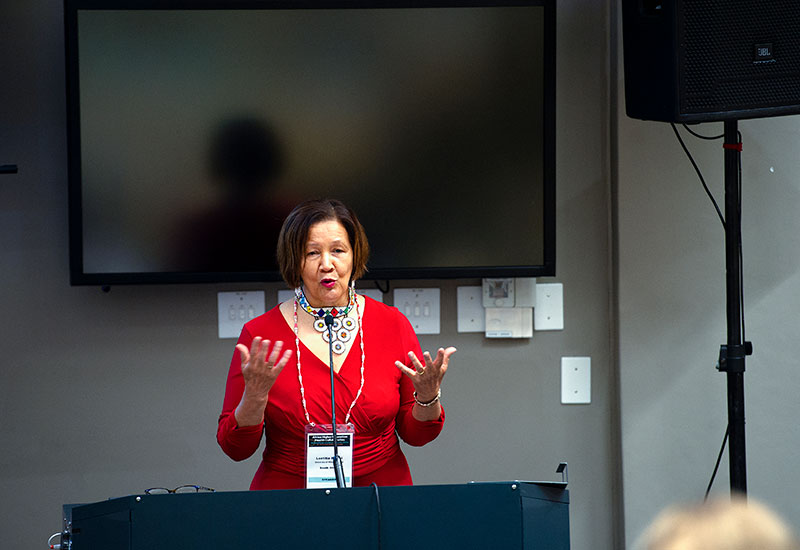 The long-term goal, Rispel added, is to have healthy populations, more equitable distribution of healthcare between outlying areas and cities, and social and financial risk protection.
The key levers, she concluded, for improving African health systems is investment in the health workforce, inclusive partnerships – such as the health collaborative – and leadership with integrity and ethics.
Panel discussion
Session two concluded with an expert panel that discussed how youth entrepreneurship can address unemployment and improve health and well-being.
Chair of biotechnology association Africa Bio, Nhlanhla Msomi, offered insight into how open science and the Fourth Industrial Revolution are presenting major opportunities for youth employment and innovation; while Christelle Giraneza, the co-founder of youth-led Rwandan social enterprise the URUKUNDO Initiative, which aims to revolutionise sexual reproductive health and mental health education, related her personal experience of thinking outside the box to achieve health outcomes.
Professor Paul Santerre of the University of Toronto's Institute of Biomedical Engineering advocated for university programmes that train graduates in entrepreneurship and so create employment for young people; while primary healthcare expert Professor Steve Reid of UCT highlighted the power of youth in transforming ideas around health, citing how youth advocacy was the game-changer in walking back the stigma around HIV and anti-retrovirals.
---
This work is licensed under a Creative Commons Attribution-NoDerivatives 4.0 International License.
Please view the republishing articles page for more information.
---