As a young adult, Dr Christie "Gogo Bazamile" van Zyl couldn't understand the sleep paralysis and disturbing visions that plagued her. Looking back, the University of Cape Town's (UCT) indigenous healthcare advisor recognises that these were early signs of an ancestral calling on her life, later fulfilled when she underwent initiation, or ukuthwasa.
Until that understanding came, her life was intermittently torn apart by psychospiritual stress and depression, reducing her to dysfunctionality.
A UCT Student Wellness Service (SWS) Indigenous Health Survey shows that 25% of the sampled students undergo similar experiences, linked to their African birth rights. Without cultural context, often far from the support of family and community, these callings can become a burden; what Deputy Vice-Chancellor for Transformation, Student Affairs and Social Responsiveness Professor Elelwani Ramugondo recently described as a "situation riddled with inter-generational disparity".
Without an appropriate holding of space or guidance, they can experience severe emotional and psychological trauma. At worst, this can lead to academic exclusion, as happened to Dr Van Zyl, now working as UCT's first indigenous healthcare advisor within the SWS.
This is a partnership with the Department of Student Affairs (DSA) to incorporate African spiritual, cultural, and traditional practices within the university's wellness services, in alignment with its wellness policies and institutional framework.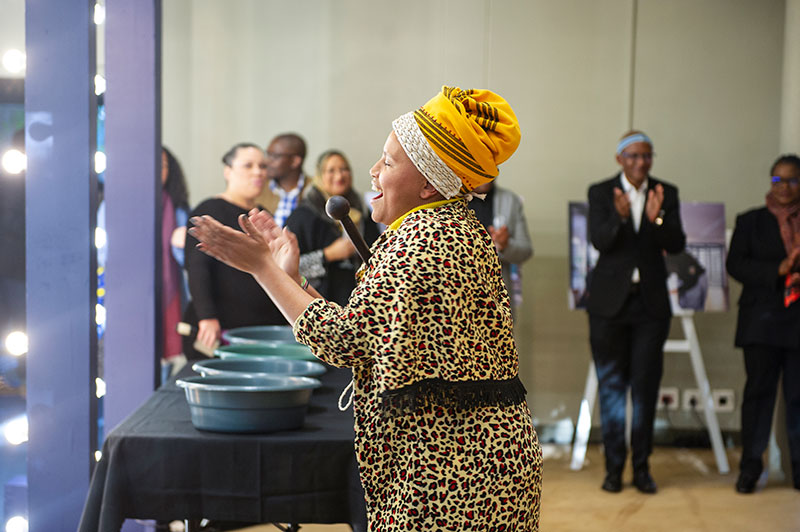 Building an integrated health service
"Back then, I had no language to describe what was happening to me," Van Zyl said in an interview with UCT News to share her story and to mark Heritage Month in September.
The registered traditional health practitioner has eight years of indigenous wellness practice, including two different forms of spiritual initiation. She is a PhD candidate in Healing Science, Facilitation and Psychology at the Mhlabuhlangene School of African Medicine where she is researching the effects of psychospiritual stress on mental health in the higher education setting.
The aim of her contract with the SWS is to build a sustainable, holistic community of integrated wellness services for black students undergoing similar experiences; offering a safe 'docking place' where they can talk about their experiences, and access guidance and care.
In essence, it offers a platform for wellness through African spiritual practices, expanding UCT's wellness offering within the broader aim of centring African psychology.
"Your ancestors are trying to get your attention."
Her work includes identifying and creating a supportive community within UCT; that staff members and students can form part of to talk about these issues. As part of her education drive, Van Zyl convened the recent African Indigenous Traditional and Spiritual Practices Indaba, "The Route of Holistic Justice", at All Africa House on middle campus.
Her work encourages a holistic view of how these practices affect all aspects of students' and staff's lives and are delivered to the UCT community through presentations, talks, troubleshooting and pop-up stalls.
'Just how things were'
Raised in Empangeni in KwaZulu-Natal, Van Zyl accepted family dysfunction – alcoholism, domestic violence, intergenerational incest – as "just how things were". Born to a Zulu mother and white father, she was raised in the Zulu culture. Her father's family had disowned him for marrying a black woman.
Throughout her life, she suffered bouts of depression and psychospiritual disturbances.
When she was 13, her brother moved her to Cape Town to escape the unhealthy domestic environment. Here she discovered her creative side, later expressed in interior design, music, art, poetry and photography, all vehicles for her burgeoning activist voice, which she now knows was fomented by intergenerational trauma.
"I think my mother unintentionally bred an activist in me from a very young age, because she was also an activist."
"I think my mother unintentionally bred an activist in me from a very young age, because she was also an activist," Van Zyl said. A senior lecturer in English, her mother was involved with the African National Congress Women's League. She also taught English to rural women, funded by Murray & Roberts through the University of Zululand. The young Van Zyl would go from one residence (boarding school) to another (university) during the winter school period.
Her mother also passed on her entrepreneurial skills. The family had a tuckshop at home, and during school holidays the young Van Zyl would go door-to-door selling items.
"My mom was very insistent on independence."
Art as therapy
In the activism spaces, which included the LGBTQI spaces (she identifies as lesbian), she found that her voice mattered.
"People were holding space for my pain. They could hear it through my poetry, although I had not recognised myself as a traumatised individual at the time. But my poetry was speaking volumes."
In 2008, her mother died of liver cirrhosis. Van Zyl had nursed her for two difficult years. A mourning period was to be expected afterwards, but Van Zyl said she was unable to shake off depression. Her siblings told her to pull herself together, alarmed at the way their mother's death continued to affect her.
"But I was carrying a lot of trauma from the domestic violence and alcohol addictions and sexual trauma from family members. When my mom passed away, it triggered everything."
She used her art as therapy, her poetry as a form of healing, also journalling and performing, to "be the voice for others that can't, or that don't have a voice".
Van Zyl had initially started studying interior design. In her second year at the Cape Peninsula University of Technology, the bewildering psychospiritual stress and illnesses recurred and she dropped out.
It was time to change tack, her siblings told her. After enrolling for a Bachelor of Social Work at UCT in 2011, Van Zyl faltered again in second semester.
"I started getting visceral manifestations of having an ancestral calling. I would cry throughout the night. I couldn't get out of bed and missed classes and exams."
But she was fortunate to have a course supervisor she could talk to, who took an interest in her welfare.
"I told her my whole history. She began making me aware of mental health issues and got counselling for me. But it wasn't quite fulfilling that void; the feeling that something was wrong in my life."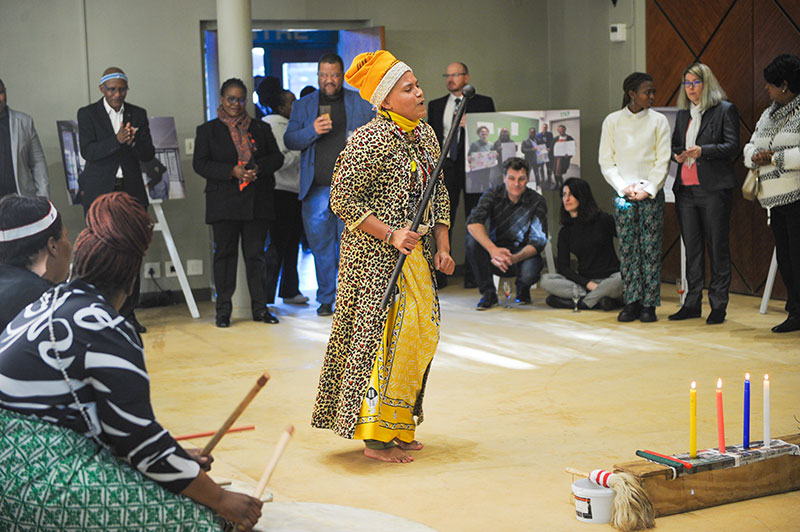 By the second semester, at exam time, the visceral manifestations intensified.
"The ancestors were trying to get my attention and acknowledgement."
In many ways, Van Zyl was a product of a community and indigenous knowledge systems out of kilter with the way she had been brought up. This is true for many others.
"We're a generation that's struggling with that kind of information because it was not passed down to us by our parents, our grandparents or great grandparents, mainly as a result of the Witchcraft Suppression Act of 1957."
The act created fear and generational suppression – and a separation from indigenous knowledge systems.
"If you respond to your ancestral calling and openly practiced and expressed your cultural inclinations in white institutions, there was a sense that the system would do something to you.
"We would usually have absorbed indigenous knowledge systems from our elders. But the threat of the Witchcraft Suppression Act was real," said Van Zyl. "If you respond to your ancestral calling and openly practiced and expressed your cultural inclinations in white institutions, there was a sense that the system would do something to you.
"As we see now, most of the affected generations struggle with embracing spiritual callings, and struggle with the thought of their children also embracing their spiritual callings to be healers. Most young people are now struggling to decide how to navigate their callings because their families no longer believe in indigenous wellness systems, rooted in ancestral veneration."
Psychospiritual stress and indigenous communities
After being academically excluded from UCT, Van Zyl took several jobs. But nothing held her and in 2015 she got ill again. But this time a friend was able to explain what the visceral manifestations meant and what they might represent. Van Zyl underwent several cleansing ceremonies to "unburden" her from intergenerational trauma, at the heart of which was a matriarchal lineage plagued by sexual abuse and incest.
Her friend had said, "Your ancestors are trying to get your attention, trying to get you to acknowledge them and make you understand they want to give you a gift, a spiritual gift."
A healer in Nyanga was able to confirm that calling. In 2016, Van Zyl started her journey of initiation.
She regrets that she didn't grow up fully exposed to cultural practices was not educated on indigenous spiritual laws and callings.
"As you begin to grow up you realise and understand the relevance of these as spiritual portals related to each rite of passage. In pre-colonial times everything was spiritual for us. It was a way of life and being, from dreams, to movements and songs. It's an understanding that we start at the source of life, the ancestors of the Creator, and they are there to accompany us on our way; to protect us, be with us, and help us grow."
Indigenous communities
Psychospiritual stress is also prevalent in indigenous communities across Canada, Australia, and South America. In her consultations with UCT students, Van Zyl brings this into their conversations.
For all the cultural reasons and barriers mentioned, some are resistant to the calling. But for Van Zyl, it was intuitively right.
"Becoming a vessel for intercessions felt like coming home."
"It clicked and made sense. Once I learnt what it meant, I immersed myself; I submitted completely. I didn't know what it meant but it made sense to me that I could pray for people and their lives got better and talk to my peers when they drowned themselves in alcohol or sex. I was 23 at the time. I was also part of Youth Alpha at my church. I was using the tools I'd learnt in church; being able to intercede for other people. Becoming a vessel for intercession, it felt like coming home."
Her work at UCT fulfils much of what was once lost to her.
After her initiation, Van Zyl enrolled at the UCT Graduate School of Business' Raymond Ackerman Academy, a programme that teaches entrepreneurship and human-centred design.
"From that, I learnt there is a gap I can fill at UCT," she said. "I'm happy to be here. I understand myself as a story for others to also understand that there is a way to navigate these callings. That's the primary reason I took up this office."
The Indigenous Healthcare Advisory Service, works very closely with the psychologists and the counselling teams at Student Wellness Service and is a free service to offered to UCT students.
---
This work is licensed under a Creative Commons Attribution-NoDerivatives 4.0 International License.
Please view the republishing articles page for more information.
---