Women's soccer at the University of Cape Town (UCT) is cooking. Having won the provincial stream of the Sasol League, the UCT Women's Football team will head to Bloemfontein for the final rounds from 17 to 22 October.
In the Free State's City of Roses, they will compete against eight other provincial league winners for the big title – and promotion to the national league, the Hollywoodbets Super League, next season.
There's everything to play for.
Established in partnership with the South African Football Association (SAFA) in 2009, the Sasol League targets South Africa's semi-professional women players. With 16 teams in each province, the league gives over 3 600 women the opportunity to participate in regular, competitive football throughout the year.
Not only an arena to develop and showcase women's soccer skills but it acts as a talent pool for the national football teams: the under-17s, under-20s and Banyana Banyana.
Visionary plan
There is no doubt that mega events such as the 2023 FIFA Women's World Cup, held in Australia and New Zealand and won by Spain for the first time this year, have injected new life into the sport for women. The FIFA World Cup has created incentives and role models, many of whom are now household names. Think of players such as Thembi Kgatlana (South Africa), Lauren James (England), Sam Kerr (Australia), Alexia Putellas and Salma Paralluelo (Spain).
And Banyana Banyana's triumph in making the last round of 16 teams created a real buzz at home.
"The women's side have become better and better with the FIFA Women's World Cup," said Ahmed Parker, the head coach of UCT's Women's Football club and founder of The Footballers Lab.
But the resurgence of women's soccer at UCT in the past six years is primarily thanks to his vision. He took the helm at UCT in 2016 with a plan to build a strong pool of women footballers at the university, fed by an established pipeline of young players, from junior level up.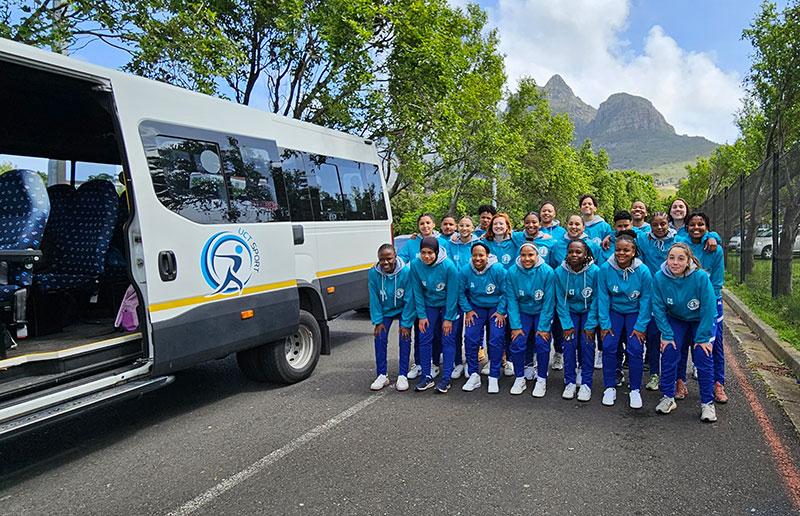 It's been a slow and patient grind, said Parker. And it's taken a nuanced approach to both the structure of the UCT women's sides and the range of support these young soccer stars need – not least of which is an academic goal.
Although Parker's background is cricket (he still plays action cricket at a competitive level), he was working at the Old Mutual Academy in 2016 when a colleague offered him the job as assistant coach of the UCT women's soccer team.
"It was a different role for me. But it was revelatory," said Parker. "I fell in love with it. And I haven't looked back."
It took some adjustment to his thinking and understanding of the challenges women face, just to participate in sport.
"I've learnt that it's so much more."
And it comes down to simple things, said Parker.
"It's the language we use; the way we define something often determines how it's interpreted. Even the simple idea of naming a competition. The men compete in the FIFA World Cup. The women's equivalent is the FIFA Women's World Cup. Subtle but subsidiary, a case of, well, there's football and then there's women's football. It's such a nuanced conversation."
Sasol League winners
Success has also come by competing in the right leagues, the structural element of building. There are competitions at provincial, regional and district levels. UCT's first team currently sits in the highest league – the Sasol League.
"We believe that the talent pool within UCT is good enough to compete one level up."
"We believe that the talent pool within UCT is good enough to compete one level up," said Parker.
UCT's principle is that players are meant to be drawn from among the students only. But his strategy is to have a pipeline of players in development. As a result, the UCT first XV is a hybrid side; a 50/50 mix of UCT's best players and external players.
"Those external players are either potentially young future UCT student players or they are more senior players but bringing value to the team. And what UCT now has is a hybrid model for its first XV: internal and external players so that you have the very best of the student players and a few young developing players," he explained.
The external players are largely from disadvantaged socio-economic backgrounds and here Parker's commitment to higher education comes into play, where diversity and aspiration are key.
"We've had eight or nine of these young women representing the country at national junior level."
"Let's get them exposed to this [university] environment. Even if these players don't end up at university, perhaps we can inspire them to consider higher education, even if it's a technical college. We still want to push our young players to get an academic background of some sort. And just being surrounded by students is already uplifting and inspirational. And they bring the skills of competent footballers."
The model and thinking have paid off. Within four years, the UCT first XV was promoted from the regional to the provincial league.
"We've had eight or nine of these young women representing the country at national junior level and we've been able to build a team to get us to where we are today."
Young stars
The UCT club has also adopted a junior team.
"Our priority is to nurture student players, so junior players are not really our priority. But as we do believe in supporting potential future players, we adopted a young team of under-16s down the road in Salt River.
Since 2020 they have been training at UCT's artificial pitch during off-peak times. They also play their home games at UCT.
"Last year we had one player graduating to the UCT first team and we are expecting another to graduate next year," said Parker. "The programme is yielding dividends and the pipeline is quite strong."
As coach, Parker also breaks a stereotype; that women must coach women. It's an old-school notion.
"This closes the door to men coaching women, and vice versa. Like the men, women coaches need to jump through all the hoops, in sequence. Fast tracking is not helpful to the quality of coaching – or refereeing," Parker said.
"As the coaches at UCT and as the Footballers Lab, we are mentoring a young coach every step of the way. And she's being groomed to one day take over as head coach. But we need to give them the tools."
Show me the money
But more must be done beyond player and coach development, he said. For example, finances are constricting their efforts.
"Finance is a constant headache for women's teams. Just to be able to travel to the various provinces to compete in the inter-provincial soccer leagues matches requires significant funding for clubs like UCT."
He has challenged big corporates to back the women players.
"And the recent FIFA Women's World Cup, where Banyana Banyana beat Italy, a team of professional players, shows what is possible," Parker said. "But right now, South African women footballers don't have that luxury. More investment and sponsorships are needed if the country is to compete at the highest levels."
He hopes England's recent announcement that their women's premier cricket team would be paid the same salaries and benefits as their men's side has opened the way for other sporting codes.
But it's more than salaries. There's a question of recognition too, and here the appointment of UCT alumnus Romany Pinnock as SAFA's new national director of women's football, has raised hopes. Pinnock is the founder of the Cape Town-based women's Badgers Football Academy and carries an impressive pedigree.
"We have a long way to go in raising women's football to the level it deserves to be in this country," she said in an interview with SAFA.
"The task will be hard, but I am excited by the challenges."
Parker added: "We've seen that our country can do well on the global stage, in spite of all the hurdles. Imagine if we had a concerted effort as a global community to say, let's back our women better."
As for the impending national Sasol League playoffs, Parker breaks it down neatly, "Basically, we have a two out of nine chance of getting promotion to the professional or semi-professional ranks."
---
This work is licensed under a Creative Commons Attribution-NoDerivatives 4.0 International License.
Please view the republishing articles page for more information.
---