Two-time Varsity Cup champions Ikey Tigers will go into the 2023 Varsity Cup rugby competition with lessons learned, according to head coach, Tom Dawson-Squibb.
With pre-season preparations over for the University of Cape Town's (UCT) 1st XV rugby team, a blockbuster clash against old foes Maties from Stellenbosch is just the marker needed to get things going as the university competition enters its 16th season.
"Going into pre-season, I asked the players to train, and to train well. I didn't have much of a message, by design, because I just wanted the players to train. The players have responded well," said Dawson-Squibb.
"We want this team to be a place where everyone feels like they can belong."
"It's clear everyone wants to win. We also talk about winning. We're not shy about it and the players know it. The way we play will be important because we want to play a specific way and we want to be a specific way [as a team]. We want this team to be a place where everyone feels like they can belong."
Last season, Ikey Tigers came close to contesting the final, save for a 19–58 loss to Maties in the semi-final. The year before, Dawson-Squibb's side contested a final against UP Tuks of Pretoria, losing that game 27–34.
However, the coach is encouraged by their 2022 record, which saw them play 10 matches, win seven and lose three.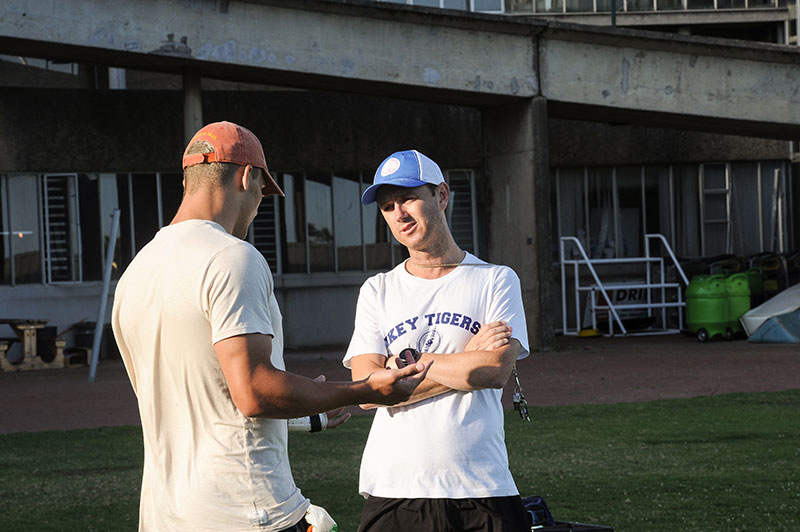 "Ikeys always employs an entertaining way of playing. It's also brave. You will generally see players try [their best] and they will be entertaining. Most importantly, you will see 23 guys enjoying themselves."
Will 2023 be a case of third time lucky for the team who last won the cup in 2014?
"We hope so. We did a lot right in the last few years. We've tried to learn our lessons. You can try and overthink these things, but who knows."
Dawson-Squibb then turned to the players he has available to him this season, praising the diverse team he has the pleasure of coaching.
"There are obviously some guys who have been around for a while. We have a strong contingent who have come through from our U20s. We have two guys from the junior Sharks ranks, two guys from the University of the Western Cape and one from the Tshwane University of Technology.
"It's diverse and energetic. It's important because you get a spectrum of everyone in this country, and it makes the experience richer because everyone is driven by the same thing in this sport."
Something bigger
As a popular university competition, history shows that Varsity Cup rugby attracts a good number of spectators, often selling out grounds where matches are held.
"Hopefully if we do well, people will come watch on a Monday night," Dawson-Squibb said.
The team does enjoy support from the leader of the institution: the vice-chancellor, Professor Mamokgethi Phakeng.
Dawson-Squibb explained: "It's massive for the guys when she comes to watch with her blazer and she cheers on, or she tweets.
"You feel like you are part of something bigger. And this is an amazing institution with rich history and a great story and to be able to show the connection between her as a symbol of the university and us is special. It's awesome to have her support.
"We really do play for our families, friends, fellow students and staff and the community that supports Ikey Tigers, so I would say to supporters, 'Don't underestimate your contribution to the sport'," added Dawson-Squibb.
"They brought their talents to the club, and we were lucky to have them."
Dawson-Squibb and company have also overseen the swift elevation of some players he coached last year: Suleiman Hartzenberg, Connor Evans and Imad Khan. They have reached great heights on a provincial and national level.
"Nothing has given us more pleasure than seeing the players' progress," he said.
"They brought their talents to the club, and we were lucky [to have them]. And if we could give them an opportunity and coaching that allows them to flourish, it's a mutually beneficial relationship. What's important is that they know they're Ikeys for life. Hopefully they feel they belong still, and we can continue to celebrate their glory as well."
Ikey Tigers Varsity Cup fixtures:
vs Maties (away) – 20 February, 19:00
vs UP Tuks (home) – 27 February, 19:00
vs UJ (away) – 3 March, 17:00
vs Shimlas (home) – 13 March, 19:00
vs Wits (home) – 20 March, 17:00
vs NWU Eagles (home) – 27 March, 19:00
vs CUT (away) – 3 April, 17:00
---
This work is licensed under a Creative Commons Attribution-NoDerivatives 4.0 International License.
Please view the republishing articles page for more information.
---