Trans women live on the "margins of the margins" in society and if the country is to advance women's rights, gender justice and human rights we must be mindful – and radical – about including trans women in women's spaces. "This is essential to the deep solidarity needed to advance diverse women collectively," said gender activist Liberty Matthyse.
A self-identified trans woman, Matthyse was the keynote speaker at a 10 August Women's Day lunch, hosted by University of Cape Town's (UCT) Vice-Chancellor (VC) Professor Mamokgethi Phakeng at Graça Machel Hall. The theme of Matthyse's address was "Yes, trans women are women".
Matthyse is the executive director of Gender DynamiX, the first registered, Africa-based public benefit organisation that focuses solely on trans and gender-diverse communities and movements in the Southern African region.
"Trans women's position in society is not coincidental."
"Trans women's position in society is not coincidental," Matthyse said. "It has been designed that way to push us from the centre to [the] margins."
Theirs was a struggle to claim their space in the overarching, diverse and intersectional community of women: black women, trans women, intersex women, women with disabilities, women from the Global South, women from rural backgrounds, women from ethnic backgrounds, and many others.
Stigma, discrimination, violence
Life for trans women is fraught with stigma, discrimination, and violence, she said. This has myriad repercussions. For example, the HIV prevalence rate for transgender women in South Africa is 63%. This is according to a 2019 HIV biobehavioural study by the Human Sciences Research Council.
Other statistics add to the bleak picture.
"Fifty-two percent of trans women have not completed their matric," said Matthyse. "Just under 48% of trans women are unemployed; 34% have turned to survival sex work to make a living; and sexual violence, gender-based violence and femicide are rampant in our community. This is because we are deprived of our agency and autonomy."
Although the country's Constitution ensures human rights for all, there is a disconnect between the progressive legal framework and social realities for marginalised people, said Matthyse.
"And that is where our collective effort, the work of solidarity, becomes important. It's how we can bridge that divide."
But here are other legal challenges.
For example, the Alteration of Sex Description and Sex Status Act 49 of 2003, the legal mechanism that allows gender-diverse people to change their gender markers, is problematic.
"That's because of the [binary] biomedical model embedded in the law. Our advocacy as an organisation is to change that."
Advocacy the power of collective
Matthyse paid homage to the women's collective of 1956 who marched to the Union Buildings on 9 August to protest the introduction of apartheid pass laws for black women and to present a petition to then-Prime Minister JG Strijdom.
"They opened that space of unity at a time it was frowned [upon] and illegal to pledge that level of solidarity."
It is now up to society as a collective to do justice to the Constitution and the country's laws to protect the lives and futures of trans women, she added.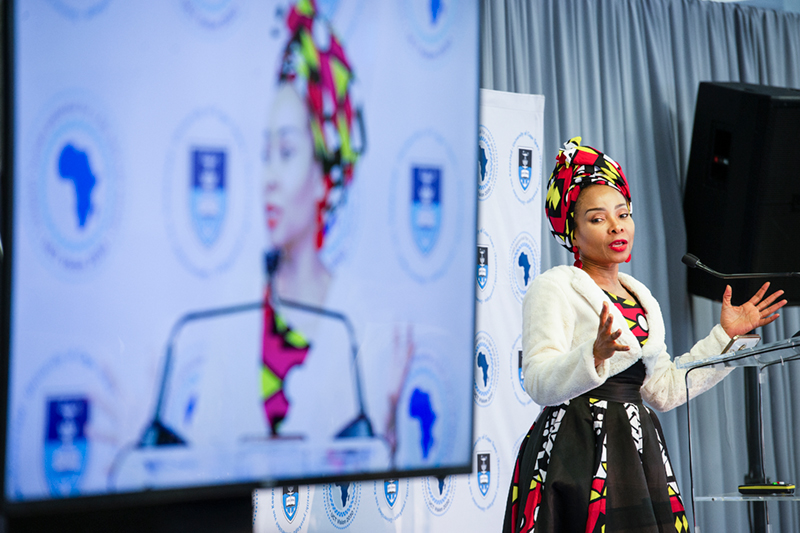 Sharing "sneak peeks" into her life, which she asked attendees to hold gently, Matthyse said she knew at age six, growing up in rural Darling, that she wanted to be a girl.
"Many trans people know from a very young age that we are transgender, but we do not have the agency, the autonomy, the space or the language to claim ourselves.
Growing towards adulthood she was expected to "fit these neat little boxes that society has arranged for you".
That didn't happen. Her request for a "sex change" was unsuccessful. After two failed suicide attempts, the family matriarch, her aunt, came up alongside her. Bewildered by things she did not understand, she took the teen under her wing, saying, "Come child, I don't know what you are going through, but let's walk the journey with God. All I know is that I love you, you're part of this family, and I'm here for you."
This acceptance was life-giving.
"In spite of not having the language to talk about LGBTQI+ people, she knew what love was, she knew what kindness was, she knew what healing was. And that was a gift to me in that moment."
It was at that time that she recognised the "possibilities for love and care, if given time, if given education and support for that journey to manifest".
At age 26, Matthyse was faced with a major choice: her sexuality or her education. She opted to put all her energies into education first. This would help her create a safe space, "to get myself out of poverty … a space of embodying greater agency and autonomy to negotiate myself in society".
She also did what many trans women do, affirming themselves step by step: first as a gay man; then as a gay, effeminate man; then as a gender nonconforming person; and finally as a trans woman.
"Not because I necessarily wanted to, but because I thought that was the only pathway towards affirmation."
Later, with a law degree (cum laude) from the University of the Western Cape and qualifications in project management, leadership, financial management and strategic business management from UCT, she was able to take the next step. She accessed gender-affirming healthcare to align her body to her gender identity – and claimed the agency and autonomy to be herself.
But the historic and contemporary tensions between different schools of thought on biological sex as an absolute determinant of gender, or gender as a social construct, raised important questions.
"Does it need to be a contestation? Is there only one way in which we embody ourselves as a woman in the world that is legitimate, and that plays to a grand master plan of what it means to be a woman? Are there different pathways by which we affirm ourselves as a woman? And what of the right to self-identification and determination?"
"How do we have a wholesome conversation about what it means to be a 'diversity of women' in the world?"
These questions need to be considered within women-only spaces and within feminist spaces, said Matthyse. The roots go back to the 1960s women's rights movements, where race was weaponised to exclude black women from these spaces and, later, queer women, based on their sexual orientation.
"So how do we have a wholesome conversation about what it means to be a 'diversity of women' in the world?"
Here Matthyse referred to Columbia Law School Professor Kimberlé Crenshaw, who coined the phrase "intersectionality" in her 1989 academic paper. This highlighted deep structural and systemic questions about discrimination and inequality. The term describes how race, class, gender and other individual characteristics overlap.
"This intersectionality recognises that as women, we are diverse, we are different, we have different realities. And the fact that we embody particular social characteristics doesn't disqualify us from our ability to identify and affirm ourselves as a woman.
"We need greater investment in solidarity within women's and feminist spaces and more dialogue to address concerns, fears and uncertainties."
This is imperative against the looming threat of a "bigger foe arising in the global arena".
"This is the anti-gender ideology movement, the end of women's rights movement, the anti-trans and -queer rights movement that is steeped in conservative political ideals and religious ideology," she said.
"And they are very organised. So how do we organise ourselves as women on the margins? How do we organise ourselves as human rights activists and social justice activists to push back? Because if they're coming for one, they're coming for all. And we need to be mindful of that if we want to transcend what is unfolding."
Accelerate learning
There is much to learn about sexual identity, added Professor Phakeng.
"We need to gain insight to better relate to the LGBTQI community. We are fortunate at UCT to have the kind of academic platform where we can raise questions, discuss, and learn from each other.
"We realise that our best teachers in this important area are members of the LGBTIQ community."
Examples of excellence
The event was also an opportunity to highlight women who are supporting UCT's Vision 2030 and the pillars of excellence, transformation and sustainability.
Three of the first five recipients of the Vice-Chancellor's UCTForWomxnByWomxn grants talked about progress in their research and transformation initiatives. They were Dr Katye Altieri, (oceanography), Professor Janet Hapgood (molecular and cell biology) and Dr Robyn Pickering (Human Evolution Research Institute).
Phakeng also recognised two women for excellence. The first was Professor Jackie Hoare (Department of Psychiatry and Mental Health) for her innovative, multidisciplinary, patientcentric approach that focused on normalising access to mental healthcare during the COVID-19 pandemic.
The second was Esmeralda Alexander (Department of Anaesthesia and Perioperative Medicine) who coined the name Amathuba for UCT's new cloud-based digital learning platform, part of UCT's Learning Platforms Update Project.
---
This work is licensed under a Creative Commons Attribution-NoDerivatives 4.0 International License.
Please view the republishing articles page for more information.
---