Lobola creates rigid gender roles, skewed beliefs of entitlement and ownership of women's lives and bodies, as well as asymmetrical power relations. This is what Pretty Mubaiwa, a recent PhD graduate, found based on her research, which critically interrogates the relationship between culture, violence against women (VAW), and the practice of human rights in Africa.
As part of Women's Month commemorations, UCT News interviewed Mubaiwa on her research, which specifically delves into the cultural practice of bride price (also known as lobola) to understand whether the practice is a cause and/or consequence of VAW in family relations.
With her dissertation titled "Human Rights, Modernity and Culture: Do the current human rights frameworks and discourse include traditional African practices such as lobola as a form of violence against women?", Mubaiwa wanted to understand the intricacies of African customary marriages and why they expose women to violent and discriminatory practices and experiences.
Different tribes and countries practise it differently, which makes it more complex. Mubaiwa decided to keep it closer to home. "Of course, that is too wide a topic, so I decided to look at what is familiar to my Shona culture (among others) – roora, also known as lobola. This is such a hot topic among the youth in Southern Africa and a recurring discussion on social media platforms as well," said Mubaiwa, who graduated with her PhD in Public Law in July 2022.
"I wanted to bring together my … academic training from the social sciences and law to critically investigate the correlation or causality between the practice [of lobola] and VAW. My research was based on four country case studies: Zimbabwe, Malawi, Zambia and Uganda. Inherently, African cultural practices are not devoid of the history of colonialism and the outsider gaze, which is usually demonising without being critical of the role these practices play in communities. In this case, roora – before colonial and modern influences – was an act of bringing families together to symbolise marriage; it was not monetised. Over time, this practice has evolved and has created different entitlements and power dynamics that expose women to violence."
Research findings
In short, Mubaiwa's research found that roora or lobola in and of itself is not a form of VAW. However, the results from her analysis showed that lobola creates rigid gender roles, skewed beliefs of entitlement and ownership of women's lives and bodies, as well as asymmetrical power relations.
"Secondly, the legal dimension of my thesis established that international, regional and local laws have gaps that continue to leave women vulnerable to suffering from violence that they may suffer in marriage," she said.
"Young academics are providing new lenses to these studies through using feminist [and] decolonial approaches. There is hope and it is refreshing!"
In addition, she said, historical and patriarchal concerns dissuade various stakeholders from questioning the role of culture and tradition in the perpetuation of violence against women on the continent. Asking whether the younger generation coming into roles of leadership will actively work to change this, Mubaiwa said she would like to believe so.
"From the research coming out from different institutions around the world on African cultural practices, young academics are providing new lenses to these studies including through using feminist [and] decolonial approaches. There is hope and it is refreshing!"
Finding her passion
Born in Harare, Zimbabwe, Mubaiwa attended Marondera High School before she came to South Africa to enrol for her BA in International Relations at Nelson Mandela University in 2008. She moved to Cape Town in 2012 to start her BA Hons in International Relations at UCT.
"It was a different pace, but I loved the vibrancy of academia at UCT. I worked in Zimbabwe for two years after my honours in order to find where exactly my passion was – and then I finally returned to UCT in 2015 to join the Department of Public Law, where I completed a Master in Philosophy, specialising in human rights law," she said.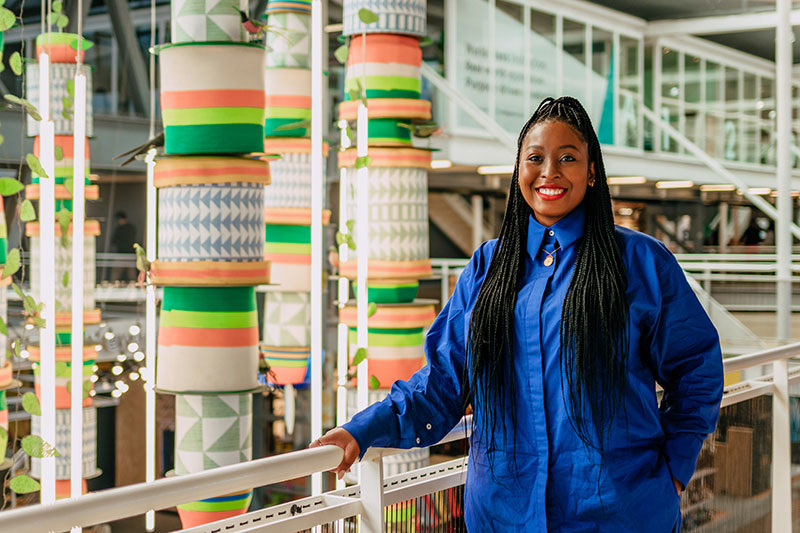 "During my master's courses, I met Professor Rashida Manjoo, who became my supervisor for my thesis on the effects of the changing nature of electoral violence on women in Southern Africa. She nurtured my passion for women's rights and being an advocate for the elimination of violence against women and girls in Africa. During my master's graduation, Professor Manjoo told my mom that we would one day be back at the Sarah Baartman Hall for my PhD graduation, and on Friday, 22 July 2022, we certainly were back celebrating."
The highs and lows of a PhD journey
Her PhD journey has been a "character-building experience", Mubaiwa said. "The highs have definitely included having an amazing supervisor like Professor Manjoo, who is so knowledgeable and not afraid to share her experiences and opportunities with her students. Another high was going through the journey with a whole village around me, including Canon Collins Legal and Academic Trust, friends, family and fellow students."
Another highlight, she noted, was the support she received from her parents, Chipo and Emanuel. "I always had a dream, and they did everything they could to support me to achieve my dream of becoming an academic doctor, despite where they came from, they never allowed that to be a barrier to achieve my dreams."
"Looking back, the journey stretched me to my core and limits."
Mubaiwa said, however, that she feels "there aren't many mechanisms to access when you are experiencing trouble with writing, academic loneliness, opportunities to share your research and to learn from the wider academic community". "I am certain this is a sentiment most of my fellow PhD students shared," she said.
"However, looking back, the journey stretched me to my core and limits while reigniting my passion to eliminate and contribute to eliminating VAW in our lifetime by using the law as a mechanism for prevention and justice."
---
This work is licensed under a Creative Commons Attribution-NoDerivatives 4.0 International License.
Please view the republishing articles page for more information.
---