Vice-Chancellor (VC) Professor Mamokgethi Phakeng and Deputy Vice-Chancellor (DVC) for Transformation, Student Affairs and Social Responsiveness Professor Elelwani Ramugondo hosted the College of Wardens dinner for the University of Cape Town's (UCT) residence custodians at the UCT Graduate School of Business (UCT GSB) on Tuesday, 5 July.
The dinner, which is an annual event, was the first in three years to be hosted in person and without restrictions, and the excitement among those in attendance was palpable. In her introductory statement, Professor Phakeng highlighted the significance of events like these.
"It's important for us to connect – and to connect at a social level. We do a lot of hard work at the university and it's in the nature of the people we hire to be driven and do everything. So, it's important that we slow down sometimes and acknowledge the good work that we've done," she said.
Supporting students to succeed
Residence wardens, together with house committees, are responsible for residence students. They not only act as legal guardians to all students in their care, but also take interest in students' ideas and issues to create friendly and comfortable environments in which students are able to pursue their academic objectives and achieve personal growth.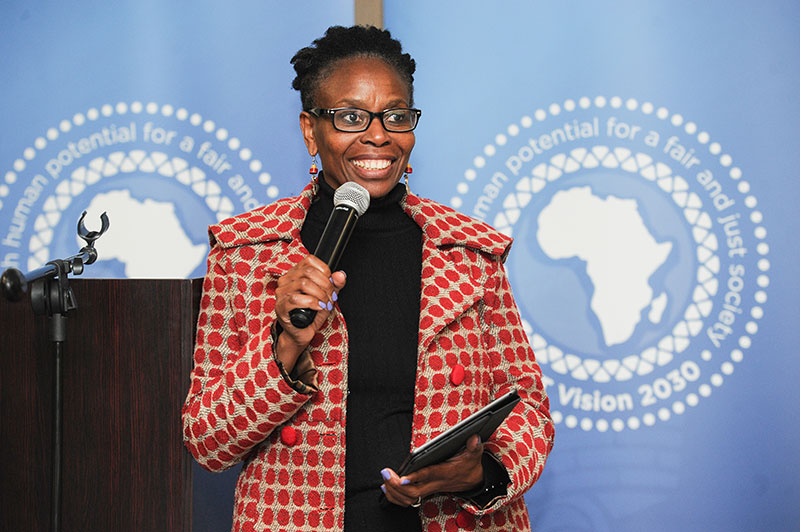 Following his aspirations to be a doctor, military officer and banker, Leo Marquard Hall warden Daniel Munene's drive to help and elevate others landed him in the tertiary education sector. "I became an accidental teacher. When I was a postgraduate student, I was one of only four black postgrads.
"I was given a group of black first-year students to mentor, and I went into it with all my gusto. At the end, the top economist at the end of the year came from that class. At once, it became possible for black students to see themselves getting to the top. That's why I ended up in the position – to do good and help to elevate others," he said.
Athi Matinise, assistant warden at Obz Square: Third Tier, is a careers advisor at UCT and hasn't left the institution since starting his studies. He chose this path, he said, because of the points of reference available to him throughout his life.
"All my life, I have had points of reference. We had UCT students coming to Khayelitsha to mentor us, to guide us and to help us; people helping me apply to get into UCT and get through UCT.
"Being a careers advisor and a warden is my chance to be that point of reference for someone else. Leading careers programmes, working with unemployed youth in the townships, taking UCT students to the townships to be points of reference – that is the most important for me; providing that point of reference for someone else," Matinise said.
This passion to lead young people by acting as role models and providing support to help them succeed, Phakeng pointed out, is the great value that wardens bring to the residence ecosystem.
"The value that you bring goes beyond your professional and technical expertise. It goes to who you are, the experiences that you've had in your life. It is those things that carry you when there's a crisis in the middle of the night. It is those things that help you intervene when there are difficult situations with students," she noted.
"What helps you help the students is all the other stuff. It's the stuff that we don't necessarily learn in school. It's the lived experience. So, we appreciate the work that you do. We appreciate you making yourself available for this task."
Points of reference for transformation
The drive to act as points of reference for residence students and help them to create an environment that serves them in the best way possible is a major focus for both the university and Professor Ramugondo – particularly as it pertains to transformation.
"We often speak about a holistic education and that education doesn't exist unless we have extracurricular activities in student housing and residence life. We need to make sure that the university infrastructure supports those activities because there is a potential to drive institutional culture and change from what happens in the residences," explained Ramugondo.
"We have the opportunity to make sure that students envision residence spaces as drivers of an institutional culture that they want to see, eventually, played out in society."
"When we don't use these languages, we need to know that we are underserving the people who we say we are serving."
This is especially pertinent when it comes to language usage both in the residences and at the university in general. A focus on African languages, Ramugondo pointed out, is essential for furthering transformation and for serving students to the greatest possible degree.
"We are too apologetic about the diversity of languages available to us. It's really a no-brainer. Speaking an African language should be seen as an invitation. That invitation is for those who don't speak the language to partake in a conversation beyond English," she said.
"For example, we are planning to run a survey in the Faculty of Health Sciences to get a sense of how many African languages exist within the community. These languages aren't being used in the present. They reside within the people, but they've just not been encouraged to speak them."
Aside from the massive impact that learning in one's mother tongue can have on educational outcomes, creating a space where the use of African languages is encouraged will help UCT students to better serve their communities beyond the university.
"When we don't use these languages, we need to know that we are underserving the people who we say we are serving. In health sciences, for example, the implications for diagnosing and treating patients effectively are huge – as they are for other disciplines and professions, like social work or providing social justice."
In ensuring that students have strong role models like those within the College of Wardens as well as the opportunity to learn and express themselves in African languages, Ramugondo hopes that UCT will be able to better serve its people and communities.
---
This work is licensed under a Creative Commons Attribution-NoDerivatives 4.0 International License.
Please view the republishing articles page for more information.
---