The University of Cape Town's (UCT) vacation accommodation manager, Phelokazi Mbebe, is the newly appointed alternate chairperson of the Young Professionals segment at the Federated Hospitality Association of Southern Africa's (FEDHASA) Cape region.
Mbebe, who holds a master's in tourism and hospitality management, is based in the Vacation Accommodation division, a subsection of UCT's Finance Department. The division, which comprises several hotels in the Mother City, forms part of the university's commercial development arm. Its main goal is to create a third income stream for UCT and achieves this by offering accommodation to undergraduate and postgraduate students, as well to the public.
"As a young hospitality professional with a passion for this industry and people, I am proud to serve FEDHASA Cape in this role, and to represent UCT while doing so," she said.
FEDHASA is South Africa's leading hospitality industry lobbying body and looks after member hotels, guesthouses, restaurants and other industry partners. The organisation has been actively representing the sector since 1949.
Representing the youth cohort
Mbebe said the Vacation Accommodation division joined FEDHASA Cape in 2019 and since then, has played an active role in the association's events and undertakings. When the position became available, she didn't hesitate to apply.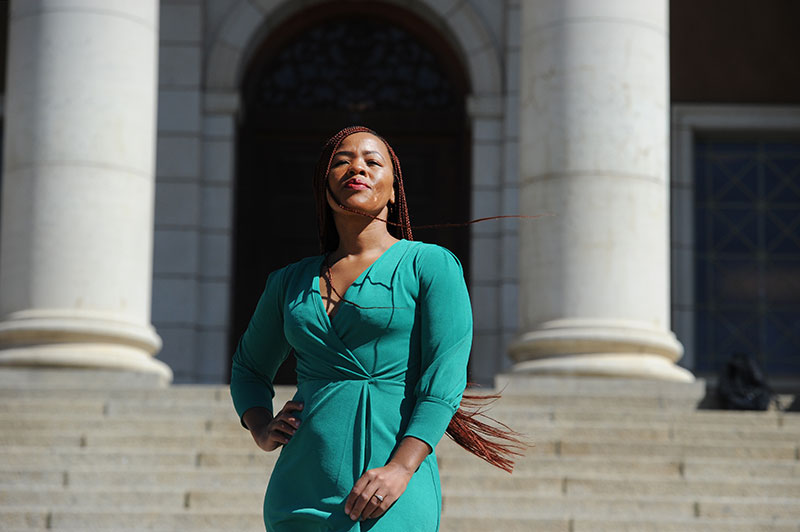 As alternate chairperson of the segment, Mbebe will represent the FEDHASA Cape youth cohort. In addition, she hopes to further expand her knowledge about the industry, better understand the role of the other segments and make a meaningful, all‑round contribution. Her term began in August and could last for a period of two years, depending on whether she is re‑elected.
"I look forward to engaging with the Young Professionals segment members and I'm excited about the exposure that this role will have for UCT," she said.
Educating the industry
Because UCT's vacation accommodation has not yet been formerly recognised as an active role‑player in the hospitality sector, Mbebe said her position at FEDHASA Cape will provide a platform to educate the industry and the public on what the university has to offer.
"We offer accommodation at competitive rates that's so near to the city and many popular tourist destinations, but not many people know about it. Now I can change that," she said.
The Breakwater Lodge at the V&A Waterfront and the Protea Hotel in Mowbray are part of UCT's suite of accommodation options.
The role will also allow Mbebe to grow as a hospitality professional, contribute to topical discourses that affect the industry, and formerly tackle industry challenges by applying hospitality policies and procedures.
"I am so proud to be part of an organisation like FEDHASA Cape that strives to offer an exceptional service."
"I am so proud to be part of an organisation like FEDHASA Cape that strives to offer an exceptional service and upholds the values of inclusivity, respect and warm hospitality. These are the values that I stand for," she said.
---
This work is licensed under a Creative Commons Attribution-NoDerivatives 4.0 International License.
Please view the republishing articles page for more information.
---