The University of Cape Town's (UCT) School of Management Studies in the Faculty of Commerce has launched an open source textbook that introduces first-year students to marketing but with a lens on the local marketplace. It uses local case studies and approaches theory in a localised way. Marketing to South African Consumers developer-in-chief, Dr James Lappeman, the head of projects at the UCT Liberty Institute of Strategic Marketing, spoke about their transformational approach with UCT News.
Helen Swingler (HS): Please give an overview of the book and its audience.
James Lappeman (JL): The textbook is aimed at UCT's first-year marketing students and will be their primary textbook this year. The theory is underpinned by a contemporary and localised South African perspective. It was developed with fellow editor Paul Egan of the UCT Liberty Institute of Strategic Marketing and co-editors Gillian Rightford and Thabang Ramogase and co-published with UCT Libraries. There are 21 chapters, written by 22 authors, including academics, practitioners and students, and the book has been peer reviewed by 23 industry experts.
HS: It's a large undertaking. How was it funded and pulled together?
JL: The development was supported by a Digital Open Textbooks for Development (DOT4D) grant and is part of a pilot initiative that explores institutional partnerships for open-book publishing and publishing at UCT. The chapters are available to access and download from UCT Libraries' open access continental platform. It's openly available under a Creative Commons licence and can be downloaded for free and distributed within and beyond UCT. Within UCT we had multiple partners all contributing. These included the School of Management Studies' marketing section, CILT [Centre for Innovation in Learning and Teaching], the UCT Liberty Institute of Strategic Marketing, DOT4D and UCT Libraries. Several external stakeholders were also involved in funding and publishing the book. These included Liberty Life, the IDRC [International Development Research Centre], African Minds, Jade Rose and The Research Faculty.
"We've deliberately focused on making local context a central reference rather than a peripheral addition."
HS: With its focus on the South African context, the book has been described as an example of the school's active and committed attempts to transform what is being taught at UCT.
JL: We've deliberately focused on making local context a central reference rather than a peripheral addition. As such, the work forms part of the DOT4D research and implementation agenda, which is exploring the use of open textbooks to promote curriculum transformation and parity of participation in the creation of teaching and learning materials.
HS: What do the chapters cover? Anything different or interesting in a contemporary sense?
JL: As much as there are many chapters appropriate for marketing professionals, the book is primarily an introduction to marketing for undergraduate students. We cover the full spectrum of marketing strategy – from market orientation to strategy to tactical implementation. The highlights are probably the chapters on connecting marketing strategy to corporate strategy (often misunderstood) and sustainability in marketing. Other key chapters are the South African consumer landscape, the retail environment and the media environment – all of which are unique to South Africa. We [have] also included a template for a marketing plan to help entrepreneurs with strategy and funding applications.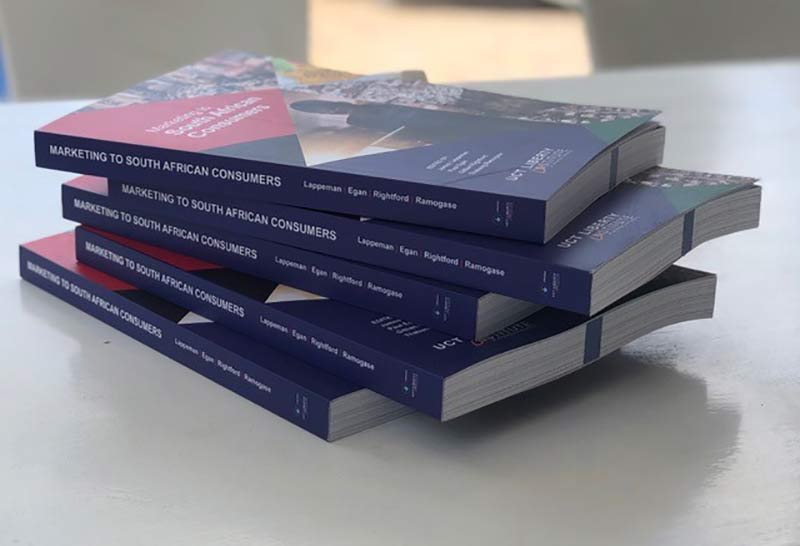 HS: The curriculum transformation point is important. The lack of local case studies has been a perennial problem. Are there other transformation elements?
JL: The book was designed to not just have local case studies, but to approach theory in a localised way. For example, retailing theory emphasises formal shopping outlets (like supermarkets) at the expense of the informal sector that constitutes a huge part of the shopping experience for most South Africans. One of the reasons that many marketing practitioners are not equipped to support local micro-entrepreneurs is that they haven't been adequately taught about the South African trade environment. Similarly, many marketers will have formal jobs with high-paying salaries that completely remove them from low-income households. The book makes a special effort to show the diversity of the consumer landscape as core to understanding marketing in South Africa and not as a side note as experienced in other similar books.
"Terminology was debated (and continues to be debated), concepts were scrutinised and the retelling of history was put under the microscope."
In terms of the contributors, the diversity of thought and the tough peer-review process was aimed at inclusivity and sensitivity. Terminology was debated (and continues to be debated), concepts were scrutinised and the retelling of history was put under the microscope. While there is no doubt that improvements can be made, the team was proud about taking steps forward in how to think about creating better teaching materials.
HS: What were the main hurdles in creating and launching an open source textbook?
JL: I went into the project as a lone ranger following a passion, but have learned that it must be a team effort. The real difference came by including co-editors, engaged co-authors and through the generosity of DOT4D, the UCT Liberty Institute of Strategic Marketing and UCT Libraries. The process took almost three years with various seasons of engagement, but the final year was the most labour intensive. I was grateful to Michelle Wilmers from DOT4D, who came on as a publishing manager and added expertise that did not come automatically with my passion to create! The virtual launch was fun to celebrate the book's completion and begin the work of letting people know that the book exists.
HS: The rise of COVID-19 and a move to online learning and remote teaching has certainly spotlighted the need for open source resources.
JL: Yes, being open access and digital (in multiple formats, including PDF, HTML and audio) is perfect for times such as these. South African families in general have taken a big financial hit this past year and not everyone has the means or access to get books at textbook stores. We were surprised to have so many downloads – 2 400 downloads in less than three weeks – in such a short space of time considering that it is a month before universities open. From the feedback, I think that there are many in business looking for localised knowledge. We've also had some good feedback from academics and hope that the book can be useful in many classrooms.
HS: Is there anything else you'd like to add? What's next on the list of new developments?
JL: A big lesson for me was that once you start something (even if it's alone), you can build momentum and gain partners. Just waiting for the perfect scenario will leave good projects in the "failure-to-launch" category. We also have a dream to use this publication as a springboard to empower academics and businesspeople in neighbouring African countries to write about marketing in their own context. Much of the marketing literature around the continent is focused on multinationals tapping into opportunity in African markets. I believe we need to empower local writers to create material that helps local business compete fairly with these larger companies. We already have nine countries in the pipeline and are looking for further support to take the initiative forward.
---
This work is licensed under a Creative Commons Attribution-NoDerivatives 4.0 International License.
Please view the republishing articles page for more information.
---