They come from far and wide: from Zimbabwe, Haiti, Latvia, Monaco and the Falkland Islands, a diverse enrolment of 605 new international students who will be studying at the University of Cape Town (UCT) this year.
UCT's 29 000-strong student body has 5 000 international students from 117 countries outside South Africa. With 776 students at UCT, Zimbabwe tops the list for international recruits, followed by the United States (596), Kenya (193), Namibia (193), Nigeria (192) and Zambia (183).
A significant number of the international newbies have applied for master's degree programmes, a trend that's evident across all six academic faculties. Registrations show the Faculty of Health Sciences leads with 57 international master's candidates, followed by the Faculty of Science with 44, and the Faculty of Commerce with 42.
International students drum up a festival in the Sarah Baartman Hall, part of an IAPO programme to welcome them to the UCT community. This included greetings by Vice-Chancellor Prof Mamokgethi Phakeng as well as SRC president Asanda Lobelo and other SRC members.
According to UCT's International Academic Programmes Office (IAPO), the university made 2 964 study offers to international students who had applied for full degrees this year. These included applications for first- and second-choice degree programmes, some in different faculties. For the first semester, UCT made 327 study offers for the Semester Study Abroad (SSA) programme.
Many of the international students come from UCT's partner universities in Europe, North America and Australia where exchange agreements exist, opening a two-way door for SSA, undergraduate and postgraduate students.
VC's upbeat welcome
Vice-Chancellor Professor Mamokgethi Phakeng was upbeat in her welcome to the new international arrivals in the Sarah Baartman Hall yesterday. The event was part of university-wide orientation activities. A mass drumming session led by the Drum Café followed the formalities.
But before that, Phakeng shared three key messages.
The first was a thumb's up for the students' choice of destination: the top university in Africa, listed 156th in the world by the 2019 Times Higher Education (THE) World University Rankings.
Thanking them for considering UCT, Phakeng said: "You made the right choice. You've come to the right place."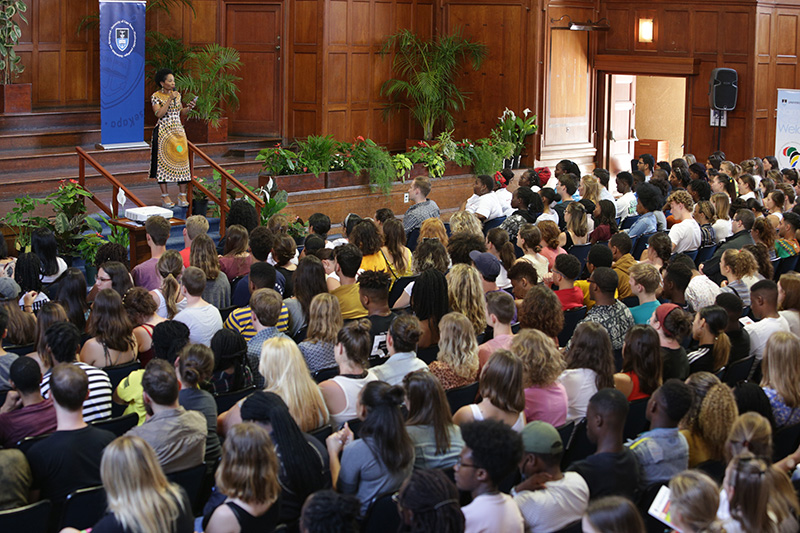 New ways of being
Second was a firm plug for diversity in a host country with 11 official languages, all equal.
"We are training leaders who can hold their own anywhere in the world and so we value our international student body."
"You'll get exposed to other ways of thinking and being… We are training leaders who can hold their own anywhere in the world and so we value our international student body."
She said that UCT students unable to travel abroad would have their horizons broadened by meeting their counterparts from other countries.
"They will travel to your country by interacting with you. So, you are an important part of this university and an important part of our vision."
On a diverse campus there would be no room for homophobia, racism or chauvinism of any kind.
"We, the leadership, do not support it."
She said that while South Africa had emerged from its difficult past, the country was not yet where it wanted to be.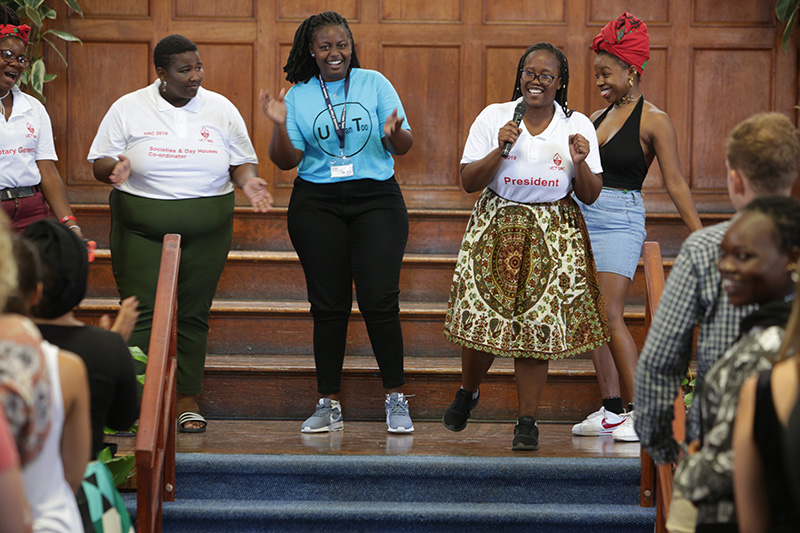 Respect the space
"But to get to the future we want, it's important we produce graduates who can engage with people who don't look like them, who don't think like them… It's important in this world that young people hear contrary views… That's the value of the intellectual space and we want you to know you are in that space – and we expect you to respect that space, too."
Third, Phakeng reminded the new students that university education extends beyond the classroom, laboratory and lecture halls.
"It's not just a certificate. Some of the education you get will happen in the residences, in the Jammie Shuttle queue – and in picket lines when you are angry with me," she joked.
"That's an education. Don't shy away from it. Grab the opportunity wherever you find it. Be open-minded; take something with you, leave something for us that comes from you…
"Travel, learn, grow. And enjoy the experience."
In conclusion, Phakeng left them with an invitation to engage with her, too: "I'm the Deputy Mother. I'll see you on Twitter!"
---
This work is licensed under a Creative Commons Attribution-NoDerivatives 4.0 International License.
Please view the republishing articles page for more information.
---