UCT has said farewell to Evance Kalula – Emeritus Professor of Employment Law and Social Security, erstwhile director of the International Academic Programmes Office (IAPO) and Confucius Institute, and warden of Kopano – who has retired after 25 years.
His successor is UCT alumnus Dr Beata Mtyingizana, former director of the International Office at the University of the Free State. IAPO leads the development of internationalisation at UCT, and is the central coordinator and facilitator of all internationally related initiatives and activities.
Kalula's farewell was held in Smuts Hall and directed by master of ceremonies Daniel Kunene, a fellow warden (Leo Marquard Hall). It was a gathering of family, friends, colleagues and associates from his broad international circle, and testimony to the fact that Kalula wore many hats.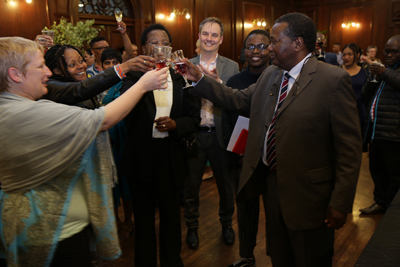 Among these, he is the director of Internationalisation and Outreach for the Faculty of Law, a member of the Ministerial Economic Advisory Panel in the Department of Economic Development and president of the International Labour and Employment Relations Association.
The guest speaker, former deputy vice-chancellor Emeritus Professor Danie Visser, quipped that Kalula was happiest when he was jetting off somewhere.
"Evance truly is an international person."
In her welcome address, Deputy Chair of Council Debbie Budlender said: "Evance is the kind of person who pops up in all sorts of places."
Budlender and Kalula served together on the Employment Conditions Commission and on the UCT Council.
"Evance is there to support and to do what he always refers to as public service, one of the important roles he plays," she said.
Early career
Kalula's roots are in Zambia.
An alumnus of the University of Zambia, he won the Hindu Society Prize for Best Graduating Law Student in 1974. He obtained his LLM at King's College, University of London, in 1976 and was a Rhodes Scholar (Rhodesia and Zambia) at Balliol College, Oxford, from 1976 to 1978.
In 1978 he was appointed as the coordinator of the African Programme at the newly established Rights and Humanity organisation in the UK, an international NPO contributing to development, peace and environmental sustainability through human rights and responsibilities.
He went to Switzerland as a Human Rights Fellow and External Collaborator at the International Labour Office in Geneva in 1984.
In 1989 Kalula got his PhD from the School of Law at the University of Warwick. After a year as a trainee state advocate in the Attorney-General's Chambers in Lusaka, he worked for several years as a law lecturer and researcher at his alma mater.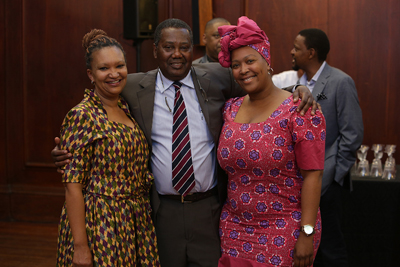 He returned to teaching law in 1990, first with the University of Lesotho and then at UCT in 1992 as senior research officer in the Labour Law Unit. He was appointed a senior lecturer in 1994 and associate professor in the Department of Commercial Law in 1997. In 2002 Kalula was appointed Professor of Employment Law and Social Security in the same department.
Kindred spirit
In his tribute to Kalula, Visser said, "Evance is like a brother to me. Our biographies first flowed together at UCT. In the faculty [of law] and at the university, we had the opportunity to do many things together, and we often found we saw things in the same way."
He described Kalula as a "fiery young lawyer" who'd come to UCT in 1992, rising through the ranks to professorship. Kalula had played an important role in labour law and security, his rich contributions including the "monumental" Code of International Labour Law: Law, Practice and Jurisprudence with Neville Rubin and Bob Hepple (Cambridge University Press, 2005).
Visser said it was fitting that Kalula's retirement function had been planned to coincide with a meeting of the International Education Association of South Africa, where he'd made such an important contribution.
"It's fitting that we take leave of Evance in this international context; he will always be an international person. He's been very open to the world and because of that he's been able to build international relations for the law faculty and for UCT in many, many different and effective ways."
Visser said that one example had been the valuable work he'd done with Professor Victor Qin (co-director of the UCT Confucius Institute) in forging new and strong links with China, "to our great advantage".
Mentor and father figure
Several guests spoke warmly of Kalula's legacy as a mentor and father figure. UCT alumnus and former staff member Jerome September, now deputy dean of students at the University of the Witwatersrand, said that Kalula went beyond ticking KPAs and KPIs [key performance areas and key performance indicators].
September was a deputy warden of Kopano and said that Kalula had always been available as a guide, teacher, mentor and father figure.
"He was the warden who always knew who was struggling."
"He was the warden who always knew who was struggling."
His commitment to inclusivity and diversity and to young people meant that no one was left behind.
"We are richer for having interacted with you," he said. "Thanks to you, and your family for having given you to us and having shared you with us."
Leading with heart
During his address, Kalula reminded the gathering of a momentous event commemorated by UCT on 2, 3 and 4 December this year: the 50th anniversary of Professor Chris Barnard's first human heart transplant at Groote Schuur Hospital in 1967.
It was a poignant moment. Kalula is himself a recipient of a donor heart.
Giving thanks for his 25 years at UCT, he recalled the tumultuous events of 2012 when he received a new heart, thanks to cardiothoracic surgeon Dr Otto Thaning, a registrar under Barnard at the time of the heart transplant. Thaning is also the current president of the Organ Donor Foundation. Thaning and medical colleague Dr John Torline were guests at the farewell function.
"Thaning was the doctor who kindly went to harvest the heart from Port Elizabeth, and looked after me after the transplant," said Kalula.
"Torline happened to be the doctor who resuscitated me when my heart completely failed. I was a passenger in his car on that fateful night on the 12th of December 2012. He was a registrar at Groote Schuur Hospital at the time and he is now in private practice at Vincent Pallotti."
Remembering the first heart transplant in 1967, Visser said: "When that happened, Evance was a 16-year-old in Zambia. He hadn't realised then that serendipitously he would be in the right place when he needed a new heart. So, coming to Cape Town was good for Evance.
"But his coming to Cape Town, he and his lovely family [his wife Sebastiana and children Kabuswe, Twanji, Olipa and Musindiso], worked better for us. What you have done for the law faculty, for IAPO, for the whole university … that is written into the history of UCT and engraved on our hearts."
---
This work is licensed under a Creative Commons Attribution-NoDerivatives 4.0 International License.
Please view the republishing articles page for more information.
---