A total 134 long-serving staff were honoured at the 2018 University of Cape Town (UCT) Annual Awards on 19 November, an event at which Vice-Chancellor Professor Mamokgethi Phakeng also congratulated recipients of ad hom promotions, the Distinguished Teacher Award and the Alan Pifer Award.
Among this year's long-service awardees are 10 colleagues who are celebrating 35 years with the university. Three, Daniel Franco, Mark Neutt and John Samuels, shared their memories.
Daniel Franco (Information and Communication Technology Services)
Franco came to South Africa from Zimbabwe for medical reasons after a serious motorcycle accident, and stayed. He enrolled for a business science degree at UCT, later changing to computer science where he fell in love with programming.
With this being an area of growing importance for researchers, Franco was soon in demand. While still a student he wrote code for a Dutch PhD candidate who was gathering data on the Benguela current. He wanted to visualise the circulation showing the speed and direction, using contours of velocity. Franco produced a detailed static visual that did the job. And he was hooked.
"I also assisted the first UCT-based astronomer to use a new dual processor mainframe to process huge sets of astronomical data."
When a job in the then UCT Computer Centre came up he applied, and on 1 May 1983 joined the ranks in the fledgling Information and Communication Technology Services (ICTS) department.
"It's been a hectic ride ever since, but I knew when I got the offer that it would be for the rest of my career at UCT."
"It's been a hectic ride ever since, but I knew when I got the offer that it would be for the rest of my career at UCT. I wouldn't be looking for another job ever again."
His first secondment was to the ornithology department.
"They were preparing to host a big conference to analyse data collected during the First International Biomass Expedition. Fourteen nations and 20 research vessels cruised 50 to 70 degrees south, gathering mountains of data on the physical and organic conditions, ocean current direction, speed and temperature, and the bird and sea life.
"I wrote the systems that allowed them to host the conference, visualise the data and do the statistical analysis, just by clicking buttons, not easily doable on the huge mainframes in those days."
Franco has tackled all kinds of other interesting and challenging projects over the years, many requiring tailor-made programs.
"In 1997 we hosted the 7th International Olympiad in Informatics: 65 countries and some 250 participants. The labs had to move seamlessly between play and competition mode, from Windows to DOS, back and forth. We set up an environment that was easy to use, fun and secure."
In the early days of his career, the administrative staff worked on typewriters. It was only in the mid- to late-1980s when PCs arrived that people started moving to word processing. Visitors to the computer centre were mainly from science, medicine and engineering. There was a growing appetite and need for computing and data processing
"We worked with them and we taught them," said Franco.
"We've gone from having a terminal room with a few dumb terminals to 5 500 staff, each with a phone and computer, hooking into a network, and more than 4 500 machines in student labs."
Highlights of his long career have been his interactions with researchers and their support staff.
"I think I've been into every building and room on upper campus and the old Groote Schuur Hospital. We used to do a lot of on-site work."
Some of Franco's journey has been shared by the Disability Unit. It didn't exist when he was a student here. Now using a wheelchair, he used walking sticks to move about campus as a student.
"You either cut it [as a disabled student] or you didn't. I used to go up and down University Avenue with my heavy books. But over the years the Disability Unit has assisted me in so many ways. That's also been an intense journey."
Would he do it all over again?
"At the drop of a hat. When I got the offer, I knew it was for life. It's been an amazing ride. I've worked with amazing people all these years. I've seen them come and go and mentored some amazing kids through the years. I've had the opportunity to work in an amazing space with amazing people."
Mark Neutt (Department of Construction Economics and Management)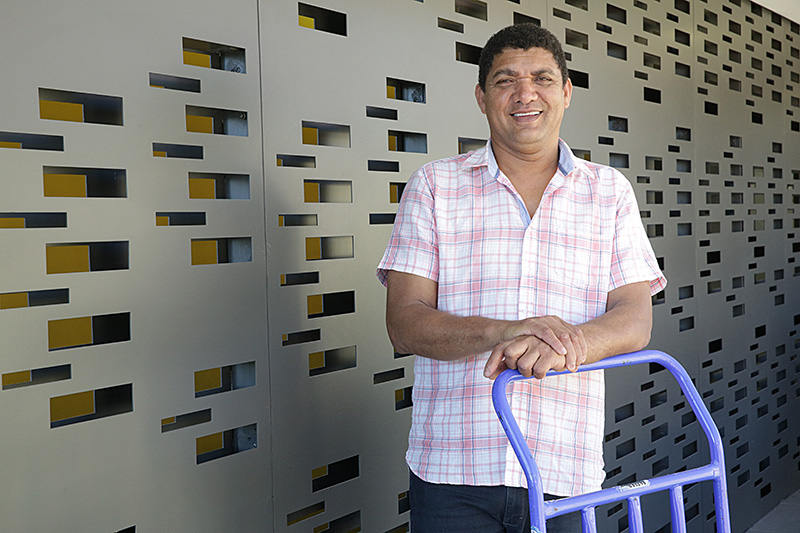 When his father fell ill in the early 1980s, Neutt left school early to work and help support their large family. After odd-jobbing at a shop in Rylands and a factory in Epping, he joined UCT in 1983, a year marked by growing political unrest and the birth of the United Democratic Front.
"In those days we had to work out a three-month probation before our appointments were finalised."
Neutt has the distinction of having worked all over campus – he started as a cleaner in the old Building Services Department and moved through various units such as safety and security, traffic, classroom facilities and assisting at functions on campus.
"Back then UCT hosted many functions!"
In latter years he's become known for his technical savvy with audio visual and IT equipment, particularly in the classrooms where facilities have been upgraded to meet the demand for multimedia aid in teaching and learning. He also provides multimedia support at lectures, during tests and exams, and at prestigious events such as inaugural lectures and conferences.
In some instances, the technological changes during the past 35 years precipitated some "radical recalibration". Neutt remembers how the transition from analogue to digital technology was a cause for some headaches for classroom facilities staff.
His multifaceted career has also taken him into lesser frequented places on campus: up in the rafters and under the floorboards in some cases. It may come as a surprise to learn that under the floor in the old New Science Lecture Theatre, now the Chris Hani Building, is a large cog that turned the lectern above in days gone by.
He also worked in the student and staff dining room, now a curious anachronism, above the current Molly Blackburn Hall.
"We wore Afros back in those days and my first salary was paid in the form of a cash cheque – bad news if you lost it!"
"We wore Afros back in those days and my first salary was paid in the form of a cash cheque – bad news if you lost it! We worked a 45-hour week and on alternate Saturdays until 12:00," he recalled.
But the major changes over three-and-a-half decades have been to the physical campus and student body.
"When I came to UCT, there were 8 000 students; mainly white, coloured and Indian. There were very few black students. All that has changed over the years."
He mused: "Back then we were like a family; there was mutual respect between support and services staff and the academics."
Take a walk with Neutt anywhere on campus and he's likely to be stopped by academics and staff for a greeting or a chat. That's the way it should be, he said.
Always on the go, he believes in taking good care of his health ("I take lots of nutrients and things like garlic and ginger") and staying in shape. His best memories at UCT involve cycling.
"I began doing fun rides and then registered with the UCT Social Club, which was registered with the South African Cycling Federation."
It was very competitive, and Neutt was the only person of colour in the club. He took part in the first Giro del Capo, a road stage cycling race, several five- to six-day stage races as well as two 250 km Lions Club races.
"The Argus [Cape Town Cycle Tour] was my last race. My best time was 2:41. Those were the peak years in my cycling career. I also did track cycling for 10 years."
Although gardening and fishing have taken over, there's bound to be a bicycle waiting somewhere in his retirement.
John Samuels (Department of Obstetrics and Gynaecology)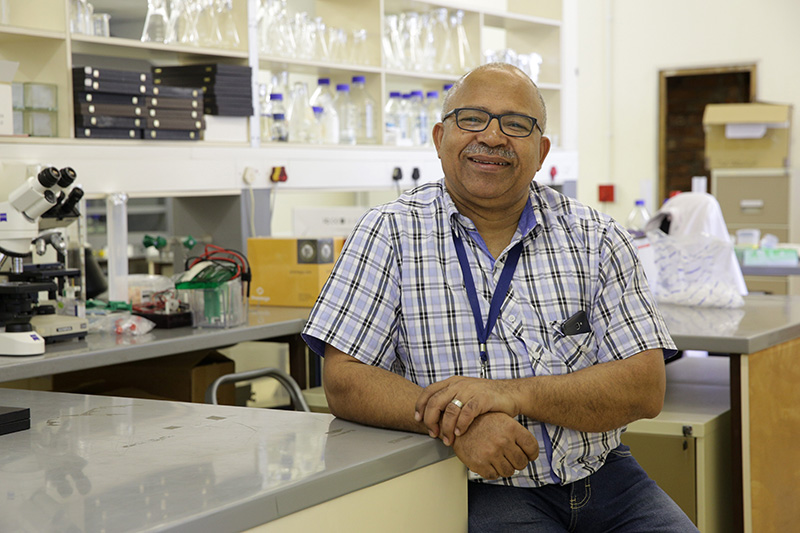 Serendipity played a large part in Samuels's appointment to UCT in 1983. Although his father and uncle had worked in the old Building and Services Department, he was an unknown rookie.
"I remember when I first came for a job at UCT there were 15 to 20 of us standing in a queue outside the old Arts Block. The supervisor at the time, Mr Appolis, came out and said, 'There's no work'. I thought, oh, my goodness. And then he called me back.
"And out of all those guys he offered me a position at UCT. That to me is very significant; it stands out for me. I will never forget that day. He took me, out of the whole bunch."
Since then he has worked under five vice-chancellors and two chancellors. The vice-chancellor at the time of his appointment was Dr Stuart Saunders and the chancellor was Harry Oppenheimer.
Samuels smiles when he remembers his first salary: It was a cash payment of R262.
"It was quite a good sum of money at the time."
He has worked in many buildings on campus over the years: in the old Arts Block, now AC Jordan Building, the Leslie Social Sciences Building and the old Economics Building.
He remembers the benches that were used during graduations in Memorial Hall.
"We used to go down under the floor and bring up four-seater wooden benches for graduation, hundreds of them. That was a killer."
He was with the chemistry department for 20 years and has been with the Department of Obstetrics and Gynaecology on the medical campus for the past 14 years.
"What stands out for me at UCT during those years is that the student body got so much bigger. Now, with all the students here we've needed more and more buildings and spaces to accommodate the students. Also, we have transformed a lot at UCT. For me, those have been the very important changes."
Working in a teaching and learning environment also motivated Samuels to take his own learning further.
"I am very appreciative of the fact that I work here because I've had the opportunity to do my standard eight (grade 10) and matric through night school. I have also completed a diploma in theology. It's great that I could do that."
Would he do it all over again?
"I would, but I'd probably want to use my time at UCT more constructively. I could have been a doctor or a professor by now if I had started studying in the beginning."
Other 35-year servers are: Ryno de Jager, Alicia Evans, Catharina Fick, Gerald Hesselink, Jeffrey Thurtell, Irene Biccard and Basil Sikenaris.
---
This work is licensed under a Creative Commons Attribution-NoDerivatives 4.0 International License.
Please view the republishing articles page for more information.
---