For the first time in its history, the University of Cape Town (UCT) has gathered together its entire community to acknowledge the outstanding contributions of professional, administrative support and service (PASS) and academic staff. The inaugural UCT Annual Awards took place on Monday, 19 November and saw the Memorial Hall transformed into a glittering venue for the gala occasion.
More than 400 staff members from all sectors of university life came together in a joyous communal celebration of UCT's overall excellence. Awards handed out on the evening included accolades for long service, ad hominem promotions, the prestigious Alan Pifer Award, and the Distinguished Teacher Awards.
"I believe that this evening represents another example of how we can begin to build an even stronger community where everyone's contribution is valued, and excellence is acknowledged in all aspects – from gardening and catering services to maintenance teams, as well as administrative and professional staff, to academics and students," Vice-Chancellor Professor Mamokgethi Phakeng said in her opening address.
The evening was interspersed with exceptional song, dance and theatrical performances by highly talented UCT students. Guests were also asked to share their photos on social media, using #UCTAwards2018, which quickly started trending in Cape Town.
"I know reputation is not everything, but it does matter. It matters that people know that we can get happy here and celebrate here because it's not always that the media out there talks about us celebrating and being happy as a community," a clearly delighted Phakeng said.
"But we know we do that, so now Twitter Cape Town is telling the world it's happening at UCT."
Long-service awards
The ceremonial part of the evening kicked off with the handing out of long-service awards (LSA) to staff members who had served UCT for 15, 25, 35, and even an incredible 45 years.
"It matters that people know that we can get happy here and celebrate here."
These awards were announced by Dr Reno Morar, Deputy Dean for Health Services in the Faculty of Health Sciences, and handed out by Phakeng. More than 50 staff members received an LSA for 15 years of service, 11 for 25 years, five for 35 years, and one for 45 years of service.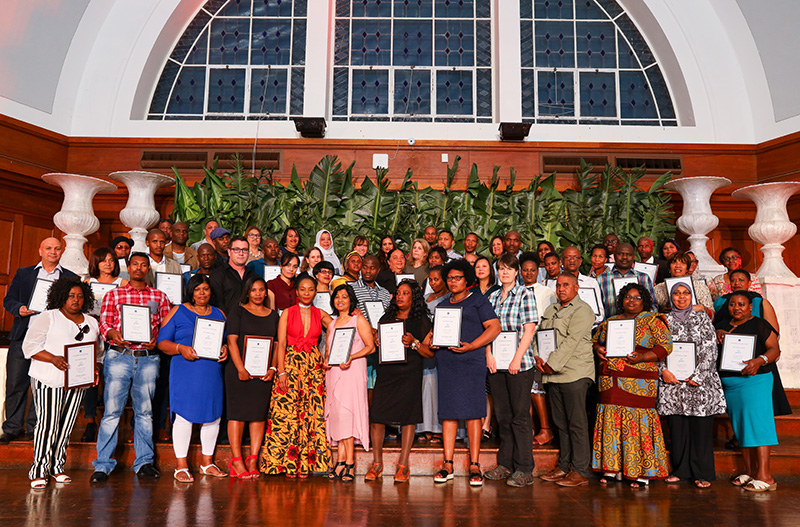 Morar told the gathering it has become increasingly rare around the world for staff members to remain with the same organisation for longer than four or five years.
"But I think we can all agree that for many of us, UCT is not just an employer – it is a calling that speaks to the hearts of many people, no matter what job we undertake here," he said.
Robert Samuels, who received the LSA for 45 years of service, received a standing ovation as he made his way to the stage. Samuels works in the Department of Integrative Biomedical Sciences, having started as a laboratory assistant in the Faculty of Health Sciences in November 1973.
His first pay cheque was for a princely sum of just R18, which he said he could do a lot with back then.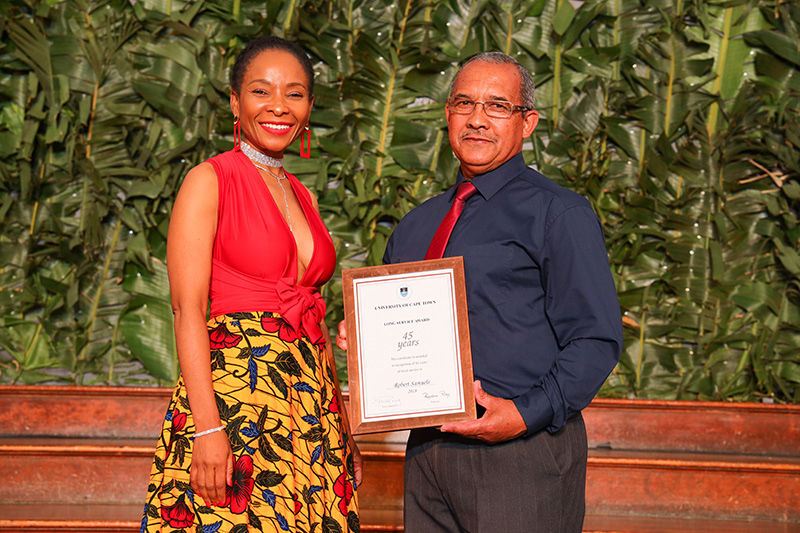 He believes in the benefits of living a balanced life: work, play, family and his church. He is a keen squash player and is firm about the evergreen standards of a good work ethic – including the way people treat one another. He and his wife Catherine, and their children Simone, Tara and Kyle, are all very active in the church.
He's also holding thumbs for Tara to be accepted to study business management at UCT next year.
Ad hominem
Following the LSAs, Deputy Vice-Chancellor for Teaching and Learning Professor Lis Lange was called to the podium to acknowledge the ad hominem promotions of more than 80 academic, scientific and technical staff.
"The ad hominem promotion process is rigorous: it assesses one's performance in teaching, supervision, research output, administration and leadership, as well as one's participation in socially responsive activities," Lange said.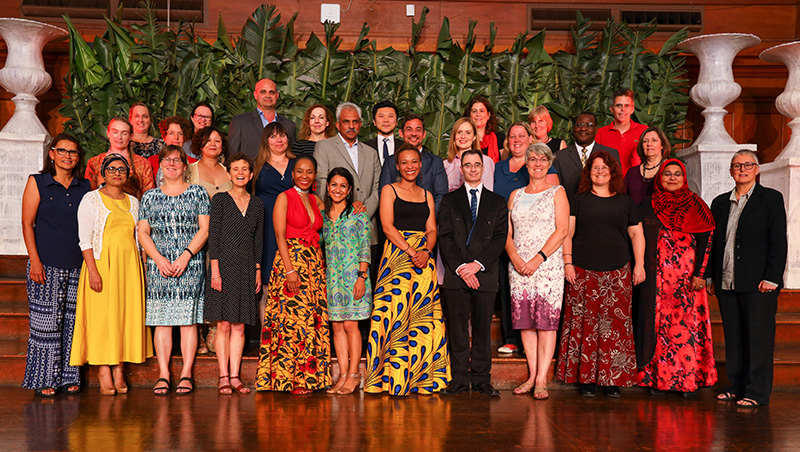 She added that the superior performance of UCT's academic staff is reflected in the high number of National Research Foundation (NRF) distinctions time and again. In 2017, UCT again reported the highest number of NRF-rated researchers in South Africa at 542 – up from 514 in 2016 and 276 in 2008.
"All of these criteria show our academic staff's passion
and the way they inspire colleagues and students."
These numbers include 41 A-rated researchers and eight who are P rated. UCT also produced a total of 79 of the country's SARChi Chairs, which means 19% are at UCT.
The teaching excellence of UCT is also strong, as a 2017 exit survey indicated, with 43% of graduates already employed in companies in 78 different countries around the world, 37% planning to study further and 95% saying that they felt prepared for employment.
"All of these criteria show our academic staff's passion and the way they inspire colleagues and students," said Lange.
The awards were presented in three different groups: scientific and technical officers, and senior lecturers; associate professors; and professors.
Alan Pifer Award
The Alan Pifer Award is the VC's annual prize in recognition of outstanding welfare-related research. It honours a UCT researcher whose outreach work has contributed to the advancement and welfare of South Africa's disadvantaged people, and highlights UCT's strategy for promoting socially responsive research.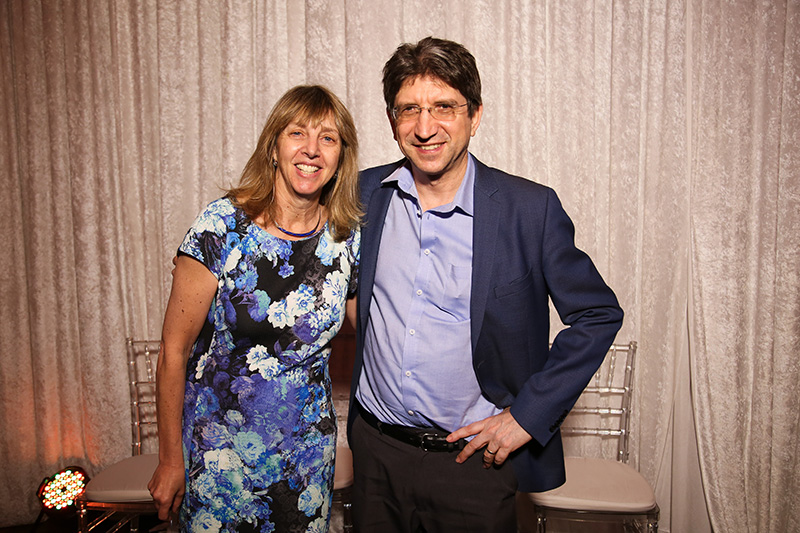 The prize was established to honour Alan Pifer, philanthropist and former president of the Carnegie Corporation. A long-term and generous UCT benefactor, he died in 2005.
Professor Michael Kyobe, UCT's acting Deputy Vice-Chancellor for Research and Internationalisation, had the honour of announcing this year's winner, Professor Heather Zar.
Zar is a paediatrician and scientist who has gained a reputation for rising above the challenges posed by a lack of resources to create new strategies to address key childhood illnesses. Over the past 20 years, she has helped improve and save the lives of thousands of children through research and innovation in child health.
She is chair of the Department of Paediatrics and Child Health at the Red Cross War Memorial Children's Hospital, and director of the South African Medical Research Council's Child and Adolescent Lung Health Unit.
Earlier this year Zar was also named the 2018 L'Oréal-UNESCO For Women in Science Laureate for Africa and the Arab States, and received the World Lung Health Award from the American Thoracic Society.
Distinguished teachers
The evening came to a close on a high note as four of UCT's most passionate academics were acknowledged for their outstanding classroom skills with the presentation of the Distinguished Teacher Awards.
"Through these awards, the university recognises the primary place of teaching and learning in the academic enterprise."
"The Distinguished Teacher Awards represent UCT's highest teaching accolades that acknowledge and celebrate excellence and innovation in teaching," said Lange.
"Through these awards, the university recognises the primary place of teaching and learning in the academic enterprise."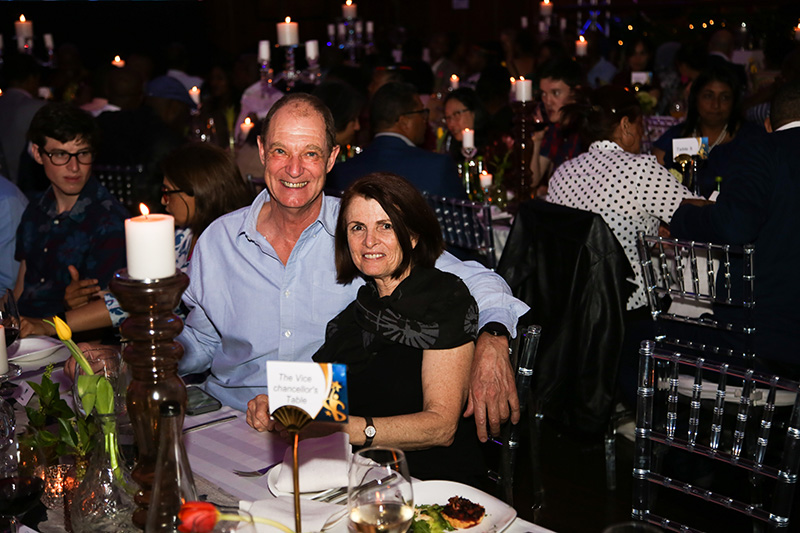 The four recipients for 2018 are Gregor Leigh (Department of Physics), Professor Pradeep Navsaria (Division of General Surgery), Associate Professor Jacqueline Yeats (Department of Commercial Law) and Professor Robert Dunn (Division of Orthopaedic Surgery).
The awardees were all acknowledged for making distinctive contributions to teaching and learning at UCT in their respective fields, by incorporating teaching philosophies and pedagogical approaches that take into account the teaching and learning challenges in South African higher education.
Phakeng pointed out that the UCT Community Awards served as the perfect opportunity to reflect on the fact that no-one's achievements at the university are solely based on their own hard work.
"We work together as teams and as a community to ensure the smooth running of our institution," she said.
---
This work is licensed under a Creative Commons Attribution-NoDerivatives 4.0 International License.
Please view the republishing articles page for more information.
---