First-year physiotherapy student Nepo Serage has been making big waves in hockey circles since becoming the University of Cape Town's (UCT) first-team goalkeeper just eight months after joining the squad. Now, 18-year-old Serage will be jetting off to Buenos Aires, Argentina as part of the team representing South Africa at the Youth Olympic Games from 6 to 18 October.
Serage, who has played hockey since she was in grade 1, has gone from strength to strength – not just at UCT, but at provincial and national level – since arriving at the university at the beginning of the year. But she nearly didn't sign up for varsity hockey as she didn't know how she'd pay for her goalie kit.
"I was worried about the finances. I didn't want to burden my parents but I applied to join the team anyway, and when I got in, my father was so proud. He said we'd make a plan whatever happened," she said.
As it turns out, she's had a great deal of support from the university.
"I was so happy to get into the second team. I loved the whole environment – everyone was so welcoming – and they gave me the goalie kit," she said.
"Considering she's only 18 and in her first year at UCT, she has done incredibly well in hockey," said UCT Sports Administrator Clinton Maart.
"As a player, she's amazing and as a person, she's in a class of her own. She is always helpful, always more than happy to give of her time and always available to help with development hockey and other things," he said.
"She always goes the extra mile and works so hard for her sport. We really see Nepo going places in her hockey and we wish her so well."
Winning streak
Earlier this year, Serage was selected to play for the U18 Western Province team that participated in an interprovincial tournament (IPT) in Pietermaritzburg. The team won, she was voted Goalkeeper of the Tournament and she was also selected for the South African (SA) U18 side.
A week after the IPT, she was included in the SA team that won a challenging three-match series against the Australian U18 side in Durban.
In July, her UCT team won the B section at the University Sports South Africa (USSA) games.
In September, she kept goal for the U21 Western Province team that won their interprovincial tournament in Pretoria.
"I keep telling myself my job is easy, as all I have to do is stop the ball!"
Serage, who was born in Limpopo but moved to the Free State when she was four, matriculated from Witteberg High School in Bethlehem. She excelled at school hockey and, while playing for the school's second team in grade 9, was selected for the Northern Free State A team.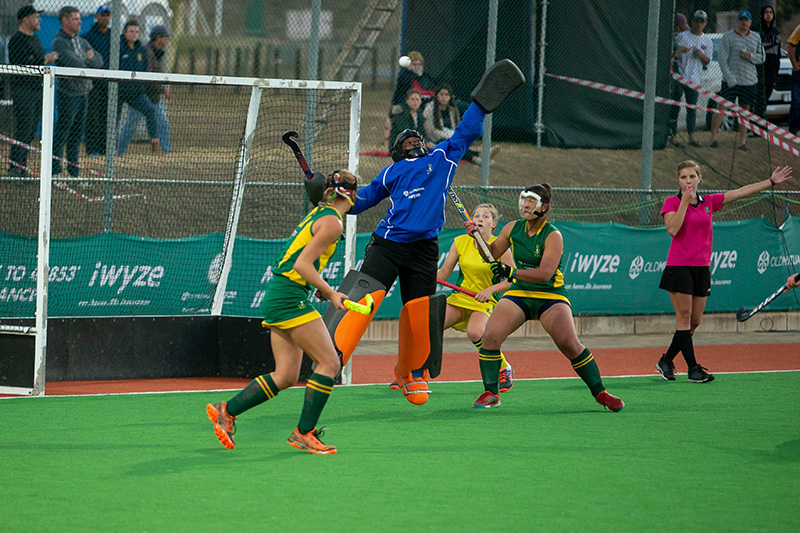 In matric, she played for the school's first team while continuing to play for the provincial team.
Although she started playing hockey in primary school, she only took to the position of goalkeeper in grade 8.
"We had a hockey clinic in grade 8 and the former goalie of the SA team, Sanani Mangisa, attended the clinic. Watching her and learning from her inspired me to carry on playing and to dream of making nationals. After meeting her, I was like, ʻI want to be there. I want to be that person'.
"I now enjoy playing goalie much more than playing infield," she said.
Argentina and the future
Of her upcoming trip to Argentina – her first trip overseas – Serage said: "I know it will be hard, because we will be playing Argentina in their own country. I keep thinking of the crowds that will be supporting them, but I'm trying to keep my cool. I am really looking forward to this. I keep telling myself my job is easy, as all I have to do is stop the ball!"
She hopes to do some sightseeing while in Argentina too.
"But I will miss three weeks of lectures while I am away and I have exams when I return, so I will have to spend some time studying."
How does she keep fit?
"I do a lot of running and I spend a great deal of time in the UCT gym. I love the gym as it has everything I need. I do a bit of bodybuilding, but I mainly focus on cardio. I believe that if you are cardio fit, you can do anything."
As for her future ambitions, she has her sights set on the Junior World Cup in 2021.
"That is the goal I will work towards for now. Then, hopefully one day I will play for the national team as goalie. I wouldn't play in any other position.
"I have also had thought of playing overseas. The European league looks fun but these are all just thoughts at the moment."
"We have this thing at home that no matter what happens we are always there for each other. Come good, we are there. Come bad, we are there."
Goals and inspiration
In terms of her other goals, she would love to become a sports physiotherapist.
"As part of our course we do a lot of job shadowing in government hospitals. It is clear that they are understaffed. I would like to work in a government hospital some day. I will have to work out a way to apply my specific skills to be able to assist there."
Besides Mangisa, Serage's other inspiration in hockey is Ongeziwe Mali who is currently in the national hockey team.
"We were on hockey camp together and she inspired me to believe that there is a chance for young players in the squad. She played for U18 A SA and U21 and got pulled up to the national squad; at 19. That is amazing."
But Serage's main inspiration is her family.
"We have this thing at home that no matter what happens we are always there for each other. Come good, we are there. Come bad, we are there. I can count on the stable support and love of my family at all times. We have often struggled with finances, but we have always supported each other and managed to come through."
---
This work is licensed under a Creative Commons Attribution-NoDerivatives 4.0 International License.
Please view the republishing articles page for more information.
---