The recent intake of learners to the 100UP programme – which assists them through matriculation and the university application process, and ultimately to graduation – heralds the start of an enduring relationship between these promising young people and the University of Cape Town (UCT).
The 100UP programme, the flagship project of UCT's Schools Improvement Initiative (SII), aims to address the dearth of learners from disadvantaged backgrounds entering the institution, with a special focus on those from the Western Cape's township schools. The intervention coaches them towards access to UCT and other universities.
The programme began as a pilot project in Khayelitsha in 2011, with five grade 10 learners identified from each of the township's 20 high schools. Today the 100UP mentors work with 300 learners from grades 10 to matric, and has been extended to Mitchells Plain.
Aside from academic tutoring and mentoring, the programme includes life skills training with the aim of taking the learners "up in life and out of the township", according to project manager Ferial Parker.
"We realised in the second year [of the project] that on the border of Khayelitsha are Mitchells Plain schools; there are 16 of them.
"In grade 12, after the June exam, we select [more promising] learners who have a chance to get in at UCT and other institutions. With them on board, the numbers have increased every year.
"Of the first group, 31 have already graduated ... and there are six students doing postgraduate studies. It's amazing," she said.
"Of the first group, 31 have already graduated … and there are six students doing postgraduate studies. It's amazing."
Support for applicants
The 100UP programme introduces the learners to UCT in grade 10, as well as other universities and tertiary institutions.
"We get all the faculties to do workshops with the learners, and we have student organisations, like the Commerce Student Council, do a workshop with them. Just to ignite that little flame and to inspire them," Parker explained.
"Then when they get to grade 11 we focus on the academic subjects. So they will have Saturday classes in Khayelitsha in a school hall. We have teacher-tutors to [revise] what they've learned during the week and just enhance it. The grade 11s also have a three-day camp here at UCT. All of them love it; they love staying over at UCT.
"Then in grade 12 it is quite a hectic programme. They have classes every Saturday here at UCT. In between we have workshops. We help them with applications, we help them with applying for NSFAS [National Student Financial Aid Scheme funding] and applying to other institutions."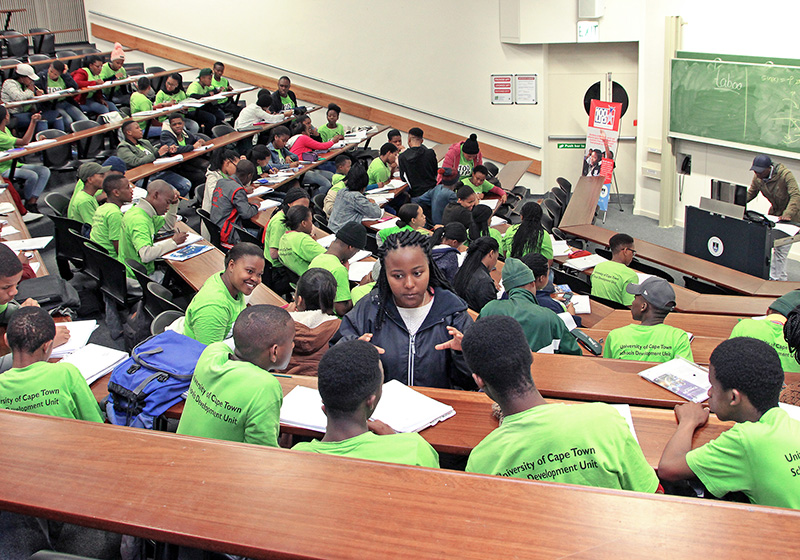 The programme offers a valuable advisory service to learners.
"We monitor their results to be very realistic. We constantly tell them what the requirements of each faculty are, how far they are from the requirements and how much they must pull up their socks. It's basically mothering, so that they have someone who's got the answers to their questions and can give them realistic advice," Parker said.
"We guide them and assist with NBT [National Benchmark Test] writing – the project will pay for them to write the NBT. Then, when they come here, we ensure that all of them are on NSFAS, and we ensure that all of them are in residence."
100UP does not end with university admission, however. Once enrolled, they become 100UP Plus students and can both access support from the programme as well as mentor the new cohorts of 100UP learners. For the grade 10 learners who have just joined, "this is the beginning of a very long road", said Parker.
Onwards and upwards
The attendance of grade 12 learners at the Saturday sessions has been consistently impressive, which testifies to the value of the programme. One of the participants, Sonwabile Makade, said: "I find the teaching helpful because if I didn't understand something from class at school, at least here it can be repeated again, then I can understand. I don't feel scared to ask questions."
Makade is pinning her hopes on UCT: "Since UCT is the best university in Africa, I just feel I need to be here."
"Since UCT is the best university in Africa, I just feel I need to be here."
A bonus for the learners is that their tutors have come through the 100UP programme themselves.
Another participant, Thamsanqa Gaika, said it helped that they and their tutors came from similar backgrounds, and so could relate to the challenges they face.
"Unlike teachers, they [the 100UP Plus mentors] are closer to our age group. It's easier to talk to them and because there are four of them they cover much more work than one teacher," participant Ntsikayomzi Cwayi added.
Tshepiso Selebedi, who has applied to study biochemistry at UCT and other universities, commented: "I think 100UP has helped a lot and I've seen improvements. I don't need to be here, but my family wants me to study here. It's nice to have independence so you can make your own choices."
100UP has been influential in the learners' future life choices too.
Phumlani Xhamfu has applied to study accounting at UCT.
"100UP has really changed my ambition for the future. In Khayelitsha, not many of us want to further our studies; we don't really look beyond high school. Since joining 100UP I have a clear vision of what I want to do."
---
This work is licensed under a Creative Commons Attribution-NoDerivatives 4.0 International License.
Please view the republishing articles page for more information.
---