The Schools Improvement Initiative (SII), one of Vice-Chancellor Dr Max Price's four Strategic Initiatives, has won the University of Cape Town's 2017 Social Responsiveness Award.
The Social Responsiveness Committee made the announcement on 7 March, and the award will be presented during the 10:30 graduation ceremony on 4 April.
The SII was launched in 2012 and last year celebrated the fifth year of its partnership with Khayelitsha schools and the Western Cape Education Department. The intention of the initiative is to extend UCT's engagement in schooling with the explicit aim of making a positive impact on the quality of education in the classroom.
Its beginnings go back to Price's inaugural address in 2008 when he identified several critical social issues he believed that UCT should tackle. Among these was the crisis in public education.
Response to education crisis
The underachievement of learners, particularly in the Western Cape's township schools, has seen meagre numbers of black students qualifying to study at UCT. The SII was formed to harness the university's broader resources and create meaningful partnerships with education-related groupings, both inside and outside UCT.
The SII is "a multi-stakeholder approach to dealing with the challenge of poor performance by learners from township and rural schools", Price said at the SII's anniversary last year.
Through the SII programmes, UCT mobilises university-level resources to improve the quality of teaching and management in three primary schools – Intshayelelo, Ummangaliso and Sivuyiseni – and two secondary schools – COSAT and Usasazo – in Khayelitsha.
Among the SII's standout successes is its 100UP programme, which operates in all 20 secondary schools in the township and, from 2015, a further 11 secondary schools in Mitchells Plain. The aim of the programme is to prepare matriculants for entry into UCT and other universities. In 2017 the first cohort of 100UP students graduated from UCT.
Since the inception of 100UP in 2011, over 1 000 learners have participated in the programme and a measure of its success is that of its 963 matriculants who obtained B-degree passes, 851 (or 88%) have gone on to study at university, with 446 of those at UCT.
This year sees 63 first-year students drawn from 19 of the 20 secondary schools in Khayelitsha registered at UCT – an almost three-fold increase in enrolments from before 100UP was put into place.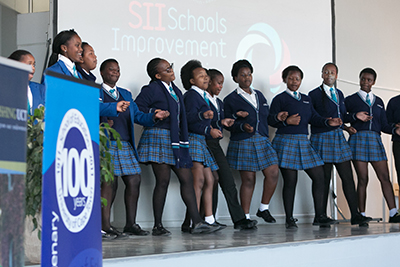 Whole-school improvement
The SII's theory of change is based on a whole-school improvement model, which includes leadership and management support in conjunction with teacher professional development. Using the expertise of the Schools Development Unit in UCT's School of Education, the initiative offers university courses coupled with school-based mentoring.
A hallmark of the SII is its commitment to interdisciplinary collaboration with faculties and departments across UCT. Students studying occupational therapy, speech and language therapy, audiology, social work, and those studying in the School of Education, undertake their professional practice learning in the SII partner schools.
In addition, the SII collaborates closely with the Knowledge Co-Op, Library and Information Sciences, and the School of Architecture, not to mention student organisations such as Ubunye, SHAWCO and Students for Law and Social Justice.
Knowledge production
The SII's activities over the past six years have contributed towards knowledge production and engaged scholarship. This includes three symposia, four peer-reviewed journal articles and presentations at three international and four local conferences.
One PhD and three master's students have undertaken their research in the SII partner schools. Furthermore, a three-year National Research Foundation Community Engagement Grant awarded in 2015 has resulted in a multi-authored book, to be published by HSRC Press later in 2018.
In response to the Social Responsiveness Award, SII director Dr Jon Clark said, "While we are most proud of this achievement, we know that none of our work in the SII would have been possible without the active support and commitment of our many partners, in particular, the schools in Khayelitsha. It is an honour to be of service to education in this country.''
---
This work is licensed under a Creative Commons Attribution-NoDerivatives 4.0 International License.
Please view the republishing articles page for more information.
---