A special Summer School lecture series gave learners from UCT's Schools Improvement Initiative's (SII) 100UP programme a taste of campus life – and the experience of learning simply for the joy of knowledge.
Participants at UCT's popular annual Summer School will know that the average attendance age is closer to 60 than 16. Last week, however, the usual profile was radically changed as a group of matric pupils, all participants in the 100UP programme, streamed in to lecture theatres for their own experience of Summer School.
The 100UP programme, one of the Vice-Chancellor's initiatives, began as a pilot project in 2011 in Khayelitsha to address the problem of under-representation of black students in university registration. Grade 12 learners with university potential, usually the top five academic performers from 20 different schools, are selected for a rigorous programme designed to build intellectual, social and cultural capacity.
Summer School is the perfect introduction to the university's campus and is, for many learners, their first opportunity to experience learning for the joy of knowledge rather than exam purposes.
Five lecturers took part in this mini Summer School programme, offering topics from maths to maggots.
For most of the learners, TV crime dramas are the closest they've come to a forensic scientist. Dr Marise Heyns, a senior lecturer and course coordinator of the master's in biomedical forensic science at UCT, had the learners completely captivated and hanging onto her every word in her lecture, "CSI: Cool Scientific Inquiry".
Some of the information she conveyed was met with gasps and squeals. Her passion for her field of study was infectious, and a crowd of youngsters besieged her after the lecture for more information and a closer look at her prized maggots.
While she destroyed some commonly held myths established by television forensic 'experts', she grew the learners' interest and awoke them to possibilities in this field.
"Be curious, be critical, always check the facts and you will find a new world opening up for you."
Opening minds
Aside from the importance of biology, maths and physics, Heyns stressed the importance of having an open mind, never assuming and being curious – sage advice for any career path. After the lecture she remarked on the prevalence of young women in the audience and increasingly in the realm of science.
In the lecture theatre alongside, Emeritus Professor John Webb was unveiling the history of numbers at his lecture, "Numbers Old and New". He explained that he had modified his popular Summer School maths lecture to appeal to the much younger audience.
After a short break, Emeritus Professor David Wolfe from the University of New Mexico surprised many a young mind with his explanation of "The 2000-year-old Computer".
Emeritus Professor Anwar Mall, a polymath who made the linkages between varying fields of science in his lecture "The Interconnectedness of Our Universe", is passionate about his contribution to this abridged Summer School programme. More than just teaching young people, he wants to expose them to joy of knowledge for knowledge's sake.
"The best way to learn is to take on the mantle yourself and be responsible for your own learning; be curious, be critical, always check the facts and you will find a new world opening up for you," he told his audience.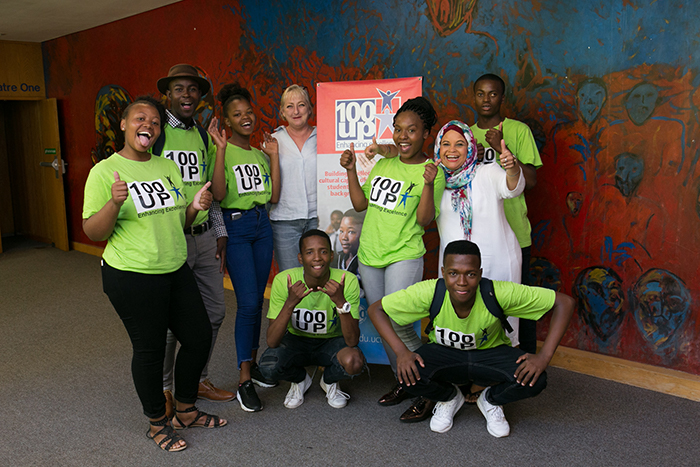 The excitement of education
Ferial Parker, the project manager of the 100UP programme for the past seven years, is committed to making the potential students as excited about education as she is. This is a commitment shared by Medee Rall, the director of the Centre for Extra-Mural Studies who is working hard to diversify Summer School, the flagship programme of the centre.
"Although Summer School is open to all, we don't see all here," Rall said. "We need UCT students and future UCT students to participate, and I want a younger generation to join us."
Professor Crain Soudien from the Human Sciences Research Council gave the final lecture of the day.
His topic, "A Hundred Years of Thinking about Race", gave the learners a historical context for their role in transforming both the university and society at large. He impressed upon them that their "task is to always make sense of what is going on" and not to accept information blindly.
The last word goes to the learners who were bursting with excitement.
A small group from the Centre of Science and Technology, Siphamandla Secondary School and Harry Gwala Secondary School cried out in unison: "Now we're ready for next year!" when asked for their thoughts on the day.
Given their excitement and enthusiasm, they certainly are.
---
This work is licensed under a Creative Commons Attribution-NoDerivatives 4.0 International License.
Please view the republishing articles page for more information.
---