Several hundred people marked the end of an era for UCT Vice-Chancellor Dr Max Price at a farewell gala dinner in Cape Town at The Lookout on Saturday, 23 June 2018. The VC was celebrated for his successes, and commended for the courage, resilience and vision he showed during his 10-year term at the university.
The farewell event was celebrated with music from the UCT Big Band and the marimba band amaAmbush, among others, as well as tributes from across the university spectrum.
The Minister of Higher Education and Training, Naledi Pandor; the incoming Vice-Chancellor, Professor Mamokgethi Phakeng; and three former UCT vice-chancellors – Dr Stuart Saunders, Dr Mamphela Ramphele and Professor Njabulo Ndebele – were among the guests.
Vice-chancellors from other universities, UCT leadership, and current and former Students' Representative Council (SRC) presidents also attended the celebration to acknowledge UCT's growth and progress during Dr Price's term of office, which comes to an end on 30 June.
Mr Sipho M Pityana, Chair of UCT Council, said that Price had played a central role in accelerating the pace of transformation, including introducing a new financial aid system, increasing funding to help boost the success rate of students, and launching a revised admissions policy.
"Price's years as a student activist … shaped his vision and character."
Pityana went on to say that Price's years as a student activist had shaped his vision and character, and that he had carried out his duties with great resilience and commitment, and with decisive leadership.
The research side of the university has also flourished during Price's tenure, with UCT academics accounting for over 30% of the country's National Research Foundation A-rated researchers. Over the decade, UCT has earned respect as a globally competitive research university that has nurtured new talent, especially among black and women researchers.
Together with other speakers, Mr Pityana also paid tribute to Price's wife, Professor Deborah Posel, for her steadfast support and for serving the university as the founding director of the Institute of Humanities in Africa (HUMA).
A remarkable job
In a recorded video message, UCT Chancellor Graça Machel, who was unfortunately unable to attend the event, said that Price could leave UCT with his head held high.
"We are very proud of your achievements … the way you engaged students and protected their rights, the way you galvanised faculty and administrative staff to be part of the decision-making, and the way you reached out to communities."
Former SRC president and Rhodes Must Fall leader Ramabina Mahapa said that the Vice-Chancellor had done "a remarkable job during a bittersweet time" for the university, which had been punctuated by protest.
"Dr Price was a formidable political adversary."
"Dr Price was a formidable political adversary. We had to stick to unconventional tactics to get the upper hand. One thing we've learnt from Max is perseverance. He is somebody who I have seen heavily criticised, and beaten down, and then he shows up the next morning!
"I often say to comrades: 'If you want to understand UCT politics, you cannot leave out the Max Price years. They were interesting – full of challenges and full of hope.' "
Professor Valerie Mizrahi, the director of the UCT Institute of Infectious Disease and Molecular Medicine (IDM), who worked with Price at the University of the Witwatersrand for many years before moving to UCT, described him as courageous, optimistic and visionary.
"The range of initiatives that he envisioned, led and saw to completion is quite breathtaking, and will shape and influence this institution for years to come."
The Vice-Chancellor of the University of the Free State, Professor Francis Petersen, who was a deputy vice-chancellor alongside Price at UCT for several years, conveyed a message of congratulations on behalf of the current vice-chancellors of South Africa's 26 universities.
On a more personal level, he said that Price had remained principled through both good and challenging times.
Exceptional calibre
Responding to the tributes, Price attributed the achievements of the past 10 years to the teams of people across the university – from academics to the administration departments, who played a critical role despite not getting the "reflected glory of [the] graduation rates, ceremonies and success of the students".
"The whole team pulled together to get us where we are. I did not do it alone, but with the support of all of you," he told the more than 400 guests.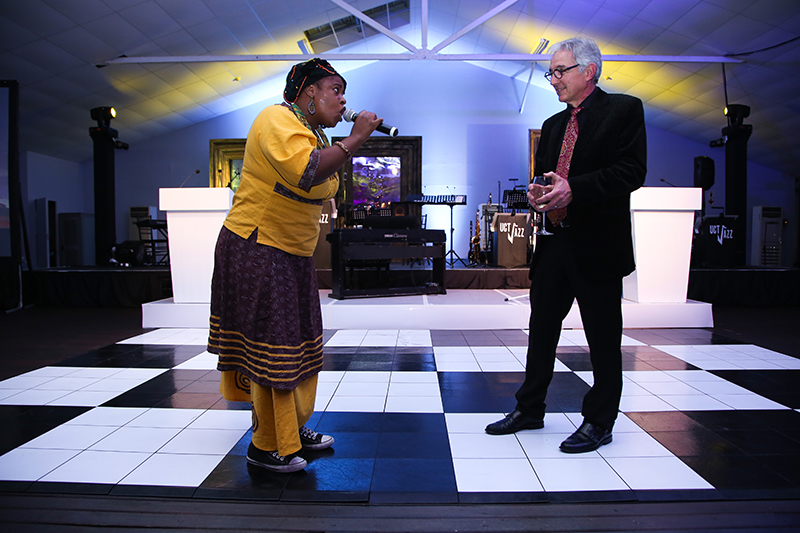 He paid tribute to UCT's alumni, who had contributed tremendously to the university, even in turbulent times. And he went on to credit the academics and other teams who worked hard to get funding, whether for research or infrastructure.
"We have been able to raise more money than in the years before. It works out to R1 million every day for 10 years that has been raised in donor funding."
"We have been able to raise more money than in the years before. It works out to R1 million every day for 10 years that has been raised in donor funding."
Dr Price said that the calibre of UCT students has been exceptional.
"We are very lucky to have the pick of the crop of school-leavers, while 30% of our doctoral students come from outside South Africa."
He said this has helped to position UCT as an intellectual hub on the continent. He also recognised student leaders for their insight, and for helping to create positive change at the university.
"We've had the benefit of mature, courageous student leaders who have been willing to take a chance, to sometimes break expectations."
More than 400 people gathered together at a farewell gala dinner to celebrate the achievements of UCT over the 10 years that Dr Max Price served as the university's Vice-Chancellor.
An actor in history
Price said that he has often been asked if he would have taken on the job had he known how challenging it would turn out to be.
"I have no doubt that I would take the job again. I had a biblical seven good years to start . . . That was a complete high, a wonderful experience, with great camaraderie. People felt and could see we were making exceptional progress . . . and perhaps that let us take our eye off the ball of the institutional culture, most symbolised by Rhodes Must Fall and the Rhodes statue, which unleashed the wake-up call of the last three years."
"I am privileged to be an actor in this making of history."
The outgoing VC said the years from 2015 to 2017 had proved to be a watershed period – not just for UCT, but for higher education across the country.
"Because of the national protest movement, the higher education landscape has been changed forever. I am privileged to be an actor in this making of history. Not many people have the opportunity to be an actor in this significant movement of change."
Price credited his wife for being a "fantastic support" throughout his tenure, while maintaining her own academic career. Price said he will soon be accompanying his wife to the UK, where she will be taking up an acting professorship at University College London, and quipped that he was looking forward to practising his saxophone.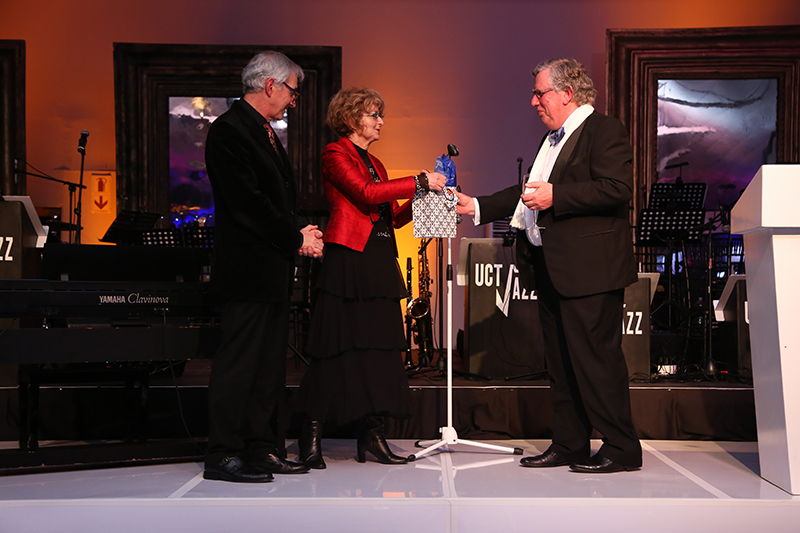 He said he plans to write a book on his return, in which he will reflect on his experience at UCT and in higher education during the seminal past few years.
He also welcomed the Vice-Chancellor designate, Professor Mamokgethi Phakeng.
"I have no doubt that under her leadership, this is going to become a much more inclusive environment. It's comforting to hand over to someone who 'gets' what needs to be done, and has the strength, competence and excellence to do it."
---
This work is licensed under a Creative Commons Attribution-NoDerivatives 4.0 International License.
Please view the republishing articles page for more information.
---