The student farewell function on Monday, 21 May, was held to mark the culmination on 30 June of Dr Max Price's 10-year term of office. Lead by messages from well-wishers and vibrant musical offerings, the programme was cut short after an interruption by protesting members of the UCT community.
The Vice-Chancellor was unfortunately not able to make his speech at the student farewell event, due to a group of protesters who entered the hall and disrupted proceedings. Dr Price has offered his sincere apologies to those students who came to the event to listen to him. The speech that he would have delivered is, however, available. (Read the VC's speech.)
Thankfully, the VC had ample opportunity to walk among the crowd of students in the Memorial Hall after the event was cut short. Multiple students approached him to offer their own personal wishes on the eve of his departure from UCT. Several of the students took selfies with him and expressed their gratitude to him for the positive impact that he has made at the university.
Students have been invited to send personal farewell messages to the Vice-Chancellor, in the form of videos, texts, voice or picture messages. (Send your message to the VC.)
Other messages of recognition for Price have also started pouring in: former Public Protector and now a professor at Stellenbosch University Thuli Madonsela tweeted: "Wishing a happy and rewarding future to Dr Max Price of UCT. Thanks for giving your best shot to transformation of higher education at a time of enormous turbulence and distrust. Good wishes to the incoming VC, Prof Mamokgethi Phakeng."
Prior to the disruptions the congratulations from various quarters highlighted a range of UCT milestones under Price's leadership, these achieved despite the challenges of leading the university's transformation in a particularly challenging higher education environment.
The Memorial Hall was decorated with visual displays depicting events from the daily working life of the Vice-Chancellor (VC): congratulating students at excellence awards, celebrating with services staff following their insourcing 18 months ago, in conversation with union members and student activists, in a tug-of-war team with freshers at the annual Fresher's Braai, meeting graduates and their families at graduation ceremonies, capping students at graduation ceremonies and more.
Grooming students
Transformation has always been high on Price's agenda. One programme that reflects this at a more grassroots level is the 100UP project, which is part of the Schools Improvement Initiative (SII). It is one of the SII's standout successes, operating in all 20 secondary schools in Khayelitsha and a further 11 secondary schools in Mitchells Plain. The initiative grooms matriculants for entry into universities. Some 88% of students on the programme had since entered university, said Deputy Vice-Chancellor Professor Loretta Feris, the master of ceremonies for the event.
Speaking on behalf of the 100UP cohort, former '100 Upper' Mkuseli Nxozana said that Price "had done wonderful things for poor communities" by introducing this schools support initiative.
Nxozana joined the programme in grade 12 and said, "It made a huge impact in terms of my performance."
Now he and others are helping students in the same situation.
Farewell from the SRC
President of the Students' Representative Council Mthobisi Mgomezulu's offered a personal message of thanks and farewell to the VC, while highlighting a number of the programmes and initiatives spearheaded by Dr Price over the years.
Among others, these included the Classroom Renewal Project, which "has renovated more than 100 classrooms on four UCT campuses, bringing them up to standard in respect of audio-visual / information technology (IT) and the physical environment"; and the Curriculum Change Working Group, which "has been exploring curriculum change at UCT by engaging with academics and students through facilitated dialogues".
Mgomezulu stressed that Price was always focused on instilling in UCT graduates a finely tuned sense of social justice, regardless of their qualification, and recalled that the VC always urged students to become engaged citizens who care deeply about their fellow South Africans and make a positive difference in both their professional and personal lives.
"Dr Price, on behalf of all your students I want to wish you and your wife, Professor Deborah Posel, all the best and thank you for all you have done for UCT during your term of office. As the student body, we wish you well on your new journey while we continue to build on the foundation you have laid."
Message from the Registrar
Registrar Royston Pillay reflected on the VC's tenure. "After 10 years of his leadership of UCT, we have much to celebrate and much to offer him congratulations for. He has led this institution in complex, changing, challenging and exciting times, for UCT and the wider HE sector in this country.
"I take this opportunity to thank Dr Price for his openness in hearing opposing views, his calmness during highly pressurised times, and his engaging leadership style."
Initiatives and milestones
Mr Pillay highlighted several of many successful initiatives, including the introduction of a new admissions policy, an improved financial aid system, and increased funding for interventions that boost students' success rates.
The institution had more than 66 000 students graduating since Dr Price joined, he reported.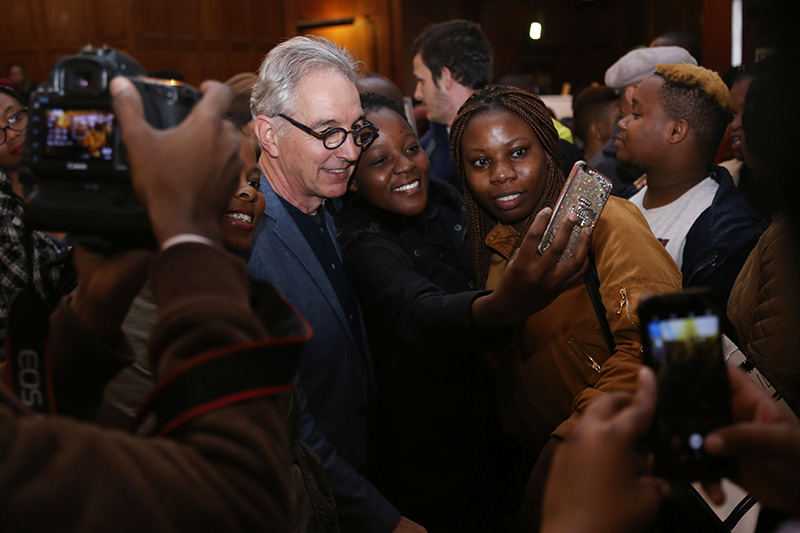 The Registrar also stressed the VC's continued focus on financial and organisational investment in postgraduate programmes, "creating new interdisciplinary programmes and significantly increasing postgraduate enrolments".
---
This work is licensed under a Creative Commons Attribution-NoDerivatives 4.0 International License.
Please view the republishing articles page for more information.
---