UCT's Careers Service (CS) started out in 1968 in a small wooden building next to the geology department, where the Leslie Social Science building is found today.
A memo to the university community stated that the first careers office would be established on campus and the head, Niels Lindhard, promised an "open-door principle" for students to get advice on job opportunities, and for employers to learn recruitment skills.
Fifty years later, the UCT CS has evolved into a world-class, award-winning department within the Centre for Higher Education Development (CHED). This year, it celebrates five decades of service excellence and dedication to helping students navigate the changing world of work.
The CS hosted its 50th anniversary celebrations on 19 April. The event was bittersweet, however, as it marked the departure of its current director, David Casey.
"This year marks our 50th anniversary, a significant achievement. However, in celebrating this moment we choose to look forward not backwards. As a team our focus remains firmly on what lies ahead," Casey said.
"We understand that we can't build futures based solely on our past and are committed to taking the CS to the next level to better support students' access, success and the transition to the world of work."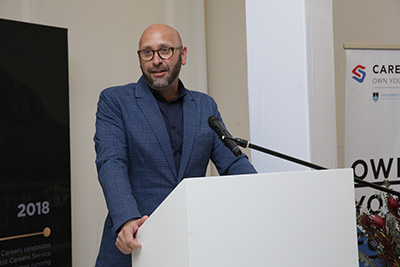 A journey of learning and discovery
"It's really with a heavy heart and a smiling soul that my thoughts have turned towards leaving UCT," Casey said.
"Just over six and a half years ago, I sat in my office at University College Dublin thinking about the task ahead: a new continent, new culture, new university, new team."
Casey reflected on the journey of learning and discovery he undertook, surrounded by supportive colleagues, these past six and a half years. It was these years of growth and development, he said, that have led to the CS we know today: a service truly of the 21st century.
Colleagues praised Casey for his leadership of the powerful CS team, which has grown into an example of global best practice and innovation.
"I think David would be the first to admit that much of what we are celebrating today is, actually, really, the efforts of a very powerful team," said Dean of CHED, Associate Professor Suellen Shay.
"David has always been very clear about who it is that he is here to serve and what that service is for, and it has always been about the students.
"What is interesting about what the CS has done is that it is there to help all students, no matter who they are and what they bring with them to this environment."
"All this is achieved by a small but growing team of professional, dedicated and student-centred individuals."
As a tribute to Casey, Shay acknowledged his unique ability to network, his approach to lifelong learning, and his aptitude for turning challenges into opportunities.
But Casey was quick to acknowledge the efforts of his team.
"All this is achieved by a small but growing team of professional, dedicated and student-centred individuals. We constantly strive to empower and bring out the best in each other and the students we serve," he said.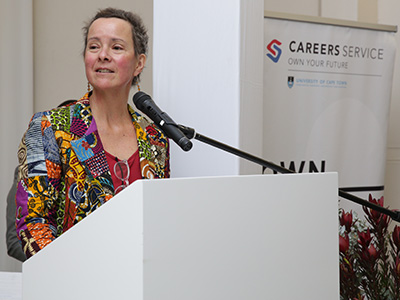 Then and now
The CS has always been known for its innovation, even in the 1970s when it developed from being a matchmaker between graduates and employers to an advisory service.
It began guiding companies in their recruitment practices, and provided students with survey-based insights on starting salaries, first occupations and subject choice.
CS moved to the Kramer Building in the early 1980s, and ran its first three-day careers conference in 1984.
That same year, after the Academic Planning Committee conducted a review, Senate and Council accepted a recommendation that "career development and enhancement of graduate employability are crucial to the production of competent, confident and well-rounded individuals able to make a major contribution to our society".
The service continued to grow and was eventually incorporated into CHED.
"We have really had outstanding leadership and a global perspective on what a world-class careers service should look like."
CS has celebrated many milestones. Most recently, it launched the reimagined Careers Festival – which incorporated expos, career talks and the inaugural Student Entrepreneurship Week – that was attended by 15 000 students over a 10-week period.
The CS also provides an online portal linking students to employer opportunities and events, and offers a career-related online resource 24/7 via its website.
A global perspective
"Perhaps the measure of what has happened to Careers Service is that it has been ranked, for many years now, as the best service in South Africa," commented Vice-Chancellor Dr Max Price.
He noted that in 2016 the service was ranked second for Best Careers Service Satisfaction in the world as voted by UCT students in the global Universum Student Survey.
"If one just looks at the innovation that has come through our Careers Service, you can see we have really had outstanding leadership and a global perspective on what a world-class careers service should look like," said Price.
---
This work is licensed under a Creative Commons Attribution-NoDerivatives 4.0 International License.
Please view the republishing articles page for more information.
---