How do higher-education institutions ensure best practice when delivering careers services to tomorrow's students and employers, while keeping up with the ever-changing world of work?
These and many other questions were posed at the Global Careers Service Summit in the UK where 100 careers service leaders from 14 countries representing five continents gathered from 13 to 15 March. The event was co-organised by UCT Careers Service, headed by director David Casey.
As a co-organiser, Casey was part of a team of fellow directors from Newcastle University in the UK and Binghamton University (New York State) and the University of California, Irvine, in the US.
The summit created an international platform for careers services in institutions across the world to share best practice, insights, challenges and opportunities. It was also a space to network and form partnerships, all central to excellent service delivery, said Casey.
"Careers service leaders came from five continents and 14 countries to this annual summit to engage with, collaborate on, discuss and collectively solve global challenges."
Among the topics were: what businesses require of graduates, trends in employer and university relationships, and how careers services are preparing students to become entrepreneurs. An international employer panel discussed what they expect from prospective employees.
A poster exhibition was an addition to this year's summit.
A World Café
In their presentation, UCT Careers Service highlighted how data is used to influence change. One of their deliverables in 2017 was the creation of a digital dashboard to establish trends, predict outcomes and inform strategy. The Careers Service team collates and disseminates the university's annual Graduate Exit Survey, and this data shows the destination of students at graduation.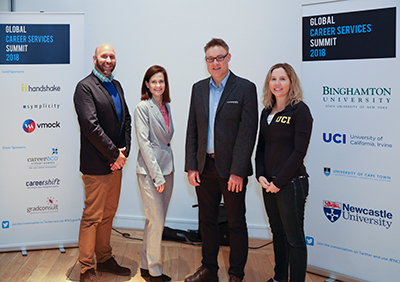 The summit also created a platform for careers services worldwide to share their insights, observations, challenges and opportunities via collegial dialogue through a 'World Café' – an interactive discussion session. Talk centred around what the international workforce would be like in future and redefining careers services in the age of artificial intelligence (AI).
Casey said that some key takeaways from the summit included the importance of maintaining strategic partnerships and using artificial intelligence (AI) when creating strategies.
He said that AI was "a non-negotiable strategy of all careers services and businesses going forward to ensure delivery remains relevant and allows scaling of service offerings and client needs at all times".
UCT Careers Service is part of the Centre for Higher Education Development (CHED). CHED dean, Associate Professor Suellen Shay, said, "We welcomed this platform for discussion and creative problem-solving as we collectively prepare graduates to thrive in the uncertain landscape of the world of work."
---
This work is licensed under a Creative Commons Attribution-NoDerivatives 4.0 International License.
Please view the republishing articles page for more information.
---