Gwenda Thomas describes the milestones that have marked her time as executive director of UCT Libraries, and her hopes for the role they can play in curriculum transformation in the future.
"It took me 37 years to return to UCT after completing my undergraduate studies here," says Thomas.
She took up her position as the executive director of UCT Libraries in 2012. By that time UCT was home to one main library and eight branch libraries, holding 1.2 million monographs and print volumes and 74 000 journals from 16 700 titles.
"Although much had changed, it was still a homecoming of a kind," she remembers.
She will soon be taking up a similar post at the University of Melbourne, Australia.
"It has been a very exciting and rewarding time to be part of UCT Libraries and I am very proud of the work that the Libraries team has done," she says.
Among her most cherished milestones Thomas counts the creation of new library spaces, such as the 24/7 study areas and the opening of the data visualisation wall, as well as the refurbishment of several UCT libraries and the renovation of the historic JW Jagger Library (now the Jagger Reading Room).
She is also proud of the manner in which UCT has worked to curate and preserve its many special collections. These cover a wide range of African scholarship and often include valuable primary source materials like manuscripts, photographs and transcripts.
"Our staff has consulted with international leaders in archival studies and preservation to ensure that these resources are properly looked after while also being accessible to all library users."
"We're here to help inspire UCT lecturers and researchers within the context of transforming the South African higher education curriculum."
The power of more than one
"More than anything though, it is the people-centred projects which have meant the most to me," says Thomas.
In this regard she is particularly proud of three aspects of UCT Libraries' work: the partnerships that have been created with stakeholders both inside and outside the university, the reorganisation of the library teams, and the recognition of the diversity of library users.
"University libraries are at the heart of a research and academic institution, so I think it is heartening that UCT Libraries has built strong partnerships," she says.
These partnerships include entities from the Students' Representative Council (SRC) to the Research Office, Information and Communication Technology Services (ICTS), the Centre for Innovation in Learning and Teaching (CILT) and the Cape Higher Education Consortium (CHEC).
The UCT Libraries' team, made up of a staff of 120 people, has also recently undergone a restructuring process.
"We wanted to ensure that the right teams were in place in order to serve our very diverse library users," says Thomas. UCT library patrons include everyone from first-year students to senior researchers.
"Each group has different requirements," she says, "but in all cases library staff are on hand to support both students and staff in their research and to assist lecturers in creating innovative teaching materials."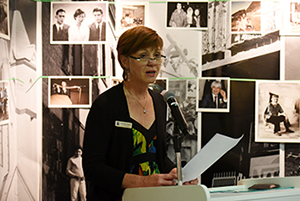 Thomas also hopes that UCT will continue to play its part in training a new generation of librarians.
"In recent years the Library and Information Sciences Centre has grown in leaps and bounds and now offers both short courses and studies in digital curation."
A brave new digital world
Looking to the future, Thomas identifies two central projects in which the UCT Libraries will play an essential part: "There are really dual revolutions going on. Firstly, the way we store and manage large digital data sets is evolving very rapidly. Secondly, we are committed to playing our part in addressing curriculum transformation at UCT."
Thomas explains that UCT Libraries is currently working with faculties to understand what they need when it comes to the storage of digital data.
The aspects of becoming an evolving digital library include continuing work on creating an eResearch platform, currently managed by Dr Dale Peters, as well as other open-access publishing platforms; listening to what faculties require when it comes to the storing of already analysed large data sets; and lastly, training students in how to access and manage the digital data they require for their research.
The story of an African transformation
In Thomas's opinion, UCT's special collections can also play an important role in curriculum transformation.
"These collections not only aid students in engaging with research but also play a valuable role in providing educators with the materials to revise curricula."
UCT Libraries staff are on hand for lecturers who are revising course content or teaching materials.
"We encourage them to come and visit us and let us help them in finding materials or by providing digitalisation services. We're here to help inspire UCT lecturers and researchers within the context of transforming the South African higher education curriculum."
Says Thomas: "In the future I would like to look back and have the satisfaction of knowing that UCT Libraries succeeded in creating a new staff structure that further enabled us to engage with the needs of faculties as well as a strong community advocacy programme to really make the libraries visible and accessible to all our users.
"More than anything, however, I would like to know that we played a part in helping to create exciting new curricula that truly reflect the depth and breadth of African scholarship."
---
This work is licensed under a Creative Commons Attribution-NoDerivatives 4.0 International License.
Please view the republishing articles page for more information.
---