District Six-born community librarian Vincent Kolbe has taken a place of honour on UCT's upper campus. This follows the renaming of the Knowledge Commons in the Chancellor Oppenheimer Library as the Vincent Kolbe Knowledge Commons on 23 March.
He joins AC Jordan, Neville Alexander and Cissy Gool, whose names grace buildings and a plaza on the main campus. They were activists and pioneers in the arenas of language, race and gender, as was Kolbe, who created a legacy of reading and knowledge and an open and inclusive reading culture in Cape Flats' communities through public libraries.
Speaking at the event, the executive director of the Development and Alumni Department, Dr Russell Ally, said that the renaming of the Knowledge Commons is part of creating a "new, inclusive identity for the university".
Information for all
Kolbe's story is one of commitment to community and its development through reading, debate and access to information at a restrictive time in South Africa's history. He saw the library as an indispensable communal space with a strong social, recreational and educational role. It was for this that UCT conferred an honorary Master of Arts degree in 2002.
Speaking at the launch, the executive director of UCT Libraries, Gwenda Thomas, said: "The impact and influence of Vincent Kolbe lives on far beyond his lifetime.
"The significance of this space reflects the wall of honour where UCT's robust and fraught journey in defence of academic freedom is portrayed in visual representation of both the role and activity of this university as well as the histories and legacies of those activists and educationalists, like Vincent Kolbe, who forged the way for our nation's democracy by upholding and defending the principles of equitable access to all to information."
Though delayed by campus unrest last year, the launch came at a significant juncture, she said. Last week was South African Library Week, which intersected strategically with Human Rights Day on 21 March.
"The [Library Week] theme for 2017, My Library, Your Library, fittingly represents the spirit and ethos of Vincent Kolbe," said Thomas. "The focus on the notion of 'communal' and 'community' is pivotal to why we are here today."
Pioneering concept
UCT Libraries pioneered the concept of Knowledge Commons in the 1990s under Joan Rapp, now UCT Librarian Emeritus. It was a model that rapidly took hold at the country's academic libraries.
"It's an innovative service, which is a dedicated UCT learning and research facility where students can access the Libraries' electronic resources via high-end workstations and software with skilled librarians on hand to provide expert assistance," said Thomas.
When the project to rename UCT's buildings was initiated in 2014, it was the Libraries' staff who persuaded the committee that the Knowledge Commons was the most suited facility to honour Kolbe.
Library as a barber shop
Kolbe had a shaky start. His mother's illness forced him to leave school and he matriculated through part-time night school where a Catholic nun and teacher encouraged him to become a librarian.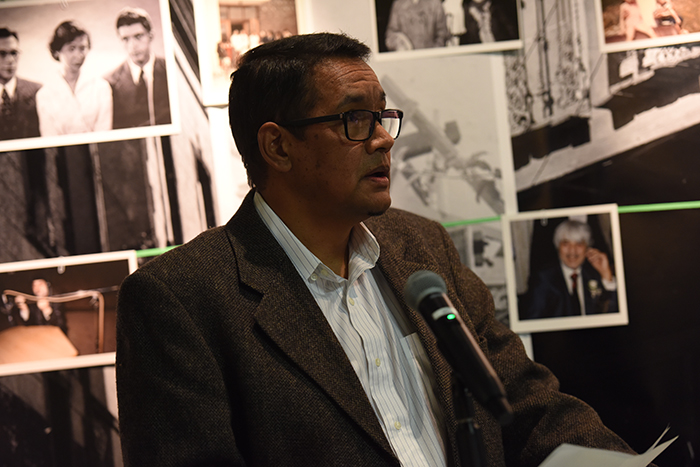 Guest speaker Archie Dick, professor of information science at the University of Pretoria, said that Vincent Kolbe's style of librarianship was shaped by the creole culture and people of District Six, where he was born. Photo Robyn Walker.
"I met Vincent in Bonteheuwel in 1974 when I worked as a student librarian," guest speaker Archie Dick, professor of information science at the University of Pretoria, recalled. "Just before closing, I would join the other assistants in the backroom where Vincent regaled us with memories of his early library and other experiences. As a school boy, he ran errands for the City Councillor AZ Berman."
The nun who helped him with his studies told him he should apply for a job at the SA Library.
"A new world opened for him in the four-and-a-half years he worked there. He started as a stack attendant and ran up and down library stairs to collect materials for researchers like Eric Rosenthal and TV Bulpin."
The library director arranged for him to attend part-time studies at UCT's School of Librarianship. But while UCT may have provided the technical skills, Vincent's style of librarianship was shaped by the creole culture and people of District Six, said Dick.
"This style was based on the idea of the barber shop that brought together the district's rich and its poor, its oral and its literate traditions, its professionals and its workers. It was this tradition and style of librarianship that Vincent carried into the Cape Flats townships and impressed on young librarians like myself and others."
Banned books in tog bags
But there was another aspect to Kolbe's dissemination of knowledge and information. It was, of necessity, more clandestine.
"As a young, qualified librarian at the Cape Town City Libraries in the 1950s, he was expected to de-catalogue boxes of books that had been withdrawn from circulation and send them to be pulped or burned at the municipal incinerator. He vividly recalled the collection of withdrawn materials as a library of condemned books: surprising titles like John Steinbeck's Grapes of Wrath, Stuart Cloete's The Turning Wheels and Anna Sewell's Black Beauty … even Martin Luther King's "I Have a Dream" speech and LPs of the rock opera Jesus Christ Superstar were not spared by the censors."
In the 1970s and 1980s Kolbe became a source of banned materials. He had many contacts, one an Anglican priest in Seattle who sent him books by African American activist Angela Davis. He also received BBC recordings and cassettes.
Dick recalls, "These and other banned materials were kept in a sports tog bag under the lending desk at Observatory Library and used secretly by activists. When there were police raids, of course, no one knew whose tog bag it was or how it had got there!"
Separate libraries
Kolbe was a young professional when separate library associations were introduced in 1962. He refused to join the Cape Library Association for Coloureds despite UCT librarian Mr [Rene Ferdinand Malan] Immelman's attempts to persuade him.
"When he retired in 1991, Vincent was described by a colleague as a 'people's librarian'," said Dick. "As proof of this, his retirement party was attended by 80-year-old Mr PF Jacobs, who was one of the first people he had registered at Bonteheuwel Library."
Keynote speaker, Trevor Manuel, deputy chairperson of Rothschild (RSA), described Kolbe as an eclectic person: "His life had so many dimensions because he was a reader, a storyteller, a jazz musician … and an amateur historian.
"He invited us to listen to his old cassettes, part of his District Six oral history project … people who understood what changes had taken place, the people who were there when the Group Areas Act came into being, and who could relate to their African neighbours who weren't there any longer.
"He didn't need to occupy a position of authority to provide leadership … it's about being non-doctrinaire and about being able to listen. It's about embracing ideas and never being afraid of ideas."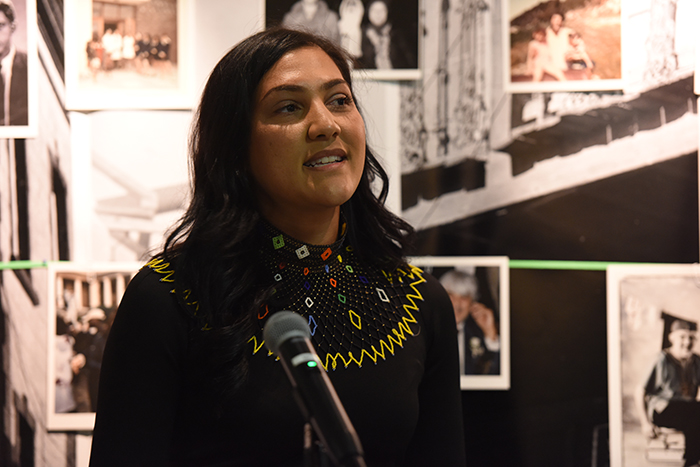 "He was a constant source of information to all of us," said Vincent Kolbe's daughter, Juliette Bourne, who spoke on behalf of the family. Photo Robyn Walker.
Speaking on behalf of the family, Kolbe's daughter, Juliette Bourne, said the nature of the Knowledge Commons fitted well with her father's style and legacy.
"When Gwenda told us why they had chosen the Knowledge Commons as the place to remember him and to celebrate his legacy, it started clicking into place … He was a constant source of information to all of us."
---
This work is licensed under a Creative Commons Attribution-NoDerivatives 4.0 International License.
Please view the republishing articles page for more information.
---