A cloudy start to Friday morning's ceremony did nothing to dampen the spirits of graduands and their supporters as day four of UCT's graduation season got under way on 6 April.
Student leaders due to graduate with 261 of their peers from the Faculty of Humanities were escorted down University Avenue to Memorial Hall by a jubilant entourage from the university's Properties and Services Department.
Among the leaders was Students' Representative Council member Masixole Mlandu, who read the University Statement of Dedication at the 10:00 ceremony before his degree of Bachelor of Social Science was conferred upon him.
Enthused by master of ceremonies Professor Mamokgethi Phakeng – who told the audience, "Even if there are many people wearing black, it is not a funeral and you should not be shy to celebrate your achievements" – the jovial atmosphere was amplified by a lively performance by opera singer Bongani Justice Kubheka.
The bass baritone singer, who recently returned after completing his master's degree at the Wales International Academy of Voice at the University of Cardiff in Wales, will perform the leading role in Don Pasquale at the Baxter Theatre later this year.
Artist, UCT music / education graduate and imbongi Sange M Neliswa Sampi-Mxunyelwa sustained the spirited mood with her poem praising the graduands and their families, as she has done at all the ceremonies this graduation season.
Unexpected paths
Guest speaker at the event was acclaimed South African cartoonist and social commentator Jonathan Shapiro, who is also known as Zapiro. Having graduated from UCT in 1982 with a Bachelor of Architectural Studies that he never formally put to work, Zapiro's message centred on how important it is for graduates to identify what is most meaningful to them.
This, he said, is what will fortify them, particularly when they decide to follow unexpected paths and/or encounter failure in their lives.
For Zapiro, meaning came in the form of being an activist and from encouraging others to interrogate inequality, corruption and other transgressions. This, he said, he learned from his mother, Gaby Shapiro, who died 18 years ago to the day.
Mrs Shapiro fled Nazi Germany with her family and later, while living in South Africa, opened her children's eyes to the injustices of apartheid. It was this awareness that eventually led to Zapiro becoming an activist and political commentator.
"If you are lucky enough to have parents who influence you powerfully, it helps you find direction – even if that direction isn't what you expect or in line with what you study," he explained.
After university, Zapiro was conscripted to the army, where he was arrested for refusing to carry a gun. He joined the United Democratic Front (UDF) and, having illustrated a calendar for the party in 1987, drew attention as a cartoonist.
His first job as a political commentator, at a newspaper called South, was a result of his work for the UDF.
Meaningful both ways
But it's not enough for your work to be meaningful to you alone; it should ideally be meaningful to others too. Speaking at the ceremony – without his cartoons as props, which, he conceded, was unusual for him – Zapiro said he hoped he had already provided graduands with meaning.
"The thing that gives me the greatest pleasure is that young people come up to me and tell me my cartoons speak to them. The fact that there is meaning in something I do gives me meaning in my own life."
"The fact that there is meaning in something I do, gives me meaning in my own life."
Creating cartoons that challenge views and paradigms is integral to achieving meaning. "That is the nature of trying to engage in our society," he said. "I try to do things that are contested, that are not the safe way and not the easy way. I hope that some of my cartoons make you think and some make you laugh. Some of them will make you outraged.
"The point about any good cartoon, whether it does any of those things, is that it has an element of surprise. Good communication often has a twist of surprise, which gets people to see things in a different way."
Zapiro acknowledged that he is among the fortunate who not only enjoy their work, but also find meaning in what they do. But, he reiterated, it wasn't planned. He encouraged graduands to be open to the unexpected.
"I have been able to find a path that I didn't expect and I think that's what might happen to some of you. But [I encourage you to] do what you love, even if you take the risk and perhaps fail for a while.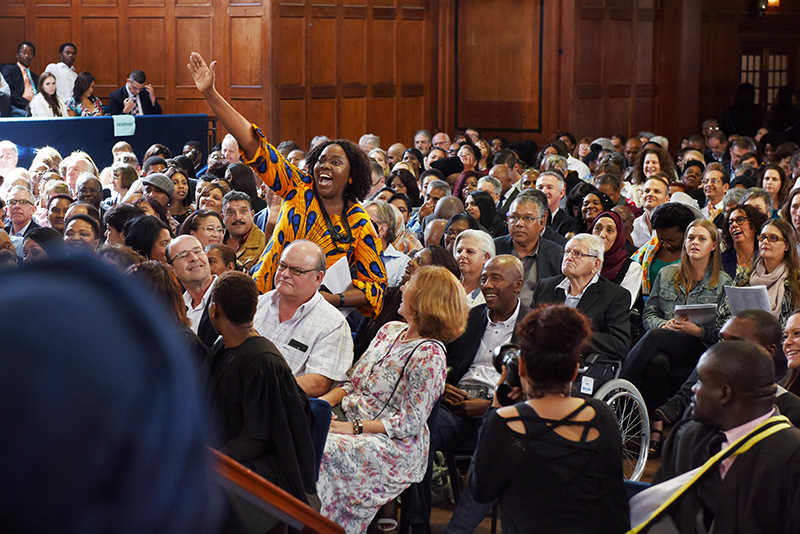 "I spent 10 years living hand to mouth and doing work for organisations like the UDF until I could make a career, speak to more people and have more of them finding meaning in what I do."
Zapiro concluded by saying that although South Africa has been through "a really dark period", he believes it has turned a corner.
"I think it is fantastic for you that you are graduating at a time when hopefully you can feel hope again," he said. "For a long time, it was as if hope – which is something you need as you go out there and try to find meaning – had been dampened.
"It feels to me now that there is more hope and, after the very difficult circumstances that many of you have been through at university, there's hope for the nation. So go out there, take the bull by the horns – even if what you do is not the path you originally set yourself."
Watch the Faculty of Humanities graduation ceremony on 6 April...
---
This work is licensed under a Creative Commons Attribution-NoDerivatives 4.0 International License.
Please view the republishing articles page for more information.
---