The Social Responsiveness Award was established in 2009 to honour UCT academics whose social engagement enhances the university's teaching and learning process. Winners this year are Associate Professor Roshan Galvaan and Liesl Peters, of the Division of Occupational Therapy, and the team at the Bertha Centre for Social Innovation and Entrepreneurship.
Taking OT beyond traditional borders
Under Associate Professor Roshan Galvaan and Liesl Peters' guidance at UCT's Division of Occupational Therapy, students learn to take their professional cue from the challenging social, political, economic and cultural realities around them, in order to break new ground. This is in large part due to the occupation-based community development practice framework (or OBCD), which Galvaan and Peters have developed and introduced into the curriculum.
This framework provides OT students and practitioners with a reasoning tool for initiating and designing contextually relevant interventions with communities. This helps students respond to the needs of individuals, groups and organisations in the education, social development and health arenas as part of their undergraduate course requirements.
According to the award citation, Galvaan and Peters' work "demonstrates a compelling commitment to the confluence of research, teaching and service in addressing the social realities faced by communities".
Their contribution, the citation adds, "revolutionises occupational therapy practice", ensuring that it responds more actively to people's living conditions.
Catalysts for social and economic change
The Bertha Centre for Social Innovation and Entrepreneurship at the Graduate School of Business focuses on the creation of engaged and sustainable relationships between the university and social change actors in civil society, business and government.
It is the first academic centre in Africa dedicated to advancing social innovation and entrepreneurship, and was established by the GSB in partnership with the Bertha Foundation, which works with inspiring leaders who are catalysts for social and economic change.
Social innovation is an emerging academic, transdisciplinary field rooted in practice. It seeks to apply innovative thinking and business models towards accelerating social outcomes. One example of their work is the Groote Schuur Hospital Health Innovation Hub, a partnership between the Bertha Centre, Groote Schuur Hospital and the Faculty of Health Sciences to promote service innovation in the public health sector. Together they support 17 staff projects to improve public healthcare delivery and have invested in 10 of these.
Overall, the centre has uncovered over 300 innovative models and solutions in education, health and other social impact fields; convened over 5 000 citizens and practitioners across sectors; tested the feasibility of innovative social solutions; and produced over 12 formal knowledge outputs from this work in publicly available reports and journal articles.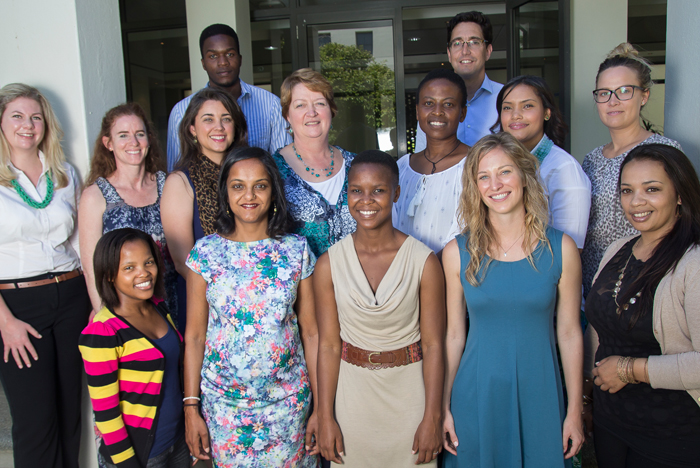 The team at the Bertha Centre for Social Innovation and Entrepreneurship, winners of this year's Social Responsiveness Award. From the back (left to right): Barry Panulo and Dr Francois Bonnici. Middle row: Louise Albertyn, Susan De Witt, Katusha de Villiers, Nicolette Laubscher, Ncedisa Nkonyeni, Olwen Manuel, Tine Fisker Henriksen. Front row: Zikhona Stuurman, Sulona Reddy, Tsakane Ngoepe, Aunnie Patton, Stacey Thorne. Not present: Rachel Chater, Stephanie Giamporcaro, Eliada Griffin-EL, Saadick Davids, Warren Nilsson and Dr Lindi van Niekerk.
Find out who else has won this award: full list of annual winners since 2009.
---
This work is licensed under a Creative Commons Attribution-NoDerivatives 4.0 International License.
Please view the republishing articles page for more information.
---