Kopano's 70th anniversary dinner was an opportunity to pay tribute to outgoing registrar Hugh Amoore for his service to the residence (as a sub-warden) and the university in general.
Also in attendance were three former wardens and assistant wardens, namely former vice-chancellor Dr Stuart Saunders with emeritus professors Ian Bunting and Solomon Benatar, as well as alumnus Louis Von Zeil (1954 to 1956), who is now close to 80.
Service and loyalty
In his tribute to Amoore, Kopano's warden Professor Evance Kalula said that aside from Amoore's exceptional institutional memory, he was being honoured for his remarkable service and loyalty to UCT which were also a reflection of the residence's ethos.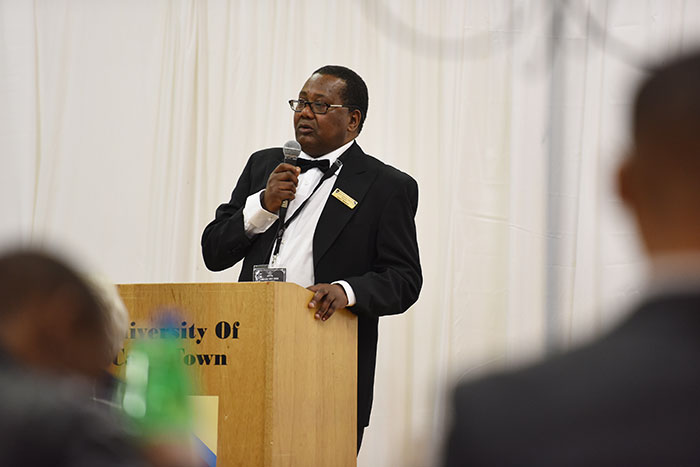 Kopano warden Prof Evance Kalula pays tribute to the outgoing registrar Hugh Amoore.
"Nowhere has that service and loyalty been more apparent than in Hugh and his wife Kate's loyalty to Kopano, his residence where he served as sub-warden."
He said of the other distinguished guests present: "Professor Saunders went on to be a most outstanding vice-chancellor at a critical time of UCT's existence. We were privileged to celebrate his many contributions to UCT and the residence when he turned 80 a few years ago.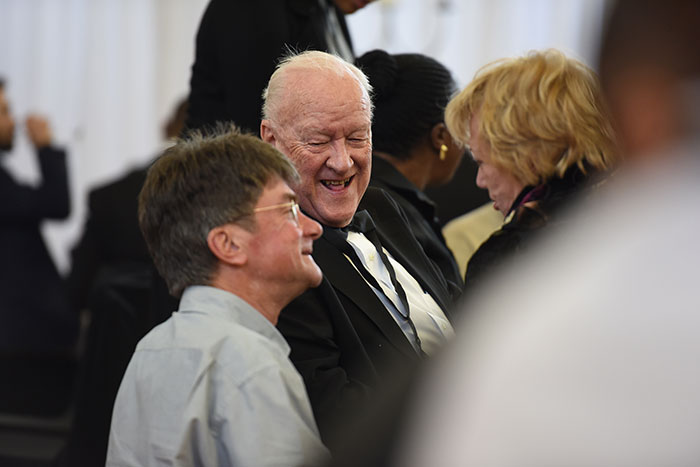 Former UCT vice-chancellor Dr Stuart Saunders, centre, who was also a warden at Kopano, chats to Prof Hugh Corder (left).
"Professor Benatar, who served as assistant warden, is a legend in the Faculty of Health Sciences, having served as an outstanding head of medicine and become an outstanding scholar in ethics, a truly thinking patient's physician.
"Professor Ian Bunting, whom this hall is named after, is rightly regarded as one of the founding fathers (together with Martin West) of the current student 'co-operative governance' system.
"Besides his contribution to UCT, Professor Bunting has been a pillar in the search for prudent higher education policies as advisor to the Department of Higher Education over the years.
"While there are impossible acts for me and my colleague Tim Low to follow, they constantly inspire us as wardens."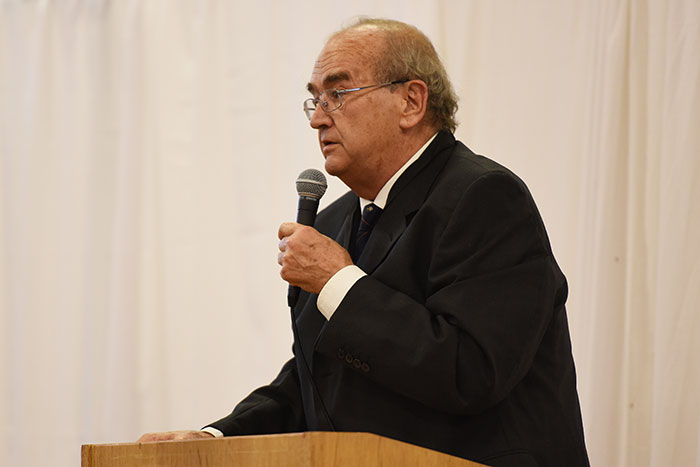 Emeritus Prof Ian Bunting, who was Kopano's warden from 1987 to 2004, also addressed the audience.
Beacon of hope
Kalula said that from the time it was established in 1945 (as a war veterans' residence originally named Driekoppen) the residence had "signified peace and reconciliation" after the "terrible scourge" of the war.
"The ethos of brotherhood and unity that signified a sense of common purpose of the residence have endured. They were reinforced in name and spirit when the residence was renamed Kopano, stressing the quest for unity and common purpose. Unity in diversity is what I have sought to engender since I became warden 10 years ago.
"I am gratified that at a time when there are recurring doubts about the sustainability of the 1994 miracle and the South African democratic project, Kopano, along with other student residences, remains a beacon of hope, striving to find common ground on the basis of fundamental South African constitutional values," he said.
---
This work is licensed under a Creative Commons Attribution-NoDerivatives 4.0 International License.
Please view the republishing articles page for more information.
---