It has been 80 years since UCT first admitted students into a postgraduate programme in nursing.
The year was 1937. The Aliens Act 1 was promulgated. The Vaal Dam was completed. Strict regulations were introduced regarding the urbanisation of women. Anti-Indian legislation increased. The Black (Native) Laws Amendment Act 46 was introduced.
It was in this context that nurses were first granted access to study at UCT.
"The Division of Nursing and Midwifery has always strived to remain relevant to current health issues facing our society and to train our students to engage with their patients as such," said head of the division Dr Nicki Fouché.
It is for this reason, and in celebration of their 80-year anniversary, that they convened their first symposium on gender-based violence (GBV) on Monday, 7 August.
GBV is a major public health and human rights violation. During the first half of 2017, South Africa witnessed increased numbers of brutal murders and violent assaults against women and children. Men are the perpetrators of violence in more than 90% of cases, said Fouché.
Elimination of violence against women is one of the sustainable development goals (SDGs) launched at the United Nations Sustainable Development Summit in September 2015. This was the first time that gender-based violence had been explicitly included on the international development agenda.
"It is incumbent on South Africa as a signatory of the SDGs to prevent violence in any form," said symposium organiser Dr Tania de Villiers, "and we as a nursing division have a role to play in this."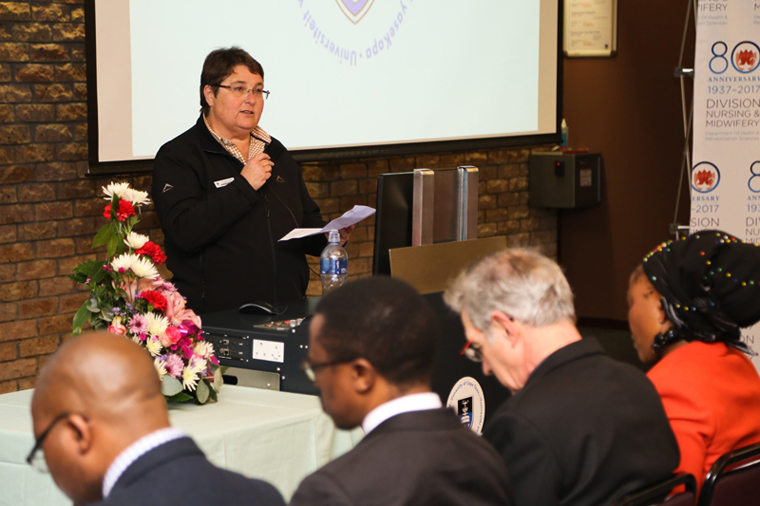 Responding pragmatically to GBV
The team hoped to respond pragmatically to the rising prevalence of gender-based violence in South Africa, instead of merely speaking out against it. They decided to engage with the relevant stakeholders in a critical discussion on how best to achieve this.
"This is going to be one of many such meetings … So that in the fullness of time we can make sure that we not only talk about this problem, but we come up with solutions," said Professor Bongani Mayosi, dean of Health Sciences.
The symposium was attended by academics, researchers, representatives from the South African Police Service, Department of Corrections, Social Development and Welfare, the National Prosecuting Authority and various NGOs.
A dysfunctional society
The symposium was opened by the Western Cape MEC for Health, Professor Nomafrench Mbombo.
On the day of the symposium South Africa woke up to reports that Deputy Higher Education Minister Mduduzi Manana had assaulted a woman in a Johannesburg nightclub, she said. In another case, a group of four white men assaulted a couple outside a KFC.
Recently, five-year-olds Kaithlyn Wilson, from Riebeek West, and Minentle Lekhatha, from Strand, were murdered.
Mbombo also hears of cases reported from within the regional healthcare sector. Senior clinicians report incidents of sexual assault and sexual harassment from colleagues. She also hears of cases where clinicians assault patients, she said.
According to the minister, this is a manifestation of a dysfunctional society.
Government needs to look for the gaps, she said. And one of the major gaps that she wants to address is the deconstructing of patriarchy.

"So how will we be able to tackle gender-based violence, which is underpinned by patriarchal tendencies?"
"When it is about issues of racism, we are all together," she said, referring to the nation's collective condemnation of the racist attacks outside the KFC.
"But when it is an issue of the patriarchy, we are separated."
As shown through the assault by Manana, there are still those who will blame the victims of the violence, she said.
"So how will we be able to tackle gender-based violence, which is underpinned by patriarchal tendencies?"
We need to address the sources of GBV, instead of only focusing efforts on assisting survivors of violence.
"Turn off the tap," she said. Don't simply mop the floor.
While the provincial government runs a number of projects that "mop the floor", such as establishing several Thuthuzela Care Clinics for survivors of sexual assault, it has begun work on initiatives to deconstruct patriarchy.
In partnership with the Desmond Tutu HIV Foundation, they are facilitating a series of men's dialogues. These form part the larger Zimele Project, which is a health and social intervention programme aimed at youth between 10 and 24 years of age in the Mitchells Plain / Klipfontein health sub-district. The project aims to provoke discussion on male gender norms and sexual health behaviours.
It is one of many initiatives in the province, such as working to provide safe spaces for sex workers, rolling out a five-year-acting intrauterine contraceptive device and ensuring that women have access to a medical termination of pregnancy as an issue of basic human rights.
"For me, investing in young people is better than fixing broken adults," she said.
---
This work is licensed under a Creative Commons Attribution-NoDerivatives 4.0 International License.
Please view the republishing articles page for more information.
---