Staff, students and alumni share their thoughts about re‑engineering some of the stereotypes and paradigms in the field.
NEW GENERATION
WIEBKE TOUSSAINT
CEO of Engineers Without Borders South Africa

After a brief and underwhelming experience as a piping engineer after graduating from UCT in 2011, I found tremendous fulfilment in developing a data-driven industrial decision support tool for my sponsor company. This early career experience brought valuable insights. The life of the mechanical engineer of the future will blend traditional engineering with the Internet, and thus I couldn't afford to be clueless about modern technology any longer.
To acquire programming and data analysis skills I subsequently spent a year working as a business analyst for an online fashion retailer.
Since July this year I've been fully committed to growing Engineers Without Borders South Africa (EWB‑SA). My passion lies where technology meets people and engineering touches society. Technically, I'm gearing my career to using data and networks to build engineering communities.
Geeks and gadgets
The image of the traditional engineer is that of a self-proclaimed geek who loves gadgets and taking things apart (though not necessarily putting them back together), or who sits in the corner of the office making calculations. In South Africa, this engineer is typically white, male and of a certain age.
Now zoom out and picture a colourful and noisy group of young tinkerers ready to engage in opinionated discussions. In their spare time they are skateboarders, play in bands, write blogs, start social enterprises, design fashion, and are constantly looking for new ways to engage with the world.
They're not satisfied with meaningless, repetitive assignments that stifle their development.
This is our EWB‑SA tribe: 1 500 women and men, students and professionals, representing over 15 different engineering specialisations and different university chapters. We all want to use our engineering skills to build South Africa.
Take EWB-UCT's Langa Skate Park Team as example. A group of skater engineering students started the problem identification process to build a skate park in Langa in their mid‑year vac. Over that month I saw an evolution in their understanding of what it means to be an engineer.
As the Langa Skate Park Team discovered, EWB‑SA sees engineering as a means to an end, not as the end itself. Breaking the stereotype in engineering means co‑envisioning that end: discovering our role of providing the means while collaborating with the beneficiaries of our services.

The number of fields in EBE in the top 20 list of national scarce skills listed by Minister of Higher Eduction and Training Blade Nzimande in June 2014.
Adapt or die
Reinventing stereotypes is critical for survival. In a constantly changing world we must 'adapt or die'. Engineers are problem-solvers, but our problems have changed in 20 years. Many of the difficult technical challenges that the previous generation tackled are now solvable using software programs.
Years of systems and procedures development have turned complex engineering challenges into well‑defined, pre‑solved problems that have ready-made, off‑the‑shelf solutions. This may be a great step forward, but it's not good for individual engineers who get their kick from applying ingenious thinking to solving practical problems.
Engineers need to rethink their role in society to ensure that they claim the space of solving the most challenging, most fascinating problems out there. This means looking at problems beyond the purely technical realm of traditional engineering.
Driving change
To solve the 21st century's problems, Africa's young engineers must start addressing issues of inequality, sustainability, transformation, integration and decentralisation.
For example, Africa is a continent of entrepreneurial abundance, but engineers are not promoted in small‑business conversations. We are trying to grow industry, without including those who are best equipped to build industry.
University curricula should provide a more balanced view of the relevance of engineering skill sets in entrepreneurship and business, non‑profit, social enterprise, public and corporate sectors.
Engineers should also drive change and development in Africa. We have the ability to harness energy, to control the flow of water, to prevent the spread of disease, to connect civilisations.
To do this, EWB‑SA is building a platform to facilitate this connection, while leveraging our members' collective vision to drive change at all levels of civil society, government and industry.
Watch this space. Next year we'll be launching EWB‑SA Work Groups, to create a voice for engineers in the country's development conversations.
Shamiso Kumbirai. Photo supplied.
ENGINEERING FOR CONTEXT
SHAMISO KUMBIRAI
Master's student, civil engineering
In 2010, local news was dominated by violent protests over some 55 unenclosed toilets in Makhaza, a suburb of Khayelitsha. These ongoing disputes between Makhaza residents and the City of Cape Town continued into 2011, and came to be known in the media as the 'Toilet War'.
I've always taken a keen interest in how the technical and social sciences interact in public infrastructure design and implementation. For my research I chose the 'Toilet War' because it became a turning point in the way sanitation infrastructure and service delivery is viewed in South Africa.
In particular, it showed the limitations of viewing access to sanitation from a technical and demand‑driven focus, compared to one integrating important social considerations.
That's a paradigm shift.
Perception gap
My research suggests there's a considerable gap in perceptions and expectations between stakeholders providing technical expertise in the planning and implementation stage of a project, and the beneficiaries involved and affected by it.
In designing the sanitation facilities, in this case, the technical experts were focused on a resource‑based approach to planning, based on financial constraints and meeting minimum technical requirements. The beneficiaries expected a more rights‑based approach, in which issues such as human dignity, health, safety and hygiene would be primary considerations in the design.
The government felt they'd followed the correct public participation processes, and made concerted efforts to meet the beneficiaries' requests.
The residents, however, believed that attempts to engage them were a form of placation that didn't translate into powersharing in decision‑making.
I learnt that the idea of improvement means different things to different stakeholders. If these conflicts aren't properly articulated and addressed early in a project, they could jeopardise its success.
Reform curriculum
The value of contextual knowledge that citizens contribute ought to gain them a seat at the table of experts. Despite their socio‑economic or educational background, citizens should be taken seriously when decisions are made about projects and participatory processes should be designed and implemented with this in mind.
In the provision of infrastructure and service delivery to informal settlements, I believe it's important that stereotypes are not only reinvented, but removed altogether.
Data on residents' perspectives indicate that they don't want to be stereotyped as 'objects' that ought to accept whatever 'handouts' are given to them. They want to be – and if need be, they are willing to fight to be – treated as people whose opinions matter and whose rights are respected.
The greatest opportunity to break stereotypes lies in reforming the engineering curriculum.
The last few years has seen the development of elective courses such as the Social Infrastructures course geared towards raising students' social awareness. It's important that courses like this become mandatory in the engineering curriculum. Graduates need to understand the sensitivities around the social context in which they'll be applying their technical skills.
OPENING MINDS
PROF GENEVIEVE LANGDON
Mechanical engineering
Prof Genevieve Langdon. Photo by Mary Hilton.
Some engineering fields have fared better at the gender balance, for example electrical and chemical engineering. But mechanical engineering remains male‑dominated. In my work at the Blast Impact and Survivability Research Unit, I investigate the response of structures to blast loading. It's very hands‑on and experimental, and often involved in defence applications. Both are almost exclusively male dominated areas, and I break stereotypes just by being who I am in a world where (as a woman) that makes me the 'other'.
Sometimes students walk into my office and ask to see Professor Langdon. They're shocked to find that's me. Because I'm (relatively) young and female I'm often assumed to be an admin assistant to the professor. It used to frustrate me, but now I see I'm changing their world and opening their minds.
Maximise talent
No country can afford to look for solutions from only one portion of its population, when talent is distributed throughout all people, regardless of our differences. South Africa has huge challenges to overcome and we can't afford to waste talent, or treat people disrespectfully.
We owe it to the next generation to learn to see everyone as a person first, and stop trying to insist they meet our stereotypical expectations.
More female engineers? Definitely. More male nurses? Yes please.
We're doing well as a faculty in creating space where everyone can thrive, and I'm encouraged that we've chosen our first woman dean. But that's easy for me to say, as I've personally been well supported and successful.
We must be very careful to listen to the voices of others when they do not have similar good experiences, because privilege is usually invisible to those that hold it. I think that as a university, some of our processes may favour people with a particular cultural background – those who are able to engage in rigorous verbal academic debate, and are not shy in expressing their opinions. We must be careful as a faculty that we listen to all voices, and don't just go with the loudest ones.
NEW SKILLS NEEDED
PROF HARRO VON BLOTTNITZ
Chemical engineering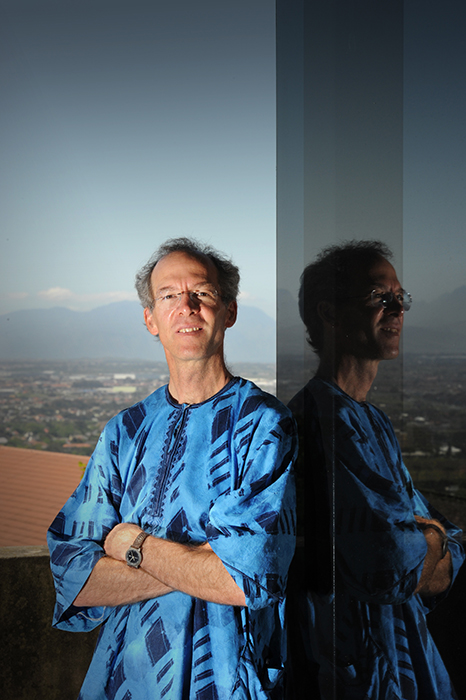 Harro von Blottnitz. Photo by Michael Hammond.
I plough a range of fields: even though my name is attached to chemical engineering, I don't fit the stereotype of the highly specialised academic. Systems thinking gives me contextual mobility; the counter‑intuitive behaviour of systems; the platform from which to challenge received wisdom.
Take our research on the role of biofuels in sustainable development. Our highly‑cited paper on bio‑ethanol fuel challenged the notion that biofuels are green alternatives to fossil fuels and always good for the environment. More recent research has confirmed that biofuels could exacerbate a range of environmental impacts.
This is but one example of skilled but overspecialised scientists of the 20th century gifting society with both amazing inventions and loads of unfinished business. The result is inequality and environmental degradation. So we need new types of skilled thinkers and leaders, who can finish the business of integrating amazing inventions fully into our economy and society.
For that we might have to consider new stereotypes: the pattern on my coffee cup is square and green.
As for teaching and learning stereotypes, ... oh, now you're pressing buttons! I'd like to see serious discussions about shifting the education of the 21st‑century engineer from calculus focused mathematics to social competencies.
In that sense, the replacement of physics 1B with statistics in the chemical engineering curriculum was the first and a very small step towards modifying the 20th‑century mathematical school of engineering: stochastic numeracy challenging deterministic precision prediction.
If that's too theoretical and long‑term for the term of a deanship, then let's talk about breaking the practice of growing our class sizes every year by a couple of percent (there are limits!).
If there's to be growth, how about adding a new qualification to our mix? Anyone for energy engineering? Bioneering? Mobility engineering?
ROADS FOR PEOPLE
ASSOC PROF MARIANNE VANDERSCHUREN
Civil engineering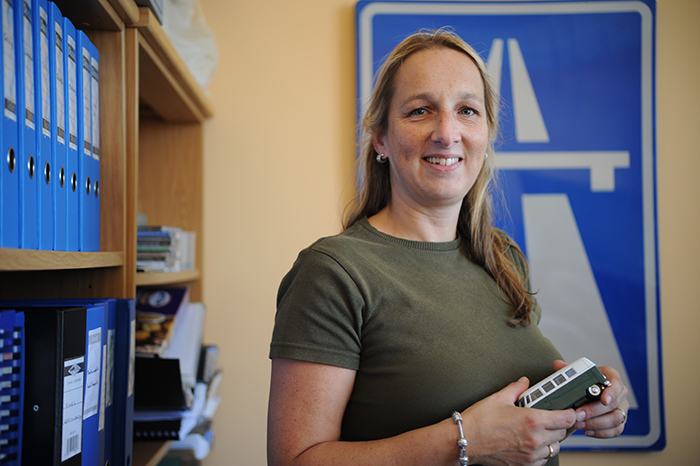 Marianne Vanderschuren. Photo supplied.
I'm a transport engineer whose work is changing a major paradigm in the developed world: that roads are built for cars. But it's about people, and not about people in cars. It's about accommodating and protecting pedestrians and cyclists, and creating shared roads and associated infrastructure like pavements and crossings that accommodate vulnerable road users.
Do you know that the first time road fatalities were called an epidemic worldwide was as recently as 1973?
Most South African road engineers are trained in America where space is plentiful and fuel is cheap. But with less space and heavier fuel costs, Europe has been the frontrunner in pedestrian and cyclist‑friendly cities.
We need more of this thinking in South Africa, where 57% of road fatalities are pedestrians. Apartheid planning in this country has further hamstrung the transport infrastructure, with highways and green belts designed to separate communities.
Recently, I wrote a new set of transport guidelines for non‑motorised transport for the Department of Transport, to show the way to people‑friendly roads designed to attract cyclists and pedestrians.
We didn't do it in a day. The process began in 2013, and culminated in the large document that entered the public domain in March this year, titled Non‑Motorised Transport Facility Guidelines. Now the aim is to get this into practice.
Working with the Department of Environmental Affairs a similar project was developed, under the Green Cities banner, as the Non‑Motorised Transport Best Practice Manual.
This promotes more zebra crossings, better infrastructure on the sides of roads (broader pavements, dropped kerbs for special‑needs users, etc), and introduces more traffic‑calming measures, such as bollards, neck‑downs (where the road is narrowed in areas to accommodate pedestrians) and chicanes. These are artificial narrowings or turns that force cars to slow down, as in motor racing circuits.
Another measure to restrict speed is to introduce third‑tier roads in suburbs, which impose a 40km speed limit.
While it's important to maintain the existing road network (a growing economy demands this), it's also important to reconfigure some important roads to accommodate sharing: by building in traffic‑slowing measures and adding cycle lanes to the infrastructure.
It means introducing more special lanes for buses and taxis. The Bus Rapid Transport (BRT) system of bus‑only lanes was pioneered in Curitiba, Brazil, in the 1970s, to counter traffic congestion and as a low‑cost, sustainable urban transport system.
When the taxi lane was introduced on the N2 highway in Cape Town, the taxis managed an extra trip in peak traffic, increasing their passengers by almost 30%. And the travel time for cars decreased too.
We're challenging the 'more is better' thinking. Statistics have shown that the wider the road, the more fatalities there are. So standard engineering practice does not work for transport engineering. Road infrastructure plays a large role in accommodating safety. But it's also about air and noise pollution – and sustainable energy.
Compiled by Helen Swingler.

Read more stories from the
September 2015 edition.
---
This work is licensed under a Creative Commons Attribution-NoDerivatives 4.0 International License.
Please view the republishing articles page for more information.
---