The fruits of good engineering are enjoyed every day. These UCT EBE students make it their mission to create what some may take for granted.
From water platforms to sports pavilions
In the Imizamo Yethu township in Hout Bay, some 9 464 households make use of shared toilets and taps. The service ratio is an average of 61.1 households per toilet and a staggering 394.3 households per tap, says UCT lecturer Mike Louw.
To help address this dearth of services, UCT's second‑year architecture students, plus a few key members of staff, have designed and built water platforms in Imizamo Yethu during the June vacation over the past five years.
These water platforms are a way of providing additional services, more dignified places for water collection, and spaces to wash clothes. The platforms are integrated with shared toilet facilities where these are in close proximity.
They serve as social gathering spaces and cleaner areas for children to play. The first four platforms were primarily focused on washing facilities, while a much‑needed water point and seating area was provided at the new Imizamo Yethu football field.
During 2015's June vacation, in an annual tradition, architecture students with a few key staff members and members of the local community helped to construct the sixth platform situated at Imizamo Yethu. Moreover, a second seating pavilion was constructed at the Hout Bay Sports Ground to add to the first one that was built last year.
The design of the platform and its parts was integrated into the course curriculum, and after designs had been developed and the necessary planning and community liaison had been completed, the project moved on site.
"The students did earthworks, built formwork, tied and installed reinforcing, placed concrete, and finished the structure within quite a limited timeframe despite the winter weather," says Louw, who teaches in the School of Architecture and Geomatics and is a key driver of this initiative. Initial reports from the community suggest they are pleased with the additional pavilion, and there are tentative plans to build a few more in due course, he said.
"There have been a number of parallel projects with the platforms, which included outreach workshops, the provision of 20 planting boxes at the Ikhaya Letemba school which were filled with vegetable and herb seedlings during a very successful planting workshop held with the children, and the provision and installation of approximately 200m² of high‑quality laminate flooring in the Imizamo Yethu youth centre, which is earmarked for use as a créche/aftercare facility and a gym," said Louw.
Langrug partners with UCT planning students
Nothing for us, without us.
This was a key message from the impoverished community in Langrug, Franschhoek, for UCT students and staff from the School of Architecture, Planning and Geomatics. In 2012, the students went to Langrug for their first official site visit and data‑gathering as they began researching ways to improve living conditions in the informal settlement.
First-year master's students in city and regional planning and architecture were tasked with recommending upgrades for the squalid environment the 4 000 Langrug residents are forced to cope with every day. "Apart from the physical construction and projects, students report learning skills such as planning, co‑ordinating, budgeting and material calculation, as well as the importance of communication."
The project formed the core of the department's 'Basic planning skills in situ upgrade' course that introduced the designers of South Africa's geo‑political future to the physical, social, economic, environmental and political circumstances that inform the current social structure.
That course also aimed to introduce community leaders to relevant urban planning legislation, national housing policies, and geographical information systems. This initiative was supported by the Faculty of Engineering & the Built Environment and was part of a collaborative project between UCT, CORC/ISN (an NGO and social movement that facilitates community engagement with the state), the Stellenbosch Municipality and the community of Langrug.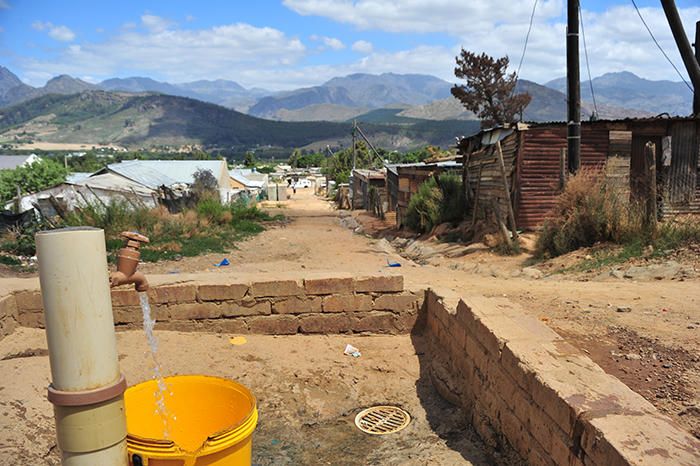 Students visited Langrug near Franschoek to look at potential solutions to the squalid conditions at this informal settlement. Photo supplied.
Building facilities
UCT first‑year construction students have been spending their mid‑semester vacations smoothing out the ergonomics for learners at the Tembaletu school for physically and mentally disabled children in Gugulethu.
As part of an annual build organised and run by the Association of Built Environment Students committee (ABES), and senior lecturers Karen le Jeune and Mark Massyn, the students built a wheelchair obstacle ramp (based on a concept by UWC occupational therapy students), revamped bathrooms with swanky paint jobs and much‑needed repairs, and made two compost bins for the school's vegetable garden.
For the school's inner courtyard, the students designed and erected formwork moulds, as well as mixing their own concrete to form part of the timber bench design. In addition, this group of students also refurbished the Tembaletu school sign.
More paving stones were created, with mosaic designs embedded in the concrete. These paving stones were placed around the water fountain installed by last year's students.
Apart from the physical construction and projects, students report learning skills such as planning, co‑ordinating, budgeting (they had to raise most of the funding for building materials themselves) and material calculation, as well as the importance of communication.
This, in addition to honing hard building skills such as mixing mortar, laying block work, erecting formwork, mixing and pouring concrete, and numerous other skills required in the construction of the ramp.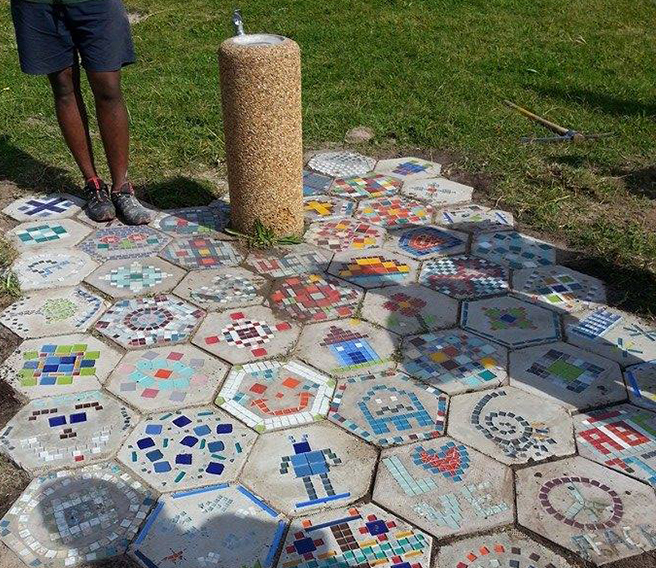 Students created these mosaic designs at the Tembaletu school for the physically and mentally disabled in Gugulethu. Photo supplied.
Curated by Yusuf Omar.

Read more stories from the
September 2015 edition.
---
This work is licensed under a Creative Commons Attribution-NoDerivatives 4.0 International License.
Please view the republishing articles page for more information.
---