Birds in flight
A swift tern snatching the surface of the water to cool down on a very hot day. This photograph by Davide Gaglio, a master's student in the Percy FitzPatrick Institute of African Ornithology, was the overall winner in
Exposure
, an annual photo competition and exhibition organised by Zoobots, UCT's Biological Society. Gaglio, an avid photographer, is currently researching the link between population dynamics, foraging behaviour and food abundance and distribution in the swift tern population. More of his images can be found at
davygaglio.wix.com.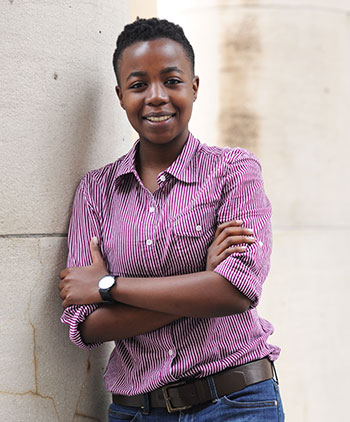 SRC 2015
International relations and public policy major Khanyisa "Baz" Pinini has been elected president of the 2015 Students' Representative Council (SRC). While the incoming council is made up of a majority Democratic Alliance Students Organisation (DASO), four of eight executive portfolios are filled by non-DASO candidates (either independents, or from the new campus movement, ALUTA). Pinini emphasises the importance of collaboration, representation and transformation for the year ahead: "The only way to put students first is to have a team that is dedicated to effective representation and positive change. I believe that the SRC of 2015 has those exact qualities. We are a very diverse group of students, and I believe that we will be able to put personal and political views aside for the betterment of UCT students."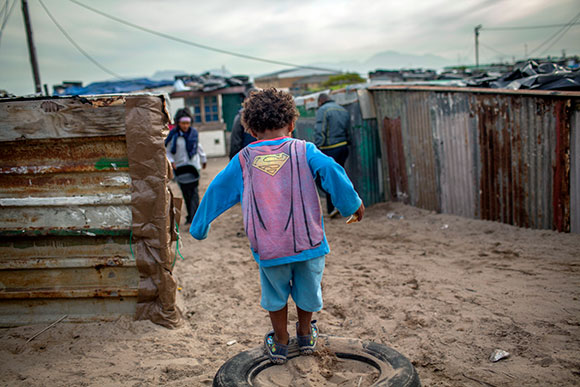 City Desired
UCT's African Centre for Cities is hosting a wide-ranging exhibition aimed at helping Cape Town interrogate what kind of city it would like to be, one part of which profiles 10 Capetonians whose life experiences offer powerful insights into the fabric of the city. The biographies of a domestic worker, taxi boss, psychiatrist, urban farmer, environmental officer, spaza shop owner, violence counsellor, school principal, twin brothers who collaborate as artists, and an architect map the fine grain of a city awkwardly negotiating change. City Desired. opens at 18h00 on 30 October in the City Hall and runs until 10 December. It is free, and open to the public.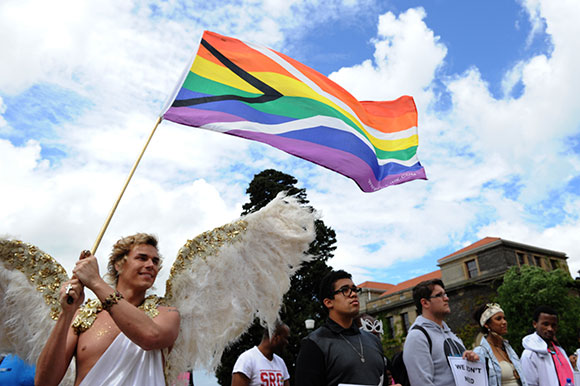 Un-pinking the closet
A South African pride flag held high during a 2014 Rainbow Week march from north stop to Jammie Steps, organised by student-run organisation RainbowUCT. A week-long celebration in honour of the lesbian, gay, bisexual, transgender, intersex and questioning (LGBTIQ) community and formerly known as Pink Week, Rainbow Week included discussions, documentaries, a talk by the first openly gay member of Parliament, Zakhele Mbhele, as well as the repainting of a pink closet in rainbow colours. "By un-pinking the closet," said chairperson of RainbowUCT Pam Dlamini, "our aim is to improve the inclusivity of all LGBTIQ people who don't particularly identify as pink."
---
This work is licensed under a Creative Commons Attribution-NoDerivatives 4.0 International License.
Please view the republishing articles page for more information.
---