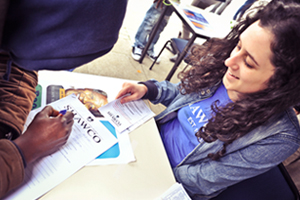 Countrywide, South Africans are sparing at least 67 minutes of today, 18 July, in service of underprivileged and marginalised members of our society, to celebrate the birthday of South Africa's iconic former statesman, Nelson Rolihlahla Mandela's birthday. And UCT is no exception.
SHAWCO, the UCT-based and student-run welfare organization (the biggest of its kind globally), was not put off by the cold and rainy weather and instead stuck to their duties.
Daily News got the lowdown from Cleo Mazower, a member of the steering committee of SHAWCO's curriculum portfolio. Mazower and some colleagues were perched under a SHAWCO-branded gazebo providing scant protection from the rain on Jameson Plaza, signing up new volunteers and answering questions about Mandela Day.
"For Mandela Day we've organized buses to go out into three of the areas we work in - Manenberg, Khayelitsha and Nyanga - and we're going to be doing work at the schools that we work with there," Mazower said.
"There's a whole range of activities, from painting walls and putting up fences, to planting trees in Manenberg and then also doing some sports with the kids. It's to give UCT students and staff an opportunity to give 67 minutes of service."We've had nine buses going out [from upper campus] throughout the day, so hopefully people can find the time to participate."
Has it been worth it sitting on Jameson Plaza in the rain? Of course, replies Mazower.
SHAWCO's Rags to Riches programme held a clothing collection drive at a Jammie bus stop on Upper Campus, where people could donate clothes that will be sold in stores in communities that the welfare organization works in.
Mazower was in no doubt that commemorating Mandela Day was vital for her organisation.
"Being one of the biggest organisations on campus, and being a service organisation, we have an obligation to provide an opportunity for people who want to get involved," she says. "Also, these people get to see our community centres and go out into places they might not have otherwise visited. I think that's important."
The buy-in from the UCT community has been immense, she adds.
"So far [just after noon], we've had about four or five buses go out, and each bus has been full. There have been more people there than we can actually accommodate!
"This is the first year that we're [officially] doing Mandela Day ' so we didn't really know what to expect, but we've had a really positive response.
"I think next year we'll have to go bigger!"
Story by Yusuf Omar, picture by Jenine May
---
This work is licensed under a Creative Commons Attribution-NoDerivatives 4.0 International License.
Please view the republishing articles page for more information.
---