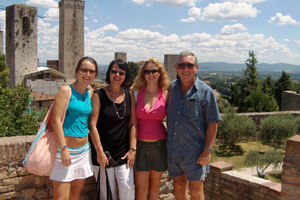 Family of alumni: The Grant household's UCT graduates are Dr John Grant, his wife, Terri (second left) , who gets her PhD this week, and daughters Taryn (left) and Nicole.
Dr John Grant, who earned his MBChB at UCT nearly 40 years ago, will share the title 'Dr' with wife Terri, head of the Professional Communication Unit in the commerce faculty, when she receives her PhD this week.
The Grant household is now choc-full of UCT graduates: daughter Taryn has a BA LLB and is a practising attorney, while daughter Nicole has a BA (Film and Media) and is in the movie business.
Grant's thesis is titled Scenario Pedagogy: A negotiated, multimodal approach to developing communication practices in higher education.
She reflects: "I coined the term 'Scenario Learning', but switched to 'Pedagogy' when I realised I was not interested as much in learning theory and the cognitive internalisation processes as I was in negotiated meaning-making. As pedagogy combines teaching and learning, I thought this would be a better fit. It's a process I started over a decade ago in my computer science communication teaching, to enliven what might be considered a boring add-on for these technically-minded students.
"It was so successful that I transferred the process of embedding an entire course in a set of scenarios to the Commerce Faculty in 2008, and that's when I decided to follow the trajectory of the students' development over the course. It was difficult to find a supervisor for this type of multi-disciplinary work, so I was thrilled when CHED's Dr Arlene Archer finally agreed."
Her work paid off, as the examiners enthused about the quality of her thesis, which was accepted without changes. Her examiners from the UK and the US were effusive in their praise.
This thesis, said one, is "an unusual and highly interesting instance in the contemporary development of the doctoral degree, as it fulfils the requirements of both a traditional PhD and a professional doctorate by offering a contribution to theory as well as tackling the fact that the world to be understood is changing in ways that demand new understandings, new ways of describing and analysing."
---
This work is licensed under a Creative Commons Attribution-NoDerivatives 4.0 International License.
Please view the republishing articles page for more information.
---